Tim Pawlenty Trashes the Iowa Straw Poll, and Tries to Explain Donald Trump's Appeal
Trump may be the next step for an American culture that has elevated Jesse Ventura and the Kardashians, the former Minnesota governor says.
by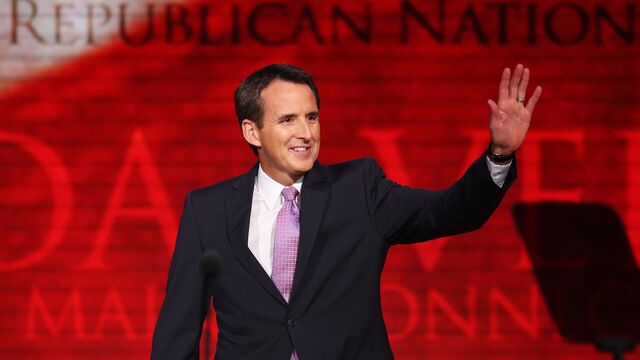 On the anniversary of the last—and final—Iowa straw poll, former Minnesota governor and 2012 presidential candidate Tim Pawlenty delivered a stingy eulogy.
"Good riddance," Pawlenty said in an interview for C-SPAN's Newsmakers program, scheduled to air Sunday at 10 a.m. New York time.
The Iowa straw poll was not well run, Pawlenty said, and didn't serve much purpose.
"It wasn't a good predictor of the Iowa caucuses, it wasn't a good predictor of the ultimate nominee, it wasn't a good predictor of the next president," Pawlenty said. "It didn't really have any particular value, other than to provide a distorted assessment too early in the process. I was glad the got rid of it."
That's quite a different take on things than four years ago, when Pawlenty was trying to use the straw poll to lift his presidential ambitions. But he finished a distant third to fellow Minnesotan Michele Bachmann, and decided to end his campaign.
Pawlenty, now chairman of the Financial Services Roundtable, a Washington-based lobbying group, told Bloomberg earlier this year that it was a miscalculation to end his own bid so quickly, because he wrongly assumed Mitt Romney would run away with the nomination. Romney did eventually win, but not until the Newt Gingrich, Herman Cain, and Rick Santorum all got their chance knock him down.
This time, it may go even longer. Pawlenty recently compared the rise of billionaire Donald Trump to a tornado, but said in the C-SPAN interview that it's time to consider the possibility that the celebrity real estate mogul may win some states in the primary race.
"If you would have asked me that a month ago, I would have said no," Pawlenty said. "But seeing the surprising resilience of his appeal and the rawness that he speaks—he seems to be able to say almost anything and it doesn't substantially affect his polling numbers—he may have more staying power than most people first realized."
Acknowledging that "it's only August," Pawlenty said whether it's Trump or someone else, that 2016 may be the year when the Republican Party decides to nominate an anti-establishment presidential nominee. 
"It may be that there's a fundamental message and shift in the political culture of this country," Pawlenty said, "where they're saying, 'I know it's a little off. I know it's offensive, but I'm so sick of these other politicians, and the way they talk and look and yappity yappity yap—they all sound alike and don't say anything—and even with all of his warts, we kind of like Trump's rawness."
Pawlenty said Trump won't be the nominee. Then hedged.
"Having come from a state where Jesse Ventura got elected governor, and in a world where the Kardashians seem to be so popular for mysterious reasons, you know, you never know," Pawlenty said. "You never really know."
Before it's here, it's on the Bloomberg Terminal.
LEARN MORE