On This Day Last Cycle: Michele Bachmann Won the Now-Defunct Straw Poll
The August tradition lives only in memory.
by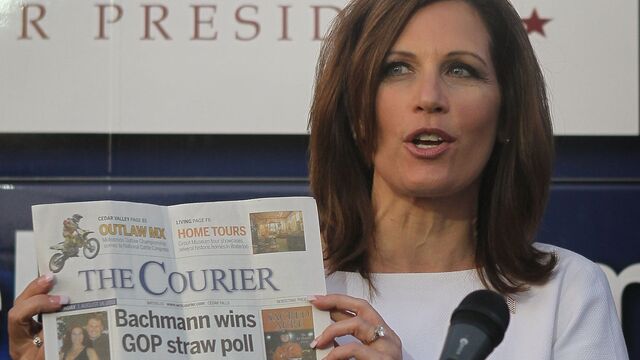 Four years ago today, Michele Bachmann was on top. 
Thursday marks the four-year anniversary of the last Iowa Straw Poll, may it rest in peace. Bachmann, then a conservative representative from Minnesota, had been performing well in Iowa polls leading up to the event, which was part of a fundraiser for the state's Republican Party. She won with 4,823 votes, just managing to beat out then Texas Representative Ron Paul, who got 4,671 votes, the Washington Post reported. 
"What we saw happen today is this is the very first step toward taking the White House in 2012, and you have just sent a message that Barack Obama will be a one-term president," Bachmann said at the time. 
The Post and other news outlets predicted then that the straw poll results made her the front-runner going into the Iowa caucuses, though that hadn't been the case the previous cycle. That time, Mitt Romney won the straw poll, and former Arkansas Governor Mike Huckabee went on win the caucuses. 2012 turned out similarly, with former Pennsylvania Senator Rick Santorum winning the main event despite placing fourth in the straw poll. Romney, who went on to be the party's nominee, placed sixth with just 567 votes. Along with Jon Huntsman, Rick Perry, and Newt Gingrich, Romney didn't campaign in the state ahead of the straw poll. Bachmann, on the other hand, had advertised aggressively. 
But that was then and this is now, and the Iowa Straw Poll is no more. Earlier this year, several candidates said they would not be participating in it, including former Florida Governor Jeb Bush, Huckabee, South Carolina Senator Lindsey Graham, and Florida Senator Marco Rubio. Critics maintained that the event favored the most extreme candidates, and that if candidates played to win, the wound up shelling out lots of money on ad buys leading up to the event and much earlier than the actual caucuses. 
The straw poll turns out not to have been the greatest predictor of success. Going back to 1980, the Des Moines Register found that the straw poll winner went on to win the the caucuses three times in six cycles. It was even worse at predicting who would get the nomination. Just two straw poll winners have. 
Before it's here, it's on the Bloomberg Terminal.
LEARN MORE