Jeb Bush Says His Brother's Security 'Mission Was Accomplished' in Iraq
The Republican presidential candidate once again grapples with his brother's Middle East legacy.
by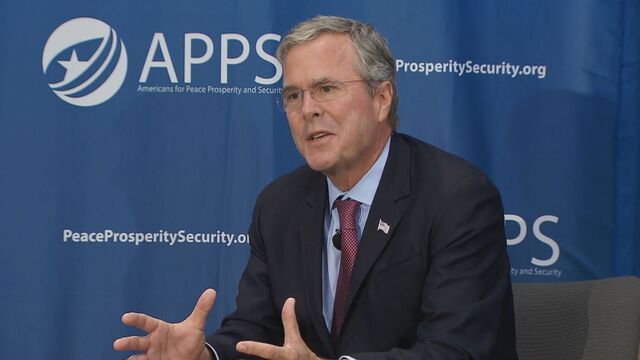 Jeb Bush defended some of his brother's Iraq war decisions as president while also seeking to pivot the conversation toward warmer feelings some Americans had for George W. Bush in the aftermath of the terror attacks of Sept. 11.
Speaking at a national security forum in Davenport, Iowa, on Thursday, the Republican presidential candidate acknowledged that his brother's record on prosecuting the war and its aftermath wasn't perfect as he tried to balance his own outlook and reconcile the implicit connection he has to some of his brother's unpopular decisions.
"I think people have every right to be critical of decisions that were made," the former Florida governor said. "In 2009, Iraq was fragile, but secure."
The "mission was accomplished" when it came to Iraq's security at the end of his brother's time in the White House, Bush said.
"That is a fact," he said. "You can't rewrite history in that regard."
He also pointed to the decisions he regards as a success. "Taking out Saddam Hussein turned out to be a pretty good deal," Bush said in a reference to the execution of the Iraqi president.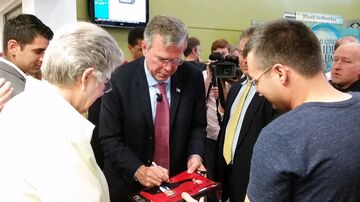 The early afternoon event, which attracted a standing-room-only crowd of about 250 people at St. Ambrose University, was sponsored by a group called Americans for Peace, Prosperity and Security.
It was Bush's first appearance in Iowa, which on Feb. 1 will host the first nominating contest, since he delivered his most specific foreign policy speech yet, Tuesday evening at the Ronald Reagan Presidential Library.
In those remarks—and again in Iowa—Bush outlined how he believes the U.S. should combat the rise of the Islamic State terrorist group, also known as ISIS, in Iraq and Syria, while also criticizing the actions of President Barack Obama and his former secretary of state, Hillary Clinton, in the region after his brother left office.
"We declared success and then chaos occurred afterwards," he said. "There has to be a plan for the long haul."
Asked what he'd do about terror suspects held at a prison at Guantanamo Bay, Cuba, Bush said it would be best to keep them there.
Bush said he'd leave the door open to resuming the use of torture in interrogations, refusing to issue a blanket statement about Obama's executive order banning so-called enhanced interrogation techniques by the CIA.
"When you are president, your words matter," he said, adding that in general he's opposed to the use of torture and doesn't think it's effective.
A few seconds later, he sought to take a more positive look at his brother's record. "I'm proud of what he did to create a secure environment for our country," he said.
In their criticism of Bush's Iowa appearance, Democrats sought to link him to his brother.
"Today Jeb Bush laid out that, when it comes to learning from his brother's reckless foreign policy mistakes—carelessly sending troops into war, relying on faulty intelligence, and dismantling our relationships around the world—he hasn't learned a thing," Holly Shulman, a spokeswoman for the Democratic National Committee, said in a statement. "What was made clear today is that under Jeb, we should expect another four years of the Bush Doctrine."
Bush, who will spend much of Friday morning at the Iowa State Fair, said he was happy to have a more serious environment for his presidential campaign to make a stop.
"I'm a policy oriented candidate," he said at the start of the event. "This is a nice respite."
CORRECTION: An earlier version of this story stated that the United States had killed Saddam Hussein. 
Before it's here, it's on the Bloomberg Terminal.
LEARN MORE