The Strange New Love-Fest Between Donald Trump and Planned Parenthood
Alone among the Republican field, the front-runner offers a defense of the controversial women's health care group.
by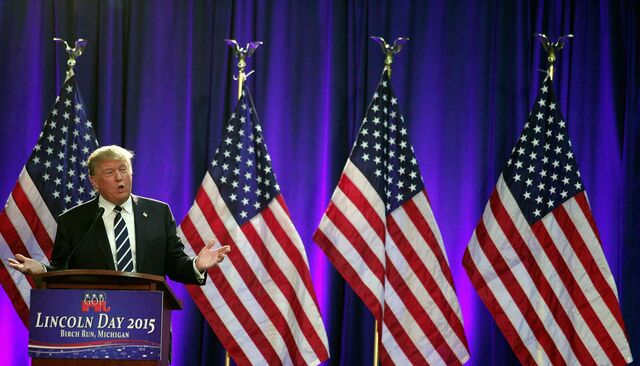 Donald Trump says he'd support shutting down the government to defund Planned Parenthood. But he's also defending the conservative boogeyman du jour, and the women's health provider seems happy with the kind words.
On Tuesday night, the Republican presidential front-runner defended the women's health services provider in an interview on Fox News' Hannity. Trump noted that abortion was a "fairly small part" of what Planned Parenthood does and that "we have to look at the positives also for Planned Parenthood."
"They do good things," he said, interrupting interviewer Sean Hannity's question.
While Trump insisted that he's "totally against the abortion aspect of Planned Parenthood," he expressed reluctance to eliminate all federal funding for the organization, something that a number of conservative Republicans, including some of his presidential rivals, are demanding after the release of undercover videos showing some Planned Parenthood officials discussing the cost of fetal tissue for medical research.
"I've had many Republican, conservative women come up and say Planned Parenthood serves a good function, other than that one aspect," Trump said.
According to Planned Parenthood's most recent annual report, 3 percent of the roughly 11 million services it provided in 2013 were abortions. The other 97 percent included STD testing and treatment, contraception, cancer screenings, pregnancy tests and other noncontroversial services.
Planned Parenthood said some of Trump's remarks in recent days have been "offensive," but it welcomed the statement of support from the real estate mogul, the only Republican presidential candidate who has defended the organization.
"Donald Trump seems to have realized that banning all abortions, shutting down the government, and defunding Planned Parenthood are extreme positions that are way too far outside the mainstream for even him to take," Eric Ferrero, a spokesman for Planned Parenthood Action Fund, said in a statement.
The latest controversy surrounding the organization began in mid-July after anti-abortion activists released videos of Planned Parenthood officials discussing the cost of aborted fetal tissue. The group strenuously denies allegations any illegal activity and insists it only seeks to cover the cost of lawfully donating tissue for medical research. The videos set off a wave of outrage from conservative politicians and prompted Republican leaders to call for eliminating Planned Parenthood's $500 million in annual federal funding through Title X and Medicaid. Within Republican ranks, the debate is not over whether to end funding for Planned Parenthood, but whether to hold up key funding bills— threatening a government shutdown—to try to make that happen when money expires on September 30.
Trump's solution, he said, is to "defund [Planned Parenthood] having to do with the abortions" but not the group's other services. That misses what to many Republicans is a key point: the group is already prohibited by law from using any taxpayer money to fund its abortion services. Critics of this arrangement reject the notion of a firewall; they argue that any money going to Planned Parenthood effectively bolsters its abortion clinics.
When Hannity pointed that out, Trump suggested "maybe unless they stop with the abortions we don't do the funding for stuff that we want."
In other words, he proposed to make federal money contingent on Planned Parenthood ending its abortion services. That stance puts Trump back in the Republican mainstream. The ire against the group stems from conservatives' opposition to abortion; without that component the right's enthusiasm to eliminate its funding would vanish.
Even so, for Planned Parenthood, Trump is now a cudgel to attack the rest of the Republican presidential field. What's "most troubling," said Ferrero, "are the positions of every one of the leading Republican candidates for president, who would ban abortion, defund Planned Parenthood's preventive services, and make birth control less affordable."
Before it's here, it's on the Bloomberg Terminal.
LEARN MORE