Pennsylvania AG Kane Blames Charges on Porn Scandal She Uncovered
Sophia Pearson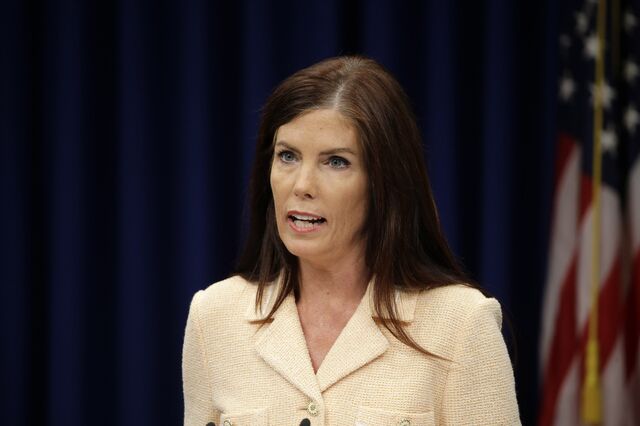 Pennsylvania Attorney General Kathleen Kane blamed a criminal case against her on a witch-hunt set in motion by state officials linked to an online pornography scandal stemming from the Jerry Sandusky sex-abuse case.
Speaking at a press conference Wednesday in Harrisburg, Kane insisted she was innocent of charges that she leaked secret grand jury information as part of a revenge plot.
Kane reviewed her office's handling of the Sandusky investigation and found state officials had been exchanging by e-mail photos and videos of women, elderly people and uniformed schoolgirls. Uncovering the e-mail chain led state officials to charge her in retaliation, she said.
Kane, the first Democrat elected to the office and the first woman, said she has no plans to quit. The criminal case, she said, is part of a "grand plan" that is the "new stealth political weapon that has not popped up on the media's radar yet."
This "is not a story about sting investigations, supposed personal vendettas or press leaks," Kane said. The chain of events that led to her charges "began with a group of state prosecutors and judges passing pornographic, racially insensitive and religiously insensitive e-mails amongst each other," she said.
The 49-year-old prosecutor is accused of perjury, obstruction of justice and conspiracy in a case growing out of leaks to a Philadelphia newspaper. Kane allegedly orchestrated the leaks in retaliation against a former state prosecutor who, she believed, embarrassed her in the press, the district attorney bringing the charges said in an Aug. 6 statement.
Kane is free on $10,000 unsecured bail. A preliminary hearing is set for Aug. 24.
E-Mail Chain
Last year, at least seven state officials were named as recipients of the e-mails with photos and videos. Pennsylvania Supreme Court Justice Seamus McCaffery, known for creating the Philadelphia "Eagles Court" in Veterans Stadium, retired after he was linked to the e-mail chain. The state's top environmental official, E. Christopher Abruzzo, also resigned amid the scandal.
The messages surfaced during a review by Kane of her office's handling of the Sandusky investigation.
The case is In Re the 35th Statewide Investigating Grand Jury Petition of Attorney General Kathleen G. Kane, 197 MM 2014, Supreme Court of Pennsylvania (Harrisburg).
Before it's here, it's on the Bloomberg Terminal.
LEARN MORE