Lawrence Lessig Wants to Be President for 'as Short a Time as Possible'
His campaign would be a long-shot bid with a singular focus.
by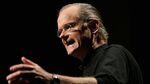 In 2011, the constitutional law scholar Lawrence Lessig published a book called Republic, Lost: How Money Corrupts Congress—and a Plan to Stop It. What might have been a simple book tour in subsequent years became something like a protest, a movement. Now, Lessig has decided to take his plan to the people—not as an author to an audience, or even a legal theorist to students, but as a candidate to voters. On Tuesday morning, Lessig will formally announce that he plans to form an exploratory committee that will help him decide whether to seek the presidency as a Democrat. This may be a long shot, opposite formidable candidates like former Secretary of State Hillary Clinton and Vermont Senator Bernie Sanders, but Lessig wants to be the change. He would certainly be an unconventional president. Unlike other candidates, Lessig is vowing to run, and then lead, on one issue alone—and then resign as soon as it's solved.
The issue? Big money in politics: dirty, murky, corrupting cash. Lessig's wish is nothing smaller, his website states, than to "find a way to un-rig that rigged system," and usher in a true representative democracy. 
Lessig, a fairly schmooze-resistant candidate, doesn't situate himself like other presidential contenders. To explain his motivation for running, he cites a poll from 2013, "where 96 percent of Americans said they thought it important to reduce the influence of money in politics, but 91 percent said they didn't think it was possible." 
"That combination defines a kind of politics of resignation," he told Bloomberg Monday. But he is not resigned. He seems to mean it when he says the campaign is about "a principle, not a person."
Here is the campaign-finance reform activist who considers the term "campaign-finance reform" as weak a euphemism as "liquid-intake problem" is for alcoholism. Lessig hopes to raise $1 million by Labor Day—in small donations, of course.
He is a man of laser-like focus, to quote his wife, an "all the way" individual who, after gaining weight on a sabbatical abroad, adopted a vegan diet and lost 60 pounds. Today, he is putting forward the Citizen Equality Act of 2017, to elect a president who could fix the government, overturning the Supreme Court's Citizens United decision, ensuring equal freedom to vote, equal representation, and citizen-funded elections. The reaches of his idealism, his belief in the intentions of the Constitution, might seem, to a passerby, of a Tea Party-like fervor. He believes the appeal of his pitch will reach across the aisle. 
Lessig wants to ask the American people "whether they support reforming the system to achieve equality as citizens," only the Constitution does not give referendum power. "So the idea," he said, "was to find a way to hack one into the Constitution." He has devised a wish to be a "referendum president," to reinstate a system in which each citizen has actually equal political power. "The referendum president says, I'm going to run for this one issue, this fundamental issue, the first issue that we have to resolve. And when elected, I will remain as president until Congress passes legislation that would address this single issue, this first issue." And then would come the vice president's term.
Lessig made news last year for the foundation of Mayday, "a super-PAC to end all super-PACs," with the stated goal of electing congressional candidates resolved to rectify the influence of money in politics. ("Embrace the irony," he was said to adopt as a casual campaign slogan.) Critics called it performance art. But Lessig was serious then, and he's serious now. He says he's learned from his mistakes, that Mayday and its many electoral losses have thickened his skin. "I don't think there's any inconsistency in saying we're going to live by the law in order to change the law," he told me Monday in an interview. He compared it to the battle for women's suffrage. "Just like women were finally given the right the vote: after they protested strongly and vigorously for many, many years, it was men who had to vote to give them the right to vote," he said. "There's no inconsistency in that. You took a less just system and vote to create a more just system with it, I think that's what we need to do here. We need to take a less just system and vote to create a more just system by voting to create citizen equality." He plans to launch fundraising drive to build up his campaign organization to a position where it can enter the debates.
Time and again, he points out the need to get the will, the vote, the law on your side in order to change it. Lessig said, "If a super-PAC were to develop where billionaires gave money to support this fundamental citizen equality act, that would be the equivalent of white people marching with African-Americans to get equal rights in 1965. Because what those rich people would be doing would be trying to bring about a change that reduced their political power, just like whites would be arguing for a change that reduced relative power of whites and blacks in society."
"I think that's actually an essential part of making it happen—you have to unite both left and right, insiders and outsides, and rich and poor, and represent that a republic, a representative democracy, is not true unless it actually gives people equal power inside of the political democracy," he added.
This is what America stands for, he says. He raised for ridicule the venture capitalist Tom Perkins's idea: "You don't get to vote unless you pay a dollar of taxes," calling it fully reactionary. "That is as foreign to America as any idea is," Lessig said. "Those were the Tories, the aristocrats, they lost the revolution." He laughed. 
Lessig mentioned the Black Lives Matter movement and its "incredible importance" as itself the "product of us as a republic forgetting the basic commitment to equality that was in our Constitution from the start."
He called this the big idea. "I want to really push as hard as I can to make it really the central idea that at least the Democratic Party talks about," he said.
Lessig expressed admiration for Sanders and his focus on economic equality, for Clinton and her push on voting rights. He cheered President Barack Obama and the work he has done on Cuba, Iran, climate change, and transparency. They all have good ideas, he said. But no matter how excited he is, personally, by these bold, progressive, visions, Lessig said, "America is not united around the idea around wealth equality the way America is united around the idea equality among citizens. What I'm pushing is a big idea that I think could actually unite America." A single mandate. And then it could give a president or member of Congress the freedom to lead.
Even Obama, he said, "in 2007 to 2008, he talked about this issue all the time. And then when he got to the White House he dropped it, he didn't take any step to change the way campaigns were funded, he didn't even deliver on the promise to give the Congress a way to deal with presidential public funding."
In addition to his position at Roy L. Furman Professor of Law and Leadership at Harvard Law School—that's how he makes his money, as he disclosed before any evident candidacy—Lessig is director of the Edmond J. Safra Center for Ethics at Harvard University. Were Samuel Clemens, or even Samuel Gompers, alive today, he might rib that American politicians don't often have the word "ethics" in their professional titles. But Lessig isn't interested in cynicism.
Although he acknowledged, "It might be the cynicism is too great, the pessimism that Americans have about politicians is too overwhelming—that there's no way to get traction for it because of those pessimism and cynicism realities."
"And then," he paused, "that's too bad for the republic."
"But my commitment," Lawrence Lessig said, "is to do whatever we can to make this work."
CORRECTION: An earlier version of this story misspelled Lawrence Lessig's last name in the first paragraph.
Before it's here, it's on the Bloomberg Terminal.
LEARN MORE