From Iowa Labor, Joe Biden Love But Scant Momentum
At a labor conference, there was plenty of love but also plenty of skepticism about the vice president's 2016 intentions.
by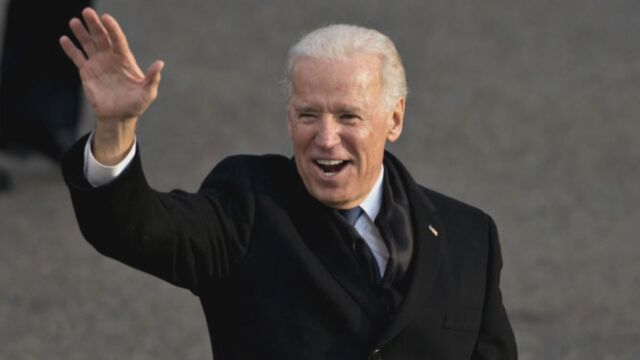 If Joe Biden ever heeds the close friends urging that he run for president, he'll need a groundswell of support from friendly constituencies. At last week's Iowa AFL-CIO summit in Altoona, no such Joe-mentum was apparent. 
"I haven't heard anybody talking about Joe Biden from labor," says South Central Iowa Federation of Labor President Mark Cooper, who like many Iowa labor leaders said he's not aware of any meaningful union efforts to drag Biden into the race, or to line up union support on his behalf, despite recent signals that Biden has not ruled out a third presidential run. That inaction underscores the daunting challenge that would face a late entrant—even a sitting vice president—with scant infrastructure behind him. "I haven't heard anything from anybody," says Iowa AFL-CIO President Ken Sagar. "A lot of people have asked questions."
But labor officials say potential Biden supporters are currently weighing how long it's worth waiting before bolting to someone else, not pounding the pavement to build a pro-Biden movement.
It's not that Iowa union leaders aren't fans. "How can you not like him?" says International Brotherhood of Electrical Workers Iowa State Conference President Bill Hanes, echoing several others. Most focused on his personal style or biography more than any policy position. "He just seems like a regular person, even though he's the vice president," says Dan Prymek, the director of the Iowa affiliate of the Laborers International Union of North America's labor-management group. "When you ask him a question, he'll give you his honest opinion." Most said a Biden bid would deserve a serious look.
But union leaders are doubtful Biden will join the race, and some are skeptical he could pose much threat to front-runner Hillary Clinton. And for many of those most frustrated with Clinton's stance on trade, or most eager for a further-left alternative, lifelong pro-labor stalwart Bernie Sanders offers a more natural vehicle to channel their discontent and challenge the frontrunner. Biden, says Bruce Clark, president of the American Postal Workers Union's Iowa division, is "part of this administration, hasn't said anything critical of what is going on with this administration." Plus, Sanders is actually in the race. (As is Martin O'Malley, another rival running to Clinton's left who impressed delegates at the federation's Thursday cattle call.)
Things will change if Biden takes the plunge, says state Representative Bruce Hunter, the ranking Democrat on the Iowa House Labor Committee, who's committed to back Biden if he has the chance. Hunter says he's not aware of much effort by labor in Iowa to get the vice president in the race, or to line up supporters in the meantime. But he says people are holding back out of respect for Biden—who's still grieving the death of his son—not lack of enthusiasm. "I think if Joe gets in in the next month or so," he says, "that there will be an infrastructure there that's going to be pretty easily put together."
National AFL-CIO President Richard Trumka, who calls Biden "one of the best human beings I know," isn't holding his breath. "If Hillary would significantly stumble and it looked like she was hurt or wounded mortally in the campaign, then I think you would see not just Joe Biden but others coming on the stage," says Trumka. "I don't see that happening right now. And Joe isn't doing any of the things that a candidate needs to do at this point in time to get into the game."
Before it's here, it's on the Bloomberg Terminal.
LEARN MORE