In Defiant Talk-Show Spots, Donald Trump Says He 'Cherishes' Women
The Republican presidential front-runner's latest controversial comments about a Fox News anchor leave the party in a quandary.
by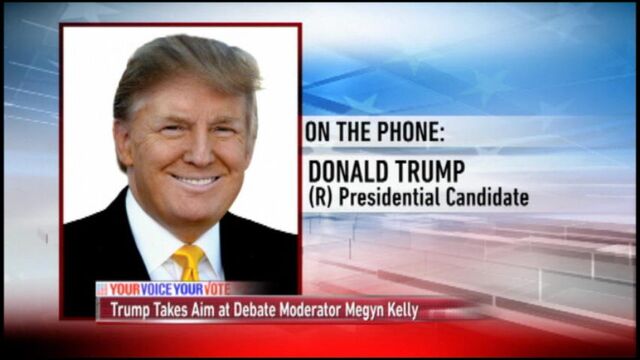 One day after his comments about a female Fox News anchor led to Donald Trump being dumped from a conservative gathering and set off a furious debate within the Republican Party, the Republican front-runner for 2016 refused to apologize and insisted he was being misunderstood.
His remark Friday about Fox's Megyn Kelly—that "you could see there was blood coming out of her eyes. Blood coming out of her wherever"—was meant to refer to "her nose or ears," Trump said on CBS' Face the Nation, one of four morning news show appearances he made Sunday. "Only a deviant would have thought otherwise." Kelly, at Thursday's Republican debate, had questioned the billionaire about his history of misogynistic comments. 
Other presidential rivals termed Trump's remarks "vulgar," un-presidential and reflective of a thin skin. But Republican National Committee Chairman Reince Priebus canceled a planned Sunday appearance on Face the Nation without explanation. That underscored the dilemma that having Trump as its standard-bearer creates for a party that wants to harness his supporters without alienating other key voters.
The Republican Party seeks in 2016 to turn the so-called "war on women" playbook on Democrats. In the 2012 race for the White House, Democrat Barack Obama had 56 percent of the vote among female voters to Republican Mitt Romney's 44 percent. That 12-point difference was the largest seen by Gallup since it started tracking the measure in presidential elections in 1952. 
Former Hewlett-Packard CEO Carly Fiorina, the lone woman in the 17-person field of major Republican candidates and one of the first and sharpest critics of Trump's comment about Kelly, acknowledged on Fox News Sunday that the front-runner "taps into an anger…with the ineptitude of the government and the professional political class. I agree with that anger." On CNN's State of the Union, Ohio Governor John Kasich emphasized his own admiration for strong women but would not be drawn into discussing Trump. Asked if he is afraid to criticize the front-runner, Kasich said: "I just don't want to be negative."
Senator Marco Rubio of Florida, in an interview pre-taped for airing on NBC's Meet the Press, was careful to avoid criticizing the billionaire-turned-Republican presidential front-runner, who claims he is the victim of political correctness.
On CNN, Trump went out of his way to say "I cherish women" and contended he went out of his way to promote them in the construction industry. "I've had such an amazing relationship with women in business. They are amazing executives. They are killers," Trump said on ABC's This Week.  
In several interviews, Trump pivoted to criticize one of his rivals, former Florida Governor Jeb Bush, who on Saturday was outspoken in his criticism of Trump's remarks. "What he said about women and women's health is ridiculous," said Trump, a reference to a comment Bush made about funding for women's health that he had to walk back.
Trump also said on This Week that he has no intention of apologizing to Kelly, whom he faulted for asking "a very nasty question."
That's revealing, Fiorina said on Fox News Sunday. "Presidential campaigns are about watching someone under pressure and over time," she said, adding: "I don't think you get things done by insulting everyone."
On Face the Nation, Fiorina said that women "are really sort of horrified" by Trump's comments on Kelly. "I think you cannot have a president who is thin-skinned," she added. 
Kentucky Senator Rand Paul, on Fox News Sunday, called Trump's comments about Kelly "vulgar." He also questioned Trump's conservative bona fides. "I have no idea what his philosophy is, other than promoting himself."
Bush, at the RedState Gathering in Atlanta where Trump's evening appearance had been scratched, said his rival's rhetoric risks was costing Republicans the votes of women. "Give me a break," Bush said. "I mean, do we want to win? Do we want to insult 53 percent of all voters?"
Conservative blogger Erick Erickson, who organized the gathering, said he disinvited Trump because "I just don't want someone on stage who gets a hostile question from a lady and his first inclination is to imply it was hormonal."
Trump's camp denied he was referring to menstruation and, on Twitter, edited his comment to suggest he was referring to a nosebleed.
A number of conservative activists at the evening party where Trump had been scheduled to speak said they found the remark out of line. "When he started talking like a street fighter, he lost me," said Carol Gill of Sahuarita, Arizona. "There was no need for him to get so down and dirty." Katherine Wilson of Austin, Texas, said: "If you are president, you just don't say stuff like that."
Trump, whose Sunday morning Twitter feed featured many retweeted posts from supporters, contended that the real losers were the RedState attendees who didn't get to see him. About 500 attended the evening event, held at the College Football Hall of Fame. Trump insisted there would have been more had he been the headliner.
Adding to Trump's eventful weekend, his campaign on Saturday parted ways with veteran strategist Roger Stone. It was unclear if Stone was fired, as a campaign spokeswoman said, or quit, as the adviser asserted on social media and in interviews. "Wish he would talk ISSUES and specific plans," Stone said Sunday on Twitter after catching Trump's talk-show appearances. 
(Contributing: David Lerman, Margaret Newkirk, Ben Brody, Elizabeth Titus, Susan Decker)
Before it's here, it's on the Bloomberg Terminal.
LEARN MORE