Trump, Veteran Strategist Stone Part Ways as Controversies Escalate
On the same day the candidate found himself disinvited from a conservative gathering, his campaign said it fired strategist Roger Stone. Stone says he quit.
by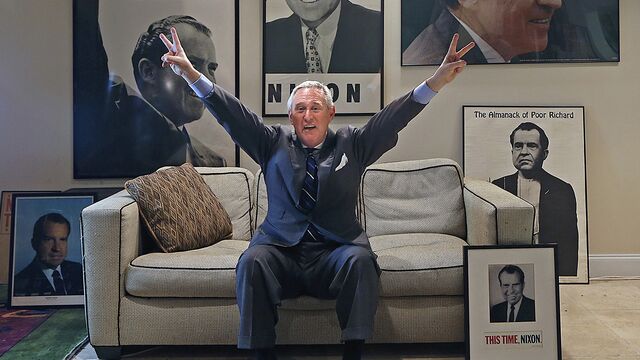 Roger Stone, a veteran Republican strategist who had been advising real estate mogul Donald Trump's run for president, no longer works for the campaign, which is facing yet another firestorm over Trump's remarks about Fox News anchor Megyn Kelly.
Hope Hicks, a campaign spokeswoman for Trump, confirmed the separation Saturday in an e-mail, describing it as a firing. "Mr. Trump fired Roger Stone last night," Hicks wrote. "We have a tremendously successful campaign and Roger wanted to use the campaign for his own personal publicity. He has had a number of articles about him recently and Mr. Trump wants to keep the focus of the campaign on how to make America great again." 
Stone claimed on Twitter that he had quit. "Sorry @realDonaldTrump didn't fire me--I fired Trump. Disagree with diversion to food fight with @megynkelly away core issue messages.''
Also on Bloomberg Politics: Trump Dumped From RedState Meeting Over Megyn Kelly 'Blood' Comment; Rivals Pounce
When asked about Stone's version of events, Trump's campaign said only that it stood by its statement.
The parting of ways comes after Trump has faced harsh criticism from several fellow candidates for complaining about Kelly's questioning of him during Thursday's Republican debate in Cleveland. 
Trump said Friday on CNN, "You could see there was blood coming out of her eyes. Blood coming out of her wherever." He insisted later that the comment was a reference to Kelly's nose, rather than menstruation, but found himself dropped from a gathering of conservatives in Atlanta this weekend, and facing condemnation from rivals.
"Give me a break," former Florida Governor Jeb Bush said Saturday at the RedState conference. "I mean, do we want to win? Do we want to insult 53 percent of all voters? What Donald Trump said is wrong."
Before it's here, it's on the Bloomberg Terminal.
LEARN MORE