With Megyn Kelly 'Blood' Comment, Donald Trump Again Roils GOP Race
Some Republicans pounce and others pause after Republican front-runner's disparaging comment about Fox News anchor sets off debate over gender and political correctness.
by , , , and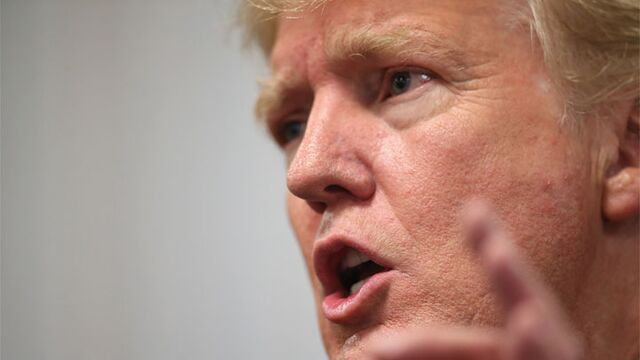 Republican presidential hopeful Donald Trump's blunderbuss approach to political rhetoric has set off a raging debate in the party over gender and free speech with some prominent Republicans—including some of the billionaire's rivals—pouncing on the front-runner and others retreating into conspicuous silence.
Hours after a firestorm erupted over Trump's comment that there was "blood coming out" of Fox News anchor Megyn Kelly's "wherever" when she questioned him at the Thursday presidential debate, Republican National Committee Chairman Reince Priebus cancelled a planned Sunday morning appearance on CBS' Face the Nation. His spokesman, Sean Spicer, would not say why or whether Priebus would have a comment on the latest controversy surrounding Trump, who is lapping the field in recent polls. In an interview on the NBC's Today Saturday morning, Spicer called on Trump to "clarify" his comment.
In an interview taped for NBC's Meet the Press, Republican presidential candidate Marco Rubio declined to directly answer whether Trump should apologize, according to a transcript provided by the network. "If I comment on everything he says, my whole campaign will be consumed by it," Rubio said, according to the transcript. The Florida senator added: "We welcome anybody who wants to be a part of the Republican Party." 
Other Republicans were less circumspect. Influential conservative blogger Erick Erickson wrote he was disinviting Trump from the RedState Gathering, where Trump was to address conservative activists that evening, because "I just don't want someone on stage who gets a hostile question from a lady and his first inclination is to imply it was hormonal." Kelly zeroed in on Trump's history of disparaging remarks against women at the debate, leading him to tweet out a series of attacks on the Fox anchor.
One of Trump's rivals, former Florida Governor Jeb Bush, expressed concern that Trump's comments could alienate women. "Give me a break," Bush said of Trump during his appearance Saturday at RedState. "I mean, do we want to win? Do we want to insult 53 percent of all voters?"
Other Trump rivals were quick to pounce. Former Hewlett-Packard CEO Carly Fiorina, the only woman among the major Republican candidates, tweeted, "Mr. Trump: There. Is. No. Excuse." and "I stand with @megynkelly." Walker, Trump's closest competitor in Iowa, whose caucuses are the nation's first presidential nominating event, wrote in a personally signed tweet that he agreed with Fiorina. 
Former Arkansas Governor Mike Huckabee, who worked with Kelly at Fox News, said Trump should apologize, though he declined to criticize him. Senator Lindsey Graham of South Carolina said Erickson made the right move in scratching Trump from the schedule. "As a party, we are better to risk losing without Donald Trump than trying to win with him," Graham said in a statement.
Former Pennsylvania Senator Rick Santorum sought to highlight the risk to the party if Trump continues to dominate the headlines. "We should and must address serious issues facing our nation, but name-calling and crass personal attacks is beneath the office we are running for. It serves no positive purpose and all it does is write ads for Hillary Clinton," Santorum said in a statement.
Senator Kelly Ayotte of New Hampshire, which will hold the first Republican primary in the new year, chimed in to say that women in the Granite State won't appreciate Trump's remarks.
But an anything-but apologetic Trump, who contended he is the victim of political correctness, had plenty of supporters, as evidenced by the angry pushback prompted by Walker's critical tweet and by the protests Erickson got after he announced Trump's disinvitation. 
At the RedState Gathering, Erickson read out e-mails that he said he had received from Trump supporters, including many with charged statements on race and gender.
"I've got to tell you guys, I made the right decision," Erickson said. "These are not the people I ever want at a RedState event."
On Twitter, Trump offered an edited version of the comment that set off the controversy, adding the word "nose," which is what he insists he meant.  
"Mr. Trump said 'blood was coming out of her eyes and whatever' meaning nose, but wanted to move on to more important topics," his campaign said in an e-mailed statement. "Only a deviant would think anything else."
The statement from Trump's campaign also lashed out at Erickson, pointing out past controversial statements from him such as calling former Supreme Court Justice David Souter "a child molester" and first lady Michelle Obama a "Marxist harpy."
"Also, not only is Erick a total loser, he has a history of supporting establishment losers in failed campaigns, so it is an honor to be uninvited from his event," the campaign said in its statement. "Mr. Trump is an outsider and does not fit his agenda."
At the event where Trump was to have spoken on Saturday night, reactions from some of the approximately 500 people gathered to hear substitute speakers were mostly critical of the billionaire candidate. 
"I'm not missing Donald Trump,'' said Ajita Edward, 44, of Grayson, Georgia. "Megyn Kelly did not ask him any inappropriate questions and he had no right to say what he said.''
Carol Gill, 67, of Sahuarita, Arizona, said Trump's comments have changed her mind about him. "I did like him. A lot of us did. I was glad to see him talking about political correctness, glad that he was so outspoken on things we should be talking about, that we need to talk about. But when he starts talking like a street fighter, he lost me. There was no need for him to get so down and dirty."
David West, a 44-year-old landscape architect from Atlanta, said he paid $100 to attend a RedState debate night and to see Trump, who he has admired for years—although he had not yet decided whether he would back him for president.
He said he had his wife and mother look at what Trump had said, and neither liked it, although both thought it was unclear what he meant. "I think he should have just apologized and moved on.''
Beth Johnson, who lives north of Atlanta, said she wasn't upset that Erickson disinvited Trump and that he'd lost his appeal for her before the Megyn Kelly comment.
"I appreciated the fact that he was tapping into the frustration people feel," Johnson said. "But I would not want him representing this country. The things he says are just not presidential.''
Katherine Wilson of Austin agreed, shaking her head. "If you are president, you just don't say stuff like that.''
Debbie Walsh, director of the Center for American Women and Politics at Rutgers University, called many of Trump's recent comments "disgusting." Remarks by the candidate—who also has criticized Mexican immigrants and American prisoners of war—could threaten the party's standing with women and Latinos, both key voting demographics, she said. "For the Republican Party, they will need, in a very real way, to distance themselves from him and his comments," Walsh said. "It feeds into the narrative of the 'war on women.'"
At the debate in Cleveland, Kelly asked Trump if he had the right temperament to be president, given that "you've called women you don't like fat pigs, dogs, slobs, and disgusting animals." Trump said he'd only used the barbs against TV personality Rosie O'Donnell, and the next morning denied hurling some of the insults Kelly had attributed to him. 
Trump on Saturday also parted ways with Roger Stone, a veteran strategist who had worked for several Republicans going back to President Richard Nixon. Stone said he quit because of Trump's campaign had veered from the issues. Trump said he fired Stone.
Still, Walsh and others questioned whether controversy could derail a self-funded candidate who has seen his poll numbers rise even in the face of criticism over comments on topics ranging from immigrants to Senator John McCain. 
"The man has unlimited resources and I think he loves the attention—whether it's good attention or bad attention. It doesn't deter him," Walsh said. 
Republican strategist Ford O'Connell said that the comments and attacks from rivals might not hurt Trump immediately but would be part of the mogul's "slow implosion."
"It may take weeks, it may take months, but Republican voters will realize this guy cannot be this thin-skinned and run for president of the United States," said O'Connell, who worked for the McCain presidential campaign in 2008 and is so far unaffiliated this year. "If you can't handle it from Megyn Kelly, how are you going handle it from Hillary Clinton?"
Trump, meanwhile, will appear on four different Sunday morning talk shows, days after helping Fox News attract record-smashing primary debate viewership.
CORRECTION: In an earlier version of this story, the second paragraph should have that Donald Trump said there was "blood coming out" of Fox News anchor Megyn Kelly's "wherever."
Before it's here, it's on the Bloomberg Terminal.
LEARN MORE