Schumer Opposing Iran Deal Complicates Obama's Senate Task
Billy House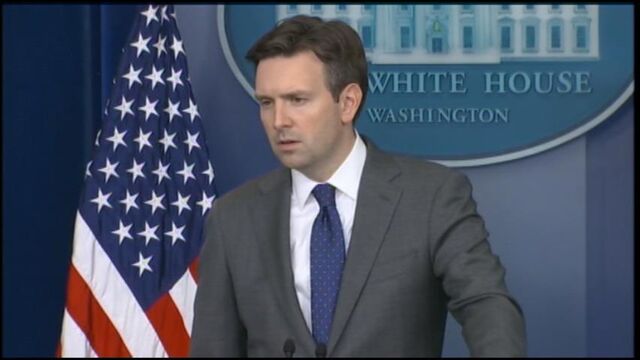 Senator Charles Schumer's opposition to the Iran nuclear deal offers cover for other Democrats inclined to reject the accord, complicating White House efforts to keep lawmakers from scuttling President Barack Obama's top foreign policy priority.
The New Yorker poised to become the next Senate Democratic leader, who broke his silence Thursday night with a statement setting out why he opposes the deal, wields significant influence with colleagues.
How many Democrats will follow him is unclear, though at the very least, it gives Senate Republican opponents of the accord a key ally in garnering the 60 votes needed to advance a disapproval measure in September.
"Senate Democrats are looking at him as the weather vane on this matter," offered the Jewish Voice, a weekly newspaper, in a July 29 editorial calling on Schumer to oppose the nuclear agreement between Iran and six world powers.
Joshua Huder, a senior fellow at the Government Affairs Institute at Georgetown University in Washington, said Friday he thinks Schumer may not aggressively seek to bring other Democrats along. Given his leadership aspirations, Schumer will have to "tread carefully," Huder said.
Ross Baker, a political science professor at Rutgers University in New Jersey, said that while Schumer's move may offer cover for other Democrats to oppose the deal, "I honestly believe this was more about giving himself cover with his own constituents at home."
Veto Math
Baker said he thinks Democrats will ultimately have the votes to sustain Obama's promised veto of congressional action to block the deal.
Even if all 54 Senate Republicans support a resolution of disapproval -- which isn't automatic as Jeff Flake of Arizona and Susan Collins of Maine haven't announced their intentions -- at least six Democrats must join them for that measure to advance to a vote. After that the resolution would need a simple majority to pass.
Ultimately, if both the House and Senate passed a resolution of disapproval, Obama has said he would veto it. He would need 34 votes in the Senate or 145 votes in the House to prevent an override of the veto, which requires two-thirds support to succeed.
White House press secretary Josh Earnest said Friday that a veto will be overridden if it comes to that.
'Doesn't Change'
"It doesn't change our confidence we'll be able to mobilize a substantial majority of Democrats in both the House and the Senate and if necessary sustain the president's veto," Earnest told reporters.
While lawmakers are away from Washington on their summer recess, the administration and lobbyists on both sides of the deal are closely watching Senate Democrats who haven't yet announced their position and could be swayed by Schumer's decision.
They include Richard Blumenthal of Connecticut; Joe Manchin of West Virginia; Mark Warner of Virginia; Bob Casey of Pennsylvania; Tom Carper of Delaware; Claire McCaskill of Missouri; Chris Coons of Delaware; Gary Peters of Michigan; Michael Bennet of Colorado; and Heidi Heitkamp of North Dakota.
Senate Democrats
As of Friday, Schumer was the only Senate Democrat who had announced his opposition to the deal, though Bob Menendez of New Jersey has had harsh words to say about it. Twelve Senate Democrats and independents Angus King of Maine and Bernie Sanders of Vermont have backed the agreement.
Announcing his position on Friday, Sanders, who is running for the Democratic presidential nomination, said the agreement "beats the alternative -- a war with Iran that could go on for years."
Schumer's fellow New York senator, Kirsten Gillibrand, is among the accord's backers. Earlier in the week, Democrats Barbara Boxer of California, Tim Kaine of Virginia and Bill Nelson of Florida had announced their support. Dianne Feinstein of California, and Dick Durbin of Illinois had previously indicated they back the accord.
Meanwhile, in the House, at least seven Democrats have announced they would vote against the deal, including Representative Eliot Engel of New York, the top Democrat on the House Foreign Affairs Committee. Representative Brad Sherman of California, who sits on the committee, announced Friday that also will join the opposition.
High-Profile Campaign
Lawmakers have until the end of the day Sept. 17 to complete their 60-day review of the deal. Obama has been waging a high-profile campaign to build congressional support since it was announced last month, warning Thursday that the Iran nuclear deal comes down to a choice "between diplomacy or some form of war."
Schumer has been caught between a large Jewish constituency in New York skeptical of the accord and the White House, which is waging a full-court press to safeguard the biggest foreign policy achievement of Obama's second term. Israeli Prime Minister Benjamin Netanyahu has denounced the deal, as have most Republicans in Congress.
At the White House, Earnest said Obama got a "heads up" before Schumer announced his position Thursday. He wouldn't say whether the New York Democrat called the president.
Schumer's opposition was "not particularly surprising," Earnest said. He instead emphasized the backing for the agreement announced Friday by Democratic Senators Tammy Baldwin of Wisconsin and Jeanne Shaheen of New Hampshire.
'March of War'
Obama stands by the arguments he made in his address on Wednesday that many of the opponents are the same people who supported the "march to war" in Iraq, Earnest said.
"Anyone would recognize the fault lines of this particular argument," Earnest said. While some Democrats have since said their vote to authorize an invasion of Iraq was a mistake, Schumer supported the war and he and Obama have a difference of opinion dating to that time.
How Schumer went about making public his decision was unusual for him. He typically seeks publicity, though in this case he issued a statement, late on Thursday as media attention was focused on the first Republican presidential debate.
"Better to keep U.S. sanctions in place, strengthen them, enforce secondary sanctions on other nations, and pursue the hard-trodden path of diplomacy once more, difficult as it may be," Schumer said in his statement.
'Serious Weaknesses'
He cited what he called "serious weaknesses" in the inspections process that would govern Iran's nuclear program over the next 10 to 15 years. After that, when many restrictions would expire, Iran would become "a nuclear threshold state with the blessing of the world community," he said.
Over the next weeks, Schumer's arguments will be pitted against the Obama administration's in the fight to sway fellow Senate Democrats. Surprise developments on the ground, especially Iranian actions, could alter the outcome, even for some lawmakers who've declared their positions on the accord.
A tense fight could play out in the House over any potential veto override, as well. Unlike in the Senate, though, there is no uncertainty that a House resolution of disapproval will easily be passed by the 60-day deadline.
There are 246 House Republicans, most of whom have already said they back a resolution of disapproval. House Republicans don't need Democratic backing to amass the 218 votes needed for passage.
Before it's here, it's on the Bloomberg Terminal.
LEARN MORE