Rand Paul and Chris Christie Battle Over the NSA
The senator says he stands for the Constitution. The governor counters that his opponent is "blowing hot air."
by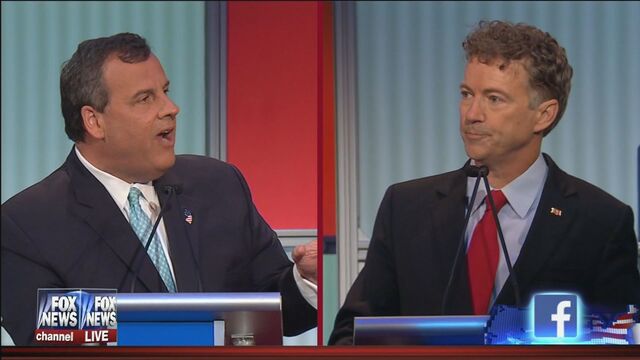 New Jersey Governor Chris Christie and Kentucky Senator Rand Paul had a heated exchange over the National Security Agency's domestic surveillance during Thursday night's Republican presidential debate in Cleveland.
Christie began the contentious back and forth by saying his experience prosecuting terrorists as a U.S. attorney and the people he knew who died on 9/11 led him to support the provisions that Paul has vocally opposed.
"I want to collect more records from terrorists but less records from innocent Americans," Paul responded, saying he was proud of his position. "I will continue to stand for the Bill of Rights."
Christie shot back: "That is a completely ridiculous answer!" The two men then began yelling over one another, with Paul telling Christie to "get a warrant" to distinguish between the two groups.
When moderator Megyn Kelly told Paul to let Christie finish, he said said the senator's position was easy to take "when you're sitting in a sub-committee just blowing hot air about this."
Paul, who had taken combative stances against Donald Trump for the first moments of the night, wasn't done, though. 
"You fundamentally misunderstand the Bill of Rights," he said before going after Christie for embracing President Obama in the aftermath of superstorm Sandy. "I know you gave him a big hug. If you want to give him a big hug again, go right ahead."
Christie then retorted that the hugs he remembered were with 9/11 families and suggested Paul has politicized his opposition to domestic surveillance by speaking against it on the Senate floor and then touting it in campaign fundraising.
Before it's here, it's on the Bloomberg Terminal.
LEARN MORE