In Iowa, O'Malley and Sanders Say What Unions Wish Clinton Would
Hillary Clinton has disappointed some union leaders on issues like trade, but remains the overwhelming favorite to face off against a Republican come November 2016.
by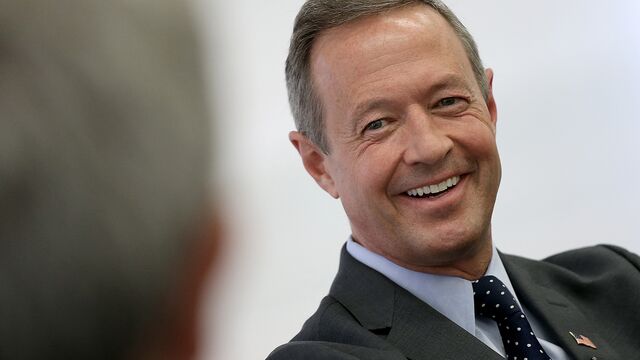 While Republicans took the stage in waves for a pair of nationally televised presidential debates on Thursday, some of their would-be Democratic rivals were at a much lower-key forum in Altoona, Iowa, offering the state's union leaders words that they wished they could hear from the contender who wasn't there. 
Appearing one at a time, four candidates—all the Democrats, except front-runner Hillary Clinton—each fielded the same eight questions from a panel of labor leaders. Two former senators and former Republicans, Lincoln Chafee and Jim Webb, took pains to highlight the union-friendly parts of their resumes, extolled the virtue of organized labor, and—except for when Chafee awkwardly, apologetically said he had to support the Trans-Pacific Partnership so as not to be a flip-flopper—mostly downplayed potential disagreements.
Their further-left counterparts, Vermont's Bernie Sanders and Maryland's Martin O'Malley, earned raucous applause with a mix of red-meat rhetoric and commitments to expand Social Security, oppose the TPP trade deal, and fight for a $15 minimum wage.
"My own view in terms of the TPP is I think we scrap it, I think we go back to the drawing board," said Sanders, who addressed the forum by video from Washington, thrusting his hands repeatedly at the camera for emphasis and reminding each of the four co-moderators of specific struggles they'd taken on together. "I will not have Larry Summers or Robert Rubin in my inner circle as an economic advisor," a high-energy O'Malley declared from the podium, referring to two top-ranking advisers to former President Bill Clinton, the husband of his chief rival.
Comments like O'Malley's were the closest the candidates came to addressing their main obstacle: Clinton. She has disappointed some union leaders on issues like trade, but remains the overwhelming favorite—and, some labor officials contend, the best-equipped—to face off against a Republican come November 2016.
"I think she's making a serious mistake in not being forthcoming in where she stands" on trade, says Iowa AFL-CIO Executive Committee member Jan Laue, who was on the panel questioning the candidates. Laue told Bloomberg that O'Malley and Sanders gave the kind of answers she wants to start hearing from Clinton.
Laue's fellow panelist Fredric Rolando, the president of the National Association of Letter Carriers, was more forgiving. "Would we love everybody to come out and say everything Bernie says?" he said after the forum. "Sure. But is that the right strategy to win the general election? I don't know." He added, "If she's not saying something that maybe I wish she were saying, I get it. I don't get it, but I get it… I know she's got our back."
NALC Iowa legislative representative Mark Fallis, an Iowa AFL-CIO board member, wasn't so sure, telling Bloomberg he considered Clinton's absence "kind of a slap in the face of labor in Iowa," and speculating she stayed away to dodge questioning on the TPP. (Clinton last week told reporters she "won't know until I actually see what's been negotiated" whether the proposed deal deserves her support.)
The front-runner also met with union members Thursday, taking part in a more recently announced, home care-focused conversation hosted in Los Angeles by the Service Employees International Union.
In July, she attended gatherings held by Iowa affiliates of the National Education Association and the American Federation of State, County and Municipal Employees. "I know that she believes in the trade union movement," AFSCME's national president Lee Saunders told Bloomberg last month. AFSCME hasn't endorsed a candidate yet, but could do so in the coming months. "I don't think that any time is too early as long as you've gone through a specific process and you've gotten commitments from the candidates," he said.
That process of seeking commitments and making endorsements can drag the whole presidential field in a positive direction, argues national AFL-CIO President Richard Trumka, even if unions make their own endorsements without waiting for the AFL-CIO, and even if they don't all endorse the same candidate. "They're going to force that candidate to talk about issues that are important to them," says Trumka. (AFL-CIO executive council members told Bloomberg he previously encouraged unions to at least hold off on making endorsements until after the national AFL-CIO conducted its candidate interviews at the end of last month.)
Interviewed after co-moderating the Thursday forum, Trumka told Bloomberg that it's "very conceivable" that the AFL-CIO itself will endorse a candidate during the Democratic primary. That's something that the federation has usually shied away from doing, and would require two-thirds support. Trumka found something to praise in each of the candidates who fielded his questions Thursday afternoon—citing Chafee's sincerity, Webb's patriotism and O'Malley's "forceful presentation," and saying Sanders was "just always terrific." But he also had something nice to say about the candidate who wasn't there. "She's been a champion for workers," he told Bloomberg of Clinton.
So if Clinton doesn't come out against the proposed TPP deal that unions despise, can she still get the AFL-CIO's support? "If you give to the rank and file [union members] a report card that says 'no position,' it will make it more difficult for them to jump up and endorse somebody and enthusiastically support them, because that's such a big position," Trumka told Bloomberg. "Would it be impossible to do? No." The AFL-CIO president, who in a Thursday morning speech to delegates described appeals from Obama to state AFL-CIO leaders to side with him on trade as (unsuccessful) requests to "be a Judas goat," told Bloomberg that if the AFL-CIO's general election candidate isn't anti-TPP, "it makes it harder to energize our people."
"It's really not fair for me to say it is or it isn't a dealbreaker," Trumka said, because it depends on feedback from the 12.5 million workers represented by the AFL-CIO's 56 unions. "They're going to decide that."
Before it's here, it's on the Bloomberg Terminal.
LEARN MORE