He Said, He Said: A Guide to the Schumer-Obama Debate Over Iran
David J. Lynch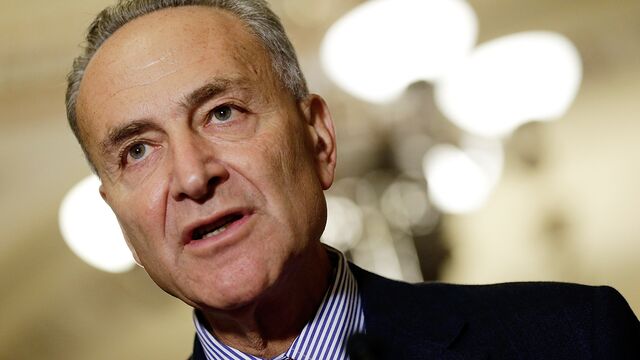 New York Senator Charles Schumer, who's in line to be the Democrats' next Senate leader, says the U.S. will be worse off with the Iran nuclear agreement that his party's president negotiated than without it.
President Barack Obama says those who argue a better deal is possible are "selling a fantasy."
Here's a summary of Schumer's arguments in a 1,662-word statement he issued on Thursday explaining his opposition to the agreement and the Obama administration's contentions:
Suspected Sites
Schumer says the 24-day delay before international inspectors could get access to suspected sites would allow Iran to eliminate evidence of prohibited nuclear work. The U.S. also would need support for such inspections from its European allies, who he says "may well be inclined not to rock the boat" after they "become entangled in lucrative economic relations with Iran."
The administration says intelligence agencies will monitor suspect sites, those not declared by Iran under the agreement, "continuously" until inspectors get there.
Nuclear material also leaves traces that can be detected long after 24 days. In 2003, inspectors found nuclear residue at an Iranian site six months after first seeking access, according to Energy Secretary Ernest Moniz. "If Iran cheats, we can catch them, and we will," says the president.
Sanctions
The "snapback" provision to reimpose multilateral sanctions in the event of Iranian cheating is "cumbersome and difficult to use," Schumer argues.
Obama says the U.S. won't need to win United Nations Security Council approval for restoring sanctions; it can snap back some sanctions on its own.
After 15 Years
The deal merely delays Iran's possible acquisition of a nuclear weapon, leaving it 15 years from now on the threshold of obtaining one, Schumer says. "If Iran's true intent is to get a nuclear weapon, under this agreement, it must simply exercise patience," he says.
Obama says that the deal will "permanently" prevent Iran from developing a nuclear weapon because inspectors will have access to Iran's entire nuclear supply chain -- from uranium mines to centrifuge facilities -- for decades.
And if Iran reneges on its pledge never to seek a nuclear weapon, administration officials say, a future president would be better able to detect the cheating and still have the tools to respond, including military action, that Obama has today.
Terrorism
The agreement will facilitate Iranian support for terrorism, argues Schumer. Once it complies with the requirement to scrap the vast majority of its nuclear infrastructure, Iran will regain access to frozen overseas assets that the administration values at $56 billion. Supreme Leader Ayatollah Ali Khamenei will assuage hard-liners who oppose any nuclear restraints by "strengthening Iran's armed forces and pursuing even more harmful military and terrorist actions," Schumer says.
The administration says domestic needs will absorb most of the new cash. Sanctions have left the Iranian economy 20 percent smaller than it otherwise would have been. Iran now faces hundreds of billions of dollars in unpaid bills and backlogged investment needs. Plus, any marginal increase in Iranian terrorism or military spending could easily be matched by the U.S. and its Israeli and Arab allies. Saudi Arabia alone outspends Iran on the military by a margin of 6-to-1.
Iran's Intentions
Schumer argues that a verdict on the agreement depends on whether or not you think Iran will change. He doesn't.
Obama says he harbors no illusions about the agreement ushering in a kinder, gentler Islamic Republic. The deal, he says, makes sense on its own terms: requiring Iran to surrender 98 percent of its enriched uranium stockpile, remove two-thirds of its 19,000 centrifuges and accept intrusive monitoring.
Likewise, administration officials say, extending the warning the U.S. would get of any Iranian bid to field a nuclear weapon to one year from two months means the deal is valuable no matter how troublesome Iran remains.
Renewing Negotiations
Instead of implementing the current deal, Schumer says the U.S. should strengthen sanctions and return to the negotiating table.
Secretary of State John Kerry has called hopes of winning further Iranian concessions a "unicorn fantasy." Ambassadors from the other major powers involved in the negotiations -- Germany, France, the U.K., China and Russia -- told members of Congress this week that there's no better deal to be had. If the current agreement is scrapped, they said, the multilateral sanctions will crumble and the Iranians will be under no pressure to bargain.
Before it's here, it's on the Bloomberg Terminal.
LEARN MORE