Wary on Trade, Iowa Unions Aren't Ready for Hillary Clinton
The Democratic front-runner's reluctance to take a position on the TPP trade deal is causing some in the labor movement to move to other candidates.
by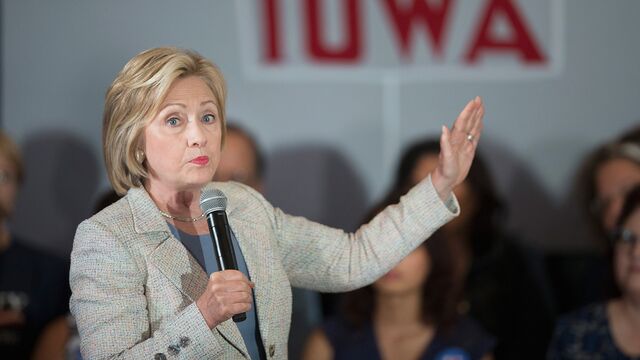 At an Altoona forum Thursday afternoon, Iowa labor leaders will interview four Democratic contenders about what they'd do as president. But they won't be joined by the one they'd most like to cross-examine: front-runner Hillary Clinton, whose equivocal stance on a trade deal they despise and is causing consternation at this year's Iowa union confab.
"I would have liked her to be more forthright in terms of her opposition to the fast track authority," says Iowa AFL-CIO President Ken Sagar, who blames "crappy trade deals" for thinning labor's ranks in the first-in-the-nation caucus state. While telling Bloomberg that "many people are very excited about her candidacy," Sagar bemoaned Clinton's refusal to fight the controversial Trans-Pacific Partnership. "If you want to be the leader of the free world, why wouldn't you tell people what your opinion is about issues that are critical to the working people of this country?" he asked. "It doesn't make sense to me. But hey, I'm just a working guy out here in Iowa."
The still-unfinished TPP, which President Obama touts as a job-creator but progressive groups have blasted as a threat to labor standards and regulations, poses a challenge for the Democratic front-runner, who is skipping Thursday's Iowa AFL-CIO forum but attending a Los Angeles event with the Service Employees International Union. After being pressed on the TPP last week at a private meeting with the national AFL-CIO's executive council, Clinton reiterated to reporters that she would judge the deal based on three tests: "does this protect American workers, does it raise wages and increase economic opportunity and is it in our national security interests." She said she'd been hearing there may have been positive changes made in the TPP during negotiations, "but I don't know if there have been enough changes and I won't know until I actually see what's been negotiated." Clinton primary rivals Bernie Sanders and Martin O'Malley both oppose the deal.
Steve Abbott, who heads the Communications Workers of America's Iowa state council, says Clinton's equivocation on trade is what spurred him to back Sanders. "Her lack of an answer gave me an answer," says Abbott, who claims Clinton's caution on the issue is helping Sanders win converts among his counterparts at other unions.
Dissatisfaction or distrust of Clinton on trade is widespread among the labor officials who make up the executive board of the Iowa AFL-CIO. "I don't doubt at all that if elected, she would continue to pursue free trade, unrestrained negative trade," says Bruce Clark, president of the American Postal Workers Union's Iowa division.
"We can't just keep continuing down that road of letting free trade just ruin our country," says Stacey Andersen, a Midwest union representative for the Glass, Molders, Pottery, Plastics & Allied Workers International Union. "I would love to have her be the first female president, but she's going to have to come out a little bit stronger than what I've been seeing when it comes to labor-friendly issues."
Ken Larson, a local vice president for the American Federation of Government Employees, says he's worried a Clinton presidency could amount to, "Here I'm going to please the American worker by saying this and this and this, but here I'm going to make this deal that's going to disparage or harm the American dream."
Clinton may still win while upsetting unions on trade, says State Representative Bruce Hunter, the ranking Democrat on Iowa House Labor Committee. "If she comes out strong on a lot of her other issues —she's been fairly good on the questions that she's answered—she may be able to overcome it," says Hunter, who believes TPP will hurt U.S. workers, wants Joe Biden to be president, and is married to the Iowa AFL-CIO's political director. "But I think it'll put a big chink in her armor."
Trade isn't a top tier issue for everyone on the Iowa federation's board. Dan Prymek, who directs the Iowa affiliate of the Laborers International Union of North America's labor-management group, is more concerned with getting Clinton to take sides on the proposed Keystone pipeline, which LIUNA just scorched O'Malley for opposing (Sanders is against it, too). "I think she needs to give us a straight answer," he says.
Even if Clinton's Iowa union critics aren't won over by caucus time, they'd support her in a general election against an anti-union Republican. "Obviously I think it's important to stand up for your values, to stand up for candidates who believe in things that you believe in and that you know are meaningful," says Robert Gilmore, secretary-treasurer of the International Union of Painters and Allied Trades' district council in Iowa. "But in the end, the energy has to be focused on a winner." Gilmore, who tells Bloomberg he's "still waiting to see if there's a viable alternative candidate," says keeping Republicans from seizing the presidency must be paramount. "It will take fifty years to bounce back from what they can do in only four years."
But some of the labor leaders who'd help get out the vote for Clinton against a GOP opponent warn her trade stance could make that harder. "When you kick the can down the road, it's hard to take you for your word on other issues," says International Brotherhood of Electrical Workers Iowa State Conference President Bill Hanes, who compares her TPP answers to what he calls her "bullshit" Keystone dodge. "If Clinton doesn't start giving positions and is the eventual nominee, I worry about how enthused the members will be."
Before it's here, it's on the Bloomberg Terminal.
LEARN MORE