The King of Coal Reveals $1 Million Bet on Jeb Bush
Zachary R. Mider and Mario Parker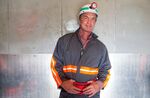 Chris Cline, the billionaire coal baron, revealed himself today as the donor behind a $1 million contribution to a super-PAC supporting Jeb Bush's presidential campaign.
"Chris is proud to support Right to Rise," said Brian Glasser, a lawyer for Cline, in an e-mail to Bloomberg News, using the name of the pro-Bush super-PAC.
A West Virginia native whose grandfather mined coal with a pickax, Cline, 57, made a fortune by buying up out-of-favor coal mines in Illinois and betting they would surge in value.
"I never had a problem going 'all in' in a card game," Cline said in a 2010 profile in Bloomberg Markets magazine, which dubbed him the "New King Coal." He's also the chairman of Foresight Energy LP, one of the few coal miners identified by Bloomberg Intelligence as still making money amid a price slump.
In one instance described in the profile, after teachers at his children's school aired Al Gore's film, "An Inconvenient Truth," Cline asked them to hand out literature suggesting other potential causes for climate change, such as sunspots or the earth wobbling on its axis.
On Monday, President Barack Obama released his so-called Clean Power Plan, meant to reduce the country's carbon emissions with new restrictions on coal-power generation. Bush called the rule "irresponsible and overreaching" saying it will increase energy prices and "throw countless people out of work."
This isn't Cline's first big political donation. In 2011 and 2012, one of his companies that was seeking to mine in northern Wisconsin gave $700,000 to a conservative nonprofit, according to a report in Propublica. The nonprofit worked to pass a state law to speed up the process of granting iron mining permits, the Propublica report said.
The Bush super-PAC reported last week that it raised a record $103 million in the first half of the year, helped by almost two dozen donations of $1 million or more from individuals and companies.
Cline's donation was listed as having come from a company known as Jasper Reserves LLC, about which little was known before Thursday beyond an address in downtown Charleston, West Virginia. In his statement, Glasser acknowledged that Jasper Reserves "is a Chris Cline company."
The contribution also points to a loophole in the campaign finance system. Under current law, super-PACs can receive unlimited donations from individuals, corporations and other businesses, but they must regularly disclose their identities.
Using a shell corporation that's not easily traced to its creator is one way big donors can avoid the disclosure requirement.
In 2011, a super-PAC supporting Mitt Romney got $1 million from a company known as "W Spann LLC" that had been created shortly beforehand. Edward Conard, a former colleague of Romney's at Bain Capital, eventually came forward as the mystery donor.
Before it's here, it's on the Bloomberg Terminal.
LEARN MORE