New York City Rips Hedge Funds Over Puerto Rico While Giving Them Billions
Martin Z. Braun and Henry Goldman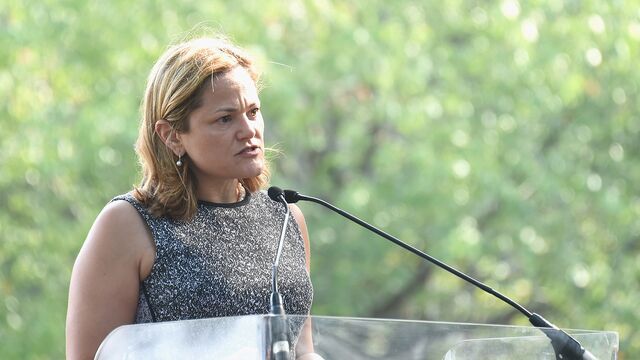 Melissa Mark-Viverito, New York City's second-most-powerful elected official, called them vultures.
Hedge funds that hold billions of dollars of Puerto Rico's high-yield debt "are feeding off the misery of the island," Mark-Viverito, speaker of the City Council, told a cheering crowd last week at a City Hall rally. She accused the funds of trying to gut wages, education and health care for the island's 3.5 million residents.
What she and other critics who spoke that day didn't say was that New York taxpayers and retirees entrust some of those hedge funds with more than $2.2 billion of the city's $166 billion in pension assets.
The July 28 rally, organized by the city's Hispanic Federation, attracted Latino activists who heard Mark-Viverito, Mayor Bill de Blasio and Comptroller Scott Stringer each acknowledge the special relationship between the island and New York, where more than 700,000 Puerto Ricans reside, almost twice as many as in San Juan.
No one suggested taking back the pension assets stashed with the firms.
Puerto Rico, with a credit rating that's sunk as low as Greece's, and its agencies have racked up $72 billion of debt, which Governor Alejandro Garcia Padilla says the island can no longer afford. Puerto Rico defaulted for the first time Monday, when it paid just $628,000 of a $58 million bond payment due from one of its agencies.
Big Buyers
As the yields on Puerto Rico bonds soared, hedge funds and other distressed-debt buyers swooped in. They now hold as much as 30 percent of the obligations of Puerto Rico and its agencies, Barclays Plc municipal-debt strategist Mikhail Foux estimates.
Critics of the hedge funds base their attack on a report commissioned by some of them. The analysis by three former International Monetary Fund economists, which was released last month, said Puerto Rico could avoid defaulting by cutting spending, improving tax collections and selling its ports and other real estate.
City pension funds for teachers, civil servants, police officers and firefighters have assets managed by Fir Tree Partners, Perry Capital, Brigade Capital Management, Centerbridge Partners, Marathon Asset Management, Angelo Gordon & Co. and D.E. Shaw & Co., according to disclosures by the retirement funds.
'Just Ugly'
"They assumed a risk, they bought bonds at bottom dollar and so now it's just ugly," said Mark-Viverito, 46, who was born and raised in San Juan and represents East Harlem.
The hedge funds "are not offering any recommendations about what they can do except being obstructionist in every which way," she said. "Investors need to share in the hardship to restore the island's finances."
Mark-Viverito didn't call for divestment of city pension assets from such funds, though she said in an interview that she would consider it. She doesn't have direct power to do anything because, unlike the mayor and comptroller, the City Council doesn't have representatives on union pension boards.
Stringer, who as comptroller acts as investment adviser to the pensions and has a representative on their boards, would be "exploring all options, including divestment," said his spokesman, Eric Sumberg.
Weighing Returns
Amy Spitalnick, a de Blasio spokeswoman, said the administration would have to weigh the hedge funds' impact on Puerto Rico's fiscal constraints against the opportunity for positive returns on retiree investments.
"The administration is working with our fellow trustees to engage our investment managers and better understand their roles as it relates to the current situation in Puerto Rico and our pension investments," Spitalnick said. "It is imperative for trustees to understand the risks in their investment portfolios."
De Blasio's speech at the City Hall rally focused on pushing Congress to pass a law allowing Puerto Rico's agencies to declare bankruptcy, which would give them the ability to cut their debts in court.
Some investment firms that hold bonds sold by Puerto Rico's electric utility have lobbied against the effort. Permitting such protection would erode investor confidence in the $3.6 trillion municipal-debt market, said Stephen Spencer, a managing director at Houlihan Lokey, who's advising creditors of the power company. That's because investors bought commonwealth securities with the assurance that they were protected against the risk of bankruptcy, he said.
Solution Seen
Brigade and Fir Tree are part of the group of 38 funds that own $5.2 billion of Puerto Rico debt and commissioned the report from the former IMF economists. Spokesmen for the firms declined to comment.
The report drew from an analysis released by the Puerto Rican government in June, which said officials need to cut spending and take other steps to revive the economy, such as cutting the island's minimum wage below the federal $7.25 level, easing job-security rules and reducing welfare benefits.
The critics who rallied at City Hall attacked some hedge funds for advocating such measures.
Like Minds
As for bankruptcy, some hedge-fund managers holding general-obligation bonds, including Fir Tree, agree with de Blasio. They say changing the law would create a framework to help creditors get repaid. Before Garcia Padilla in June began a push to put off debt payments, they offered to assist with a $2.9 billion bond sale to raise cash for Puerto Rico, a deal that has since been scuttled.
Firms such as Marathon Asset Management, which hold bonds in Puerto Rico's electric utility, known as Prepa, say that far from exploiting the situation, they hold the promise of helping the island recover without the need for bankruptcy. The firm is one of several creditors that hired lobbyists to kill the congressional proposal.
Angelo Gordon and D.E. Shaw are also working to defeat the bill. Spokesmen for each company declined to comment.
Utility bondholders want to negotiate directly with the agency.
The creditors proposed an $8.1 billion debt exchange that would stretch out payments over several years while giving the agency time and capital to upgrade its infrastructure. The new debt would be paid off through a surcharge imposed on the rate the utility charges its customers.
Hedge funds offer the island opportunity, not exploitation, said Andrew Rabinowitz, chief operating officer of Marathon.
"Marathon has a positive view towards Puerto Rico and is interested in investing new capital in the island to fund infrastructure projects which will provide jobs and power to the island as well as help to lower its energy prices," he said.
Before it's here, it's on the Bloomberg Terminal.
LEARN MORE