Marco Rubio's Debate Challenge
Can the freshest face in the Republican Party find his voice at tonight's debate?
by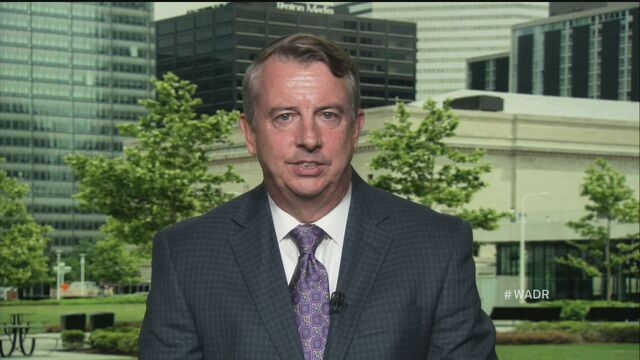 When Marco Rubio takes the debate stage alongside nine fellow Republican presidential contenders Thursday in Cleveland, he'll be trying to recapture his mojo. The 44-year-old Floridian was initially hailed by some as his party's version of Barack Obama, a trailblazing freshman senator who came out of nowhere to capture his party's presidential nomination eight years ago. Instead Rubio finds his poll numbers slipping into the middle of a crowded pack of Republican contenders.
On the campaign trail, Rubio has tried to make the case that his personal experience as the son of Cuban immigrants from humble beginnings makes him a perfect standard-bearer for a party that needs to expand its appeal beyond older, white country club voters.
During a rally Wednesday at the bar TownHall in Cleveland, Rubio called the election a "generational choice," declaring that the United States has been "held back" by leaders who "do not understand the 21st century, do not understand the opportunities of a new era." He echoed that pitch in Iowa last month, telling a room full of voters in Urbandale, "Quite frankly, I'm the only one running up to now that is running on this message that the future is now." He also highlighted his modest roots. "If you look at where I come from," he said, "my father was a bartender, my mother was a maid. They were never rich."
Biographically, Rubio represents a break with party tradition. Philosophically, not so much. Where Donald Trump has gained traction by defying political etiquette and party orthodoxy, Rubio—who first ran for the Senate as an anti-establishment candidate—has taken a different approach, repackaging traditional conservative ideas for new demographics and audiences.
"Marco has an optimistic conservative message that reaches a very broad audience, and he's one of the best candidates in the field at delivering that message," said Rick Wilson, a Republican strategist based in Florida who's unaffiliated with a presidential candidate.
Hewing to ideological litmus tests
Rubio stands with the rest of the Republican pack in proposing to roll back President Barack Obama's signature initiatives Obamacare, the Dodd-Frank financial reform law and the Iran nuclear deal. On climate change (he doubts humans are contributing and opposes federal intervention), foreign policy (he proposes a more aggressive U.S. presence in the world) and social issues (he opposes abortion rights and wants to defund Planned Parenthood), Rubio hews to standard Republican positions. The dynamic is particularly stark in two issues where Rubio and his party are opposed to a growing majority of the American public: legal same-sex marriage and normalizing relations with Cuba.
A series of strict ideological litmus tests from an angry and frustrated party base combined with a competitive primary have stripped Rubio of the one major issue where he hoped to truly be a different kind of Republican: immigration. His effort in 2013 to pass a comprehensive bill with a path to citizenship hit a wall of GOP opposition, and Rubio subsequently backed off and no longer supports that approach.
"It's challenging," said John Feehery, a Republican strategist and lobbyist who supports immigration reform. "Republican voters don't really want to be lectured to. And they don't really want to change their position on issues like immigration." Feehery said immigration would be Rubio's "biggest vulnerability" in the debate, and suggested the senator compare himself to Ronald Reagan, "because Reagan was pro-immigration, and people forget that."
An opening for Hillary Clinton to attack
All of this has created an opening for Democratic front-runner Hillary Clinton to boomerang Rubio's attacks on her as the "candidate of yesterday."
"Across the board, they are the party of the past," she said of Republicans late June in Virginia. "Not the party of the future."
Calling for an end to the Cuba embargo in Miami last week, Clinton again turned Rubio's rhetoric against him when she said Republicans "still view Cuba—and Latin America more broadly—through an outdated Cold War lens." She added: "They refuse to learn the lessons of the past... and so they remain incapable of moving us forward."
The Democratic National Committee has derisively nicknamed the senator "Retro Rubio."
Rubio campaign spokesman Alex Conant wouldn't discuss how the senator's views contrast with his Republican rivals, saying only that "Marco has offered the most detailed policy proposals in the race, and is the only candidate talking about the need for a new generation of leaders to make the 21st Century a new American century."
One way Rubio has stepped outside the Republican box is by calling for boosting alternatives to the "cartel" of traditional four-year colleges so students can obtain relevant skills without breaking the bank. He has also proposed a detailed tax plan that slashes rates across the board—and faced some criticism from the right for the fact that it doesn't go as far as the flat-tax proposals by his rivals Texas Senator Ted Cruz and Kentucky Senator Rand Paul. Conservative policy writer James Pethokoukis attributes the criticism to "the economic nostalgia and wishful thinking that's infected much of today's GOP policy debate."
Opportunities and risks
The Cleveland debate Thursday, at which Trump will bring his trademark bravado, carries opportunities as well as risks for Rubio. "The star of that show is gonna be Donald Trump, and we all know it," Wilson lamented. Rubio's political strength—his youth—can also be turned against him: he's inexperienced and has a wafer-thin record of achievements in the Senate.
"There are not a whole lot of accomplishments he can point to that Republican voters will find compelling. But his personal story is compelling," Feehery said. "I think that ultimately is his challenge—to make inexperience a virtue."
"He's not going to win the election in this debate, but he could lose it," Feehery said. "So he's got to be very on point and very disciplined. And he's got to be credible."
Before it's here, it's on the Bloomberg Terminal.
LEARN MORE