Clinton's Rivals Protest as Democrats Set Dates for Six Presidential Debates
Bernie Sanders and Martin O'Malley call for more debates to be added to the schedule.
by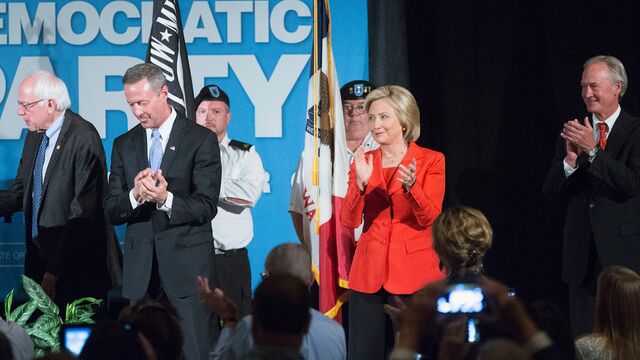 The Democratic National Committee on Thursday announced its schedule for six presidential debates, which will begin in October and continue through February or March, with one debate in each of the four early primary and caucus states, plus one in Miami and another in Wisconsin. 
Front-runner Hillary Clinton is supportive of the calendar, which has already angered rival candidates—most notably Vermont Senator Bernie Sanders and former Maryland Governor Martin O'Malley—hoping to get more attention from voters and the media. Both men on Thursday called for more debates to be added to the schedule.
As it stands, the first Democratic debate will be on Oct. 13 in Nevada, co-hosted by CNN and the state's Democratic Party, followed by a Nov. 14 debate in Des Moines at Drake University hosted by CBS, KCCI, and the Des Moines Register.
The party's next debate will be in Manchester, New Hampshire, on Dec. 19, hosted by ABC and WMUR. The South Carolina debate will be on Jan. 17 in Charleston, hosted by NBC and the Congressional Black Caucus Institute. The final two Democratic debates will be held in February or March, one in Miami hosted by Univision and the Washington Post, and the other in Wisconsin hosted by PBS.
The announcement from party chair Debbie Wasserman Schultz comes on the morning of the first Republican debates and as chatter had picked up about what was next for the Democrats.
"These six debates will not only give caucus goers and primary voters ample opportunity to hear from our candidates about their vision for our country's future, they will highlight the clear contrast between the values of the Democratic Party which is focused on strengthening the middle class versus Republicans who want to pursue out of touch and out of date policies," Wasserman Schultz said in a statement.
While Republicans have struggled to manage a large field—a total of 17 major candidates are appearing at two separate debates on Thursday—the number of Democratic candidates eligible for their party's debates could be winnowed down even further based on the entry rules. The DNC and the networks agreed that candidates must get at least 1 percent in three national polls conducted by "credible news organizations and polling organizations" in the six weeks before a debate, party spokeswoman Holly Shulman said.
The five major declared candidates for the Democratic nomination—Clinton, Sanders, O'Malley, former Rhode Island Governor Lincoln Chafee, and former Virginia Senator Jim Webb—shared a stage last month at the Iowa Democratic Party Hall of Fame dinner in Cedar Rapids but spoke separately, as will be the case when they appear at the DNC summer meeting in Minneapolis at the end of August.
More events like those are on the horizon, but the schedule for debates is far slimmer than it was in 2007-08, the last time Democrats had an open nomination process. With more candidates and a more competitive field, the party held 26 debates, which started in the spring of 2007.
Clinton's campaign has lent public support to the six-debate schedule, which limits rivals' opportunities to attack her face to face and which the Clinton campaign hopes will show voters that she is not just coasting to a coronation. 
"As she has noted in the past, Hillary Clinton is looking forward to joining her fellow Democratic candidates in the upcoming DNC-sanctioned debates," spokesman Jesse Ferguson said in a statement. "Unlike the Republican debates about their out-of-date agenda, we believe these debates will be a great conversation around issues that matter to everyday Americans and the Democratic ideals for moving America forward."
Sanders, Clinton's closest opponent in state and national polls, said in a statement Thursday that he is "disappointed, but not surprised, by the debate schedule announced by the Democratic National Committee."
"At a time when many Americans are demoralized about politics and have given up on the political process, I think it's imperative that we have as many debates as possible—certainly more than six. I look forward to working with the DNC to see if we can significantly expand the proposed debate schedule," he said.
O'Malley's team aggressively voiced its dismay with the calendar, sending supporters an e-mail with the subject line "Are you kidding me?" and scheduling press conference calls with its Iowa and New Hampshire state directors to rail against the process.
"The DNC just released their debate schedule, and it is one of the slimmest that I have ever seen. Literally. What they're proposing does not give you, the voters, ample opportunity to hear from the Democratic candidates for president," O'Malley senior strategist Bill Hyers said in the e-mail. "The DNC has no place determining how many times voters in early states can hear from presidential candidates, and what's ironic is that their schedule has made this process much LESS democratic."
In June, Sanders asked Wasserman Schultz to consider a more robust debate schedule, which would have started this summer.
Sanders also suggested then that the candidates for the Republican and Democratic nominations engage in inter-party debates that, he said, "would put in dramatic focus the shallow and at times ridiculous policies and proposals being advocated by the Republican candidates and by their party's platform."
Responding to Thursday's uproar, the DNC's Shulman said the party is "thrilled the candidates are so eager to participate in our debates."
"We believe that six debates will give plenty of opportunity for the candidates to be seen side-by-side," she added. "I'm sure there will be lots of other forums for the candidates to make their case to voters, and that they will make the most out of every opportunity."
Before it's here, it's on the Bloomberg Terminal.
LEARN MORE