Carly Fiorina Sticks With Leaked Closing Remarks
She's nothing if not consistent.
by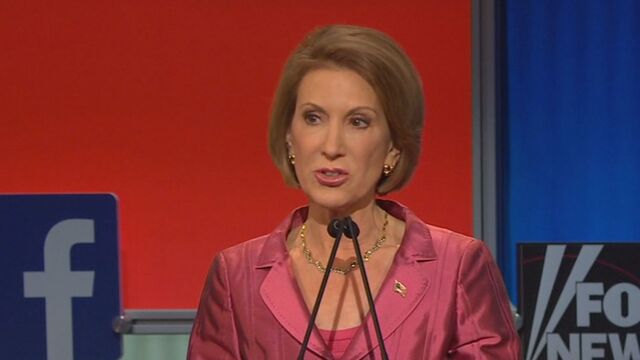 Republican presidential candidate Carly Fiorina is known for staying relentlessly on message, and she stayed true to form during Fox News's first round of debates Thursday. In fact, she repeated verbatim the closing remarks that had been leaked earlier. 
Just before the debate got underway, Rand Paul spokesman Sergio Gor tweeted a picture of a sheet of notes that he said had been left in the hotel printer. 
Savvy followers (including Bloomberg Politics' own Sahil Kapur) were quick to guess that the remarks were Fiorina's. 
Instead of deviating from the leaked comments, Fiorina stuck to them, delivering them word for word.
"Hillary Clinton lies about Benghazi, she lies about e- mails. She is still defending Planned Parenthood, and she is still her party's front-runner," she said. "2016 is going to be a fight between conservatism, and a Democrat party that is undermining the very character of this nation. We need a nominee who is going to throw every punch, not pull punches, and someone who cannot stumble before he even gets into the ring. I am not a member of the political class. I am a conservative; I can win this job, I can do this job, I need your help, I need your support. I will, with your help and support, lead the resurgence of this great nation."
Though most candidates tend to stick, Fiorina is notably true to hers. During the debate, she also trotted out a favorite line about making making a phone call to Israeli Prime Minster Benjamin Netanyahu on her first day in office and referenced her relationships with world leaders, both of which are points she makes in virtually all of her media appearances. 
Before it's here, it's on the Bloomberg Terminal.
LEARN MORE