Bernie Sanders Takes on Clinton Welfare Legacy as He Woos Iowa Unions
Hillary Clinton's leading challenger is in Iowa to address local AFL-CIO convention.
by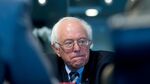 Bernie Sanders says both Clintons made a mistake on welfare reform.
In an phone interview Thursday with Bloomberg, the Democratic presidential candidate said that history will not look kindly on the 1996 overhaul of the New Deal anti-poverty program, which then-President Bill Clinton enacted over the objections of many liberal Democrats, including Sanders, who was a member of the U.S. House of Representatives at the time. Sanders' chief rival for the Democratic nomination, front-runner Hillary Clinton, wrote in her 2003 book, Living History, that she supported the bill, despite some concerns, because she "felt, on balance, that this was a historic opportunity to change a system oriented toward dependence to one that encouraged independence."
Asked about that position in May, a Clinton campaign spokesperson told Bloomberg she "has a long record fighting for everyday Americans and their families, and she is running to make sure all families are not only able to get ahead, but stay ahead."
Clinton wrote that she "worked hard to round up votes" for the her husband's legislation, which imposed time limits on welfare benefits and work requirements on beneficiaries. 
In his own book in 1997, Sanders called the bill "the grand slam of scapegoating legislation…" Now a U.S. senator from Vermont, he doubled down on that assessment in his interview with Bloomberg. "I think that history will suggest that that legislation has not worked terribly well," he said, arguing that too many politicians would rather target the poor than poverty.  
"I mean, that's what Ronald Reagan's 'welfare queen' was all about," he said, referring to the former Republican president. "It was the illusion that we're spending huge sums of money on people who are cheating, who are taking of the welfare system and so forth," he said.
"And what I said then is what I believe to be the case right now," Sanders added. "We need to figure out why people are in poverty. We need to get people out of poverty… Instead of giving tax breaks to billionaires, we should make sure that every person in this country lives in dignity." He added, "What I do see is very often, people trying to pit the middle class against low-income people - often people of color - and that is called scapegoating and I strongly object to that."
According to the most recent Census figures, the U.S. poverty rate in 2013 was 14 percent up from 11 percent in 1996, when the Clinton welfare bill was enacted.
Sanders, who spoke to Bloomberg from Washington, is scheduled to face off against fellow Democratic underdogs Thursday afternoon in an Iowa AFL-CIO forum that Clinton is not attending.
Instead, she spoke to another labor gathering in Los Angeles, praising members of the Service Employees International Union for their efforts training home health care workers, whom she said provide a cheaper way to care for the elderly than nursing homes. Clinton sympathized with workers who said their low wages make it hard for them to raise their own families. "One of the things I'm trying to do with my campaign is to put raising wages at the center of my economic agenda," she said.
But Clinton has not endorsed the movement to raise the minimum wage to $15 an hour. Two of her Democratic rivals, Sanders and former Maryland Governor Martin O'Malley, have.
His support for a higher minimum wage was one of the items of the largely union-friendly agenda that Sanders outlined in his interview with Bloomberg before appearing before the Iowa AFL-CIO delegates. In Washington for Senate votes, Sanders appeared via video link. 
The senator also emphasized his leadership on issues like organizing rights, and trade. Clinton's perceived equivocation on the proposed Trans-Pacific Partnership, which Sanders and O'Malley oppose, is a particular sticking point among Iowa unions.
Clinton, who has pledged to judge the deal on its impact on U.S. workers, wages, and national security, last week told reporters that she has heard there may have been changes in the deal that would make it easier to support, but she wouldn't know if "enough changes" had been made until she sees the deal. "Secretary Clinton is entitled to her views," Sanders said Thursday in response. "My view is that our trade policies from NAFTA to CAFTA to permanent normal trade relations with China to the TPP, have been a disaster for the American worker."
Asked about his proposal to phase out the "tip credit," which lets employers pay tipped workers less than the standard minimum wage, Sanders said it would fix a "horrendous situation:"
"If you're working at a diner on a weekday, and it's raining, and people are not coming in, you're not getting any tips," he said. Sanders also said he has "serious problems" with the popular car-hailing company Uber. He called it "unregulated."  
The Vermont Senator reiterated his support for stronger oversight of guest worker programs, which he said should continue to exist in some sectors like agriculture, but are plagued by widespread abuse. "We have situations all over this country where companies are going abroad rather than looking to hire people in their own communities," he said. "I think the vast majority of the American people would agree with me that a company should first look for American workers." 
There is, however, one issue on which Sanders differs from some of his union allies: Asked about building trade unions' support for the Keystone Pipeline, which he opposes on environmental grounds, Sanders said that while "every job is important," his infrastructure proposal would create 13 million jobs, compared to just a couple thousand from Keystone.
(Contributing: James Nash in Los Angeles)
Before it's here, it's on the Bloomberg Terminal.
LEARN MORE