Head of Super-PAC Backing Rand Paul Indicted in Iowa Caucuses Campaign Scheme
Ron Paul says he's "extremely disappointed in the government's decision" and raises the specter of political motivation.
by and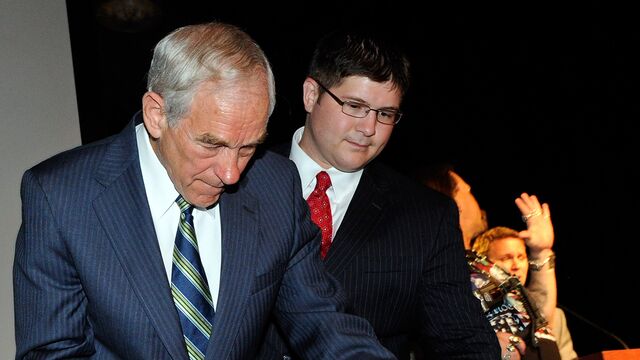 A probe into secret payments to a key Iowa supporter of Ron Paul's 2012 presidential campaign has led to federal charges against three longtime aides to the former Texas congressman, including one who was tapped in April to run a political action committee backing his son Rand Paul's presidential bid.
Charged with multiple counts were Jesse Benton, John Tate, and Dimitrios Kesari, according to an indictment filed July 30 in a Des Moines, Iowa, federal court and made public Wednesday.
Benton, who is married to Ron Paul's granddaughter, has served as lead strategist for America's Liberty PAC, a group backing Rand Paul's Republican presidential campaign. He also ran Senate Majority Leader Mitch McConnell's 2014 re-election campaign in Kentucky before resigning in August of that year, citing potential distractions related to the investigation.
The indictments present another political headache for Rand Paul, whose bid has shown signs of stalling in recent weeks. Between his campaign and outside groups, he has a far smaller war chest than rivals such as fellow Senators Ted Cruz and Marco Rubio, according to mid-year filings. His staff is struggling with low morale and a degree of infighting, according to a Politico report published last week. He falls in the middle of the crowded pack in Iowa and New Hampshire polls (while placing high enough in national polls to earn a spot on the Fox prime-time debate stage Thursday in Cleveland).
Public switch
Benton, 37, of Louisville, Kentucky; Tate, 53, of Warrenton, Virginia; and Kesari, 49, of Leesburg, Virginia, are charged with conspiracy, causing false records to obstruct a contemplated investigation, causing the submission of false campaign expenditure reports to the Federal Election Commission and engaging in a scheme to make false statements to the FEC, according to court papers.
Benton, who managed the younger Paul's 2010 Senate campaign in Kentucky, is also charged with making false statements to the FBI, while Kesari is also accused of obstruction of justice, the Justice Department said.
The indictment alleges that former Iowa state Senator Kent Sorenson initially supported one candidate in the 2012 presidential election—then-Representative Michele Bachmann of Minnesota—but between October and December 2011 secretly negotiated with the defendants to switch his support to their candidate for money. Sorenson had been one of Bachmann's most prominent supporters ahead of the January 2012 Iowa caucuses that started the nomination season, and he announced his switch in late December.
The payments to Sorenson were allegedly made in monthly installments of approximately $8,000 each and ultimately amounted to over $70,000. The indictment alleges that the defendants concealed the payments by causing them to be recorded—both in campaign accounting records and in FEC filings—as campaign-related audio-visual expenditures, and by causing them to be transmitted to a film production company and then to a second company that was controlled by Sorenson. The payments were concealed from their candidate as well as the FEC, the FBI, and the public, the Justice Department said.
The indictment alleges that in order to respond to criticism of Sorenson's defection, the defendants arranged for Sorenson to issue public statements denying claims that he was offered money for his endorsement and noting that the campaign committee's FEC filings would show that it made no payments to him.
On Aug. 27, 2014, Sorenson pleaded guilty to causing a campaign committee to falsely report its expenditures to the FEC and to obstruction of justice and has yet to be sentenced, the Justice Department said.
'Highly suspicious'
The announcement of the indictments the day before the debate in Cleveland "strongly supports our belief that this is a politically motivated prosecution designed to serve a political agenda, not to achieve justice," said Roscoe C. Howard, Jr., an attorney at Washington's Barnes & Thornburg LLP who said he is representing Benton, in an e-mailed statement.
Benton, "a prominent conservative Republican, has cooperated with the government during its multi-year investigation" and "is eager to get before an impartial judge and jury who will quickly recognize this for what he believes it is: Character assassination for political gain," Howard said.
Tate couldn't immediately be reached for comment. He and Benton are taking leaves from America's Liberty PAC "to vigorously fight to prove that they are innocent of these charges," the group said in a statement on Thursday. "ALPAC will continue to fight for Rand Paul in his race for the White House.  We stand behind Rand, what he believes in, and his promise to defeat the Washington Machine," the group said.
Ron Paul said he was "extremely disappointed in the government's decision" and also raised the specter of political motivation.
"I think the timing of this indictment is highly suspicious given the fact that the first primary debate is tomorrow," Ron Paul said in a statement e-mailed by spokeswoman Megan Stiles. "My thoughts and prayers are with the families of those involved. I will not be commenting further on this matter at this time."
In December, amid questions about the case, Rand Paul defended Benton, telling a Kentucky ABC affiliate, "I think Jesse is honest, he's good at politics and I don't think he's done anything wrong."
In a statement Wednesday, Rand Paul's campaign expressed frustration. "Senator Rand Paul is disappointed that the Obama Justice Department chose to release this just prior to the highly anticipated first Republican presidential debate," the campaign said in a statement. "It certainly appears suspiciously timed and possibly, politically motivated. Additionally, these actions are from 2012 and have nothing to do with our campaign."
Kesari's lawyers, Jesse Binnall and Susannah Smith of Alexandria, Virginia, did not immediately reply to telephone and e-mail messages seeking comment.  
Kesari, who was Ron Paul's deputy national campaign manager, was arrested Wednesday and appeared before U.S. Magistrate Judge Celeste Bremer where he entered a plea of not guilty, according to court records. He was released on his own recognizance with the requirement he surrender his passport and that his travel be restricted to within the state of Iowa and, as needed, to and from Virginia. Benton and Tate are scheduled to appear in court on Sept. 3, the Justice Department said.
The case is U.S. v. Benton, 15-cr-103, U.S. District Court, Southern District of Iowa (Des Moines).
—With assistance from Derek Wallbank in Washington
Before it's here, it's on the Bloomberg Terminal.
LEARN MORE