With No Actual Debate at Voters First Forum, Candidates Vent in the Spin Room
Fourteen of the 17 Republicans running for president turned up to participate in the last cattle call of the primary season.
by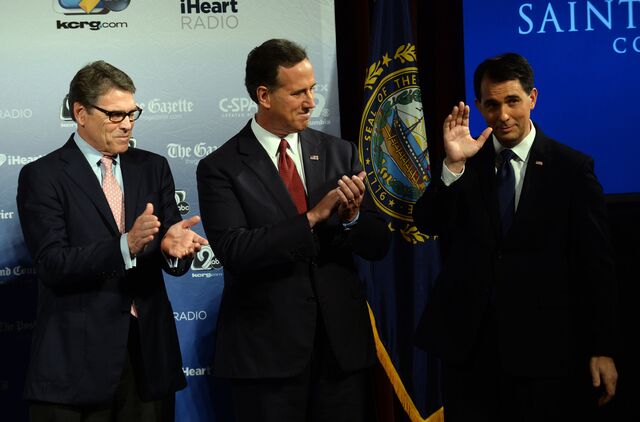 Don't call it a debate.
When 11 Republicans gathered in New Hampshire on Monday for their last group appearance before their party's big debate in Cleveland, they each waited patiently in the first row for their turn onstage. Three more of them—U.S. senators Ted Cruz of Texas, Rand Paul of Kentucky and Marco Rubio of Florida—appeared via video feed from Washington, where they'd remained to vote in favor of pulling funding for Planned Parenthood.
In fleeting, five-minute turns on stage with local radio host and moderator Jack Heath, the candidates spoke of the need to repeal Obamacare and rein in entitlement spending and took shots at President Barack Obama and Democratic front-runner Hillary Clinton. A few even spoke approvingly of what others said, as if to look supportive of each other. But between Heath's rather polite questions and the absence of  head-to-head interaction between competitors, the effort to stand out proved difficult in the crowded field. 
"There certainly was no opportunity for engagement. But it's better than nothing," neurosurgeon Ben Carson, who is assured a place on Thursday's debate stage, told reporters in a so-called spin room set up in the cafeteria of an adjacent building at the college. "It would be good to discuss things. The whole concept of debating is to be able to bring ideas out, flesh them out and see what people think. Here you don't really get a chance to do that."
Former Pennsylvania Senator Rick Santorum, who currently finds himself on the wrong side of the debate bubble, noted the difficulty of finding traction in what essentially felt like a speed-dating format. 
"It sort of felt like you sat down and then you were just getting back up," he said. "That's part of the challenge, but I think in a forum like this voters got a little bit of a sense of who you are." 
Not all the cattle-call participants was left wanting form more, however. Ohio Governor John Kasich, whose late entry into the presidential race and subsequent polling bounce appears to have put him above the debate threshold, left the event unhappy. 
"I feel like I did everything that I wanted to do—I'm happy," said Kasich. "There were a few jabs. Like fun jabs, I don't mean criticizing somebody. It's good—they're all good people."  
Before it's here, it's on the Bloomberg Terminal.
LEARN MORE