President Obama Stays Mum on Prospect of a Biden vs. Clinton Contest
Will the president take a practical or emotional approach when deciding which Democrat to support?
by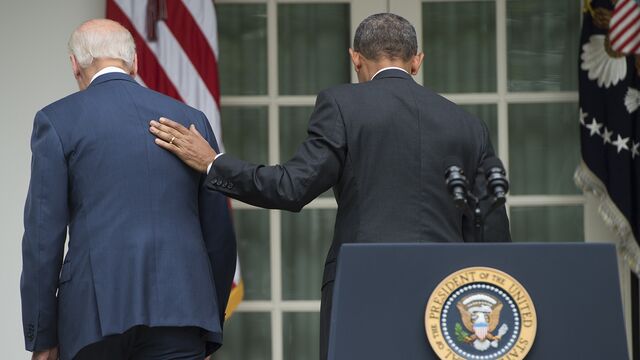 As Vice President Joe Biden considers a late, long-shot run for president that would surely be seen as a rebuke of Hillary Clinton, and Clinton considers whether to fight or embrace the prospect, a third protagonist, President Barack Obama, is trying to find his place in this uniquely American political drama.
The president has been perceived to have grown closer with Biden than Clinton over the course of his administration, a bond forged through on-the-job crises, friendships among the women and children in their families, and, most recently, Biden's grief over his son Beau's death in May to brain cancer.
As leader of the Democratic Party, however, the twice-elected Obama, who assembled his own formidable political machine and ran against and beat both Biden and Clinton in 2008, fully appreciates Clinton's fundraising, organizational, and demographic advantages. Ultimately, Obama the politician wants a Democratic nominee who is in the strongest position to win the general and improve the chances of his signature initiatives living on.
The president has not publicly shared his thoughts about Biden's calculations since a weekend column by the New York Times' Maureen Dowd triggered a new wave of speculation about a decision Biden is expected to announce in September. And it's all but certain Obama will not take sides if Biden does decide to challenge Clinton.
At the same time, Obama is in a proximal position to help Biden think his options through, to the extent Biden wants that perspective.
Obama spent much of Tuesday, his 54th birthday, with Biden at the White House. The vice president attended the president's daily briefing in the morning. Then, Obama and Biden met in the Oval Office with Ban Ki-moon, the United Nations Secretary-General. At the end of that meeting, a reporter whispered to Biden, "Are you going to run or what?"
"Only if you're my running mate," the vice president responded. 
From there, Obama and Biden retreated to the Private Dining Room at the White House for one of their regular lunches together.
"I wouldn't be surprised if there was maybe even some politics discussed," Obama press secretary Josh Earnest told reporters on Tuesday afternoon, while underscoring that the timing was a matter of "serendipity" and the two lunch together about once a week. If the lunch turned into a strategy session, though, Earnest wasn't saying and probably didn't know.
"The president and the vice president have the kind of relationship where they speak pretty candidly with one another, knowing that that information will remain private," he said.
Former Obama adviser David Axelrod, who has heaped praise on the vice president while discouraging a run, saying he probably can't catch up to Clinton and may hurt his legacy trying, also said that the president considers Biden "a close friend and I'm sure he's giving him whatever advice he thinks is appropriate as a friend." Obama has a "very respectful" and "warm" relationship with Clinton as well, Axelrod said, and would almost certainly not insert himself into the nominating contest if Clinton and Biden were involved.
Obama's own path makes the shoot-the-moon argument plausible. As a first-term U.S. senator in early 2007, he defied the naysayers who saw Clinton as the inevitable nominee and saw risk in Obama's challenge. But the path for a biracial, 45-year-old outsider who represented a referendum on George W. Bush's administration is different from the path for a white, 72-year-old standard-bearer of the outgoing administration and veteran of the political establishment who has run twice for president and lost. 
Before it's here, it's on the Bloomberg Terminal.
LEARN MORE