Laborers' Union Takes Aim at Martin O'Malley
Letter accuses Democratic presidential candidate of "pandering to extremist and elitist elements within the environmental movement" with his opposition to Keystone XL pipeline.
by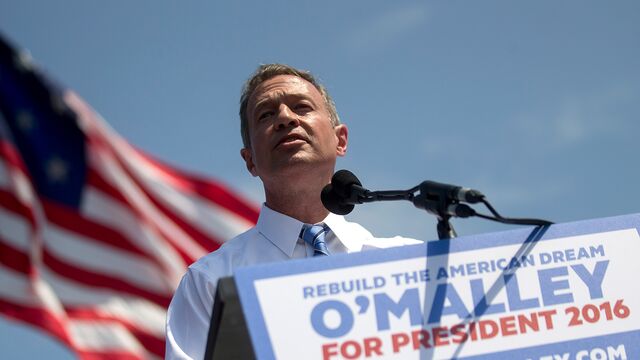 Days before he and some of his Democratic presidential rivals are set to court one of their party's most powerful constituencies at the Iowa AFL-CIO convention, Martin O'Malley is coming under fire from the one of the AFL's member unions.
In a letter sent to O'Malley and made available to Bloomberg, Terry O'Sullivan, president of the Laborers International Union of North America, blasts the former Maryland governor for promising to "reject projects like Keystone," calling his position "an attack on the jobs of thousands of members of the Laborers International Union of North America."
"It says to workers, 'Tough luck. Your jobs are not important to me,'" O'Sullivan wrote, in a letter than neatly sums up the political dilemma the proposed pipeline poses for Democrats.
"It is absurd pandering to extremist and elitist elements within the environmental movement which makes Americans wonder if Democrats really understand the challenges of working families and if they really care about them, or whether it is all just lip service to get elected," the LIUNA president continued.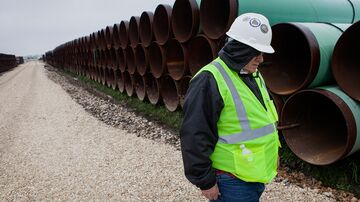 Keystone XL, which would carry Canadian oil nearly 2,000 miles across the Great Plains to the Gulf of Mexico, is still under consideration by President Barack Obama's administration. Proponents include some labor unions, which favor the pipeline as a jobs-creator. But other important Democratic allies oppose the project as a threat to the environment.
O'Malley spokesperson Haley Morris told Bloomberg in an e-mail that the ex-governor "has a lot of respect" for LIUNA, but "simply disagrees with them" about Keystone, which she called an "environmental boondoggle."
"Moving our country towards a renewable energy future is more important – and would create more jobs - than a short-term project like Keystone XL," said Morris. "Governor O'Malley's clean energy plan would create 5 million jobs in 10 years, while Keystone would create a few thousand jobs at most. Leadership isn't about doing what's popular or easy – it's about doing what's right for our country." O'Malley's campaign notes that his record as governor includes policies favored by building trades unions, such as promoting higher labor standards on state projects and signing prevailing wage legislation for school construction in Maryland.
So far, Democratic front-runner Hillary Clinton has avoided taking a position on the Keystone pipeline, which has brought her under criticism from her chief Democratic rival, Senator Bernie Sanders of Vermont. Sanders, a favorite of labor because of the emphasis he's putting on the issue of income inequity, is a vocal opponent of the project. 
Energy is among the issues where, perceived viability aside, some union leaders prefer Clinton's stances over her more liberal challengers'. International Association of Machinists and Aerospace Workers President Tom Buffenbarger, who is personally backing Clinton although his union has not yet taken a position, lists energy (along with military), as an area where Bernie Sanders' stances could be a liability for his members. "There are several things that his votes [on] caused us reason to pause," Buffenbarger told Bloomberg last month. With Sanders and O'Malley already loudly opposing Keystone, the LIUNA letter can be read as a warning to so-far quiet Clinton not to do the same.
O'Malley is struggling badly to get out from under the shadows of Clinton and Sanders in the Democratic contest. He's been trying to gain traction by exciting progressive activists with far-reaching and specific proposals to address climate change and other issues. Rejecting projects like Keystone "On Day One" is one of the pledges in a climate white paper  he released in June. It opens by declaring, "We can't address our climate challenge without ending our reliance on fossil fuels – full stop." Making myriad trips to early primary states, O'Malley has been unapologetic about his opposition to Keystone XL and has criticized Clinton for not taking a clear position on the pipeline.
The proposed pipeline is a vexing issue for Democrats, because it's staunchly opposed by environmentalists, but passionately supported by building trades unions. Keystone has also thrown a wrench in labor and environmental leaders' efforts to collaborate, as they did in Obama's first term on a cap-and-trade bill, crafted to include pro-labor provisions like green jobs spending, that passed the House but died in the Senate. "That bill was a really good example of what the environmental movement and the labor movement could have done, and were doing, together," United Steelworkers President Leo Gerard, who teamed up with the Sierra Club to spearhead a coalition called the Blue Green Alliance, told Bloomberg last year.
Keystone has since taken center stage in the environmental debate, fraying already sensitive relationships. "That caused quite a commotion in the Blue Green Alliance," Marc Norberg, who coordinates environmental issues for the International Association of Sheet Metal, Air, Rail, and Transportation Workers, told Bloomberg last year. In 2012, LIUNA dramatically renounced its membership in the Blue Green Alliance, saying it was "repulsed by some our supposed brothers and sisters lining up with job killers" in opposing Keystone. Norberg told Bloomberg that his union was urged by building trades leaders to quit the Blue Green Alliance as well; it opted instead to temporarily suspend its membership.
(Contributing: Sahil Kapur)
Before it's here, it's on the Bloomberg Terminal.
LEARN MORE