What Lindsey Graham Has in Common With Vikki Carr
The South Carolina senator brings a heartfelt message to the campaign trail.
by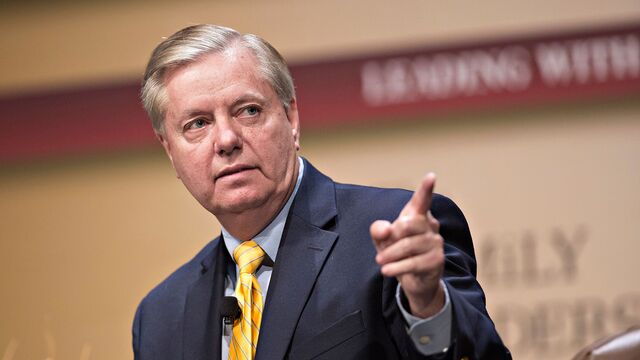 A couple of the jokes John McCain told on the campaign trail in New Hampshire this weekend were old favorites from his own presidential runs in 2000 and 2008. But they got big laughs anyway during the senator's nostalgic weekend return to the Granite State, where he won the primary twice and was back to ask for "at least some serious consideration" for his former protégé and fellow hawk, Lindsey Graham, who sits near the bottom of the latest Wall St. Journal/NBC News poll with less than 1 percent support. 
As soon as they arrived at a VFW picnic in Littleton, a few veterans came over to thank Graham for defending McCain when Donald Trump suggested that the former POW wasn't a true hero because he'd gotten captured by the North Vietnamese in the first place. "Easiest thing I ever did,'' Graham told them.
As always, there was a lot of kidding around between him and McCain, as when the Arizona senator took a poke at Graham's legal training, asking the crowd in Littleton, "Do you know the difference between a lawyer and a catfish? One is a scum-sucking bottom dweller and the other is a fish."
In response, Graham rolled his eyes, grabbed the microphone and said, "You know the difference between a guy running and not running? That joke."
"This is kind of old home week, me and all these geezers back together,'' McCain said as he greeted some of the vets. "Good to see a Navy guy amongst all these jerks," he told one of them, which is military for "I love you, too."
Amongst all the patter and laugh lines, though, there was also a real sense of urgency from McCain, who described his friend as the only candidate ready to take on the Islamic State and Iran as commander-in-chief. And while others try to out-Trump Donald Trump, as former Arkansas Governor Mike Huckabee has been accused of doing, or angle for attention by taking Trump on, as former Texas Governor Rick Perry has, Graham is surely the Republican field's most genuine anti-Trump, a long-serving veteran of both the military and politics who is proud of having worked with Democrats on immigration reform, and who says outright that those who can afford it are going to have to give up some benefits as part of entitlement reform.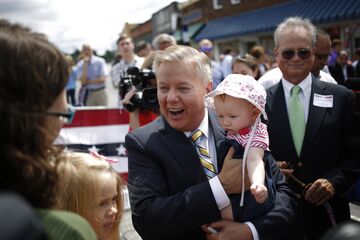 He identifies more with the have-nots than the haves, talking about how he and the younger sister he helped raise were saved by family and faith but also federal Pell grants after their parents died. "I'm rich, not Donald Trump," he says, unabashedly Capra-esque. "I'm rich because I've got really good friends. I'm rich because I've got John McCain with me."
Unlike virtually all the other candidates in the race, Graham makes no alluring promises at all, really. In lieu of vowing to send in killer negotiators to assure that world leaders instantly fall in line, he is offering certain sacrifice, probable war, change in the Middle East that may well take more than a generation, and a few unpopular facts for the GOP base, like that "the IRS is not going away. If you think it is, vote for Ted" Cruz, who says he'll shut it down. 
"I don't say stuff like that. I don't live in theory; I live in America. I don't offer you an easy way forward, but a successful way forward," he told those gathered in the sunny Bedford living room of Rich Ashooh, who at the behest of his then-boss, Senator Warren Rudman, picked McCain up from the Manchester airport on McCain's very first campaign trip to New Hampshire. 
At that party, I asked McCain what it said about his fellow Republicans that Trump was leading national polls at this point, or about the process in general that a reality TV star and a socialist were doing so well. He didn't bite, though: "At this time in 1999, I had no chance. At this time in 2007, I had no chance."
It's true at this point in the 2008 cycle, it was Rudy Giuliani and Fred Thompson who were leading the pack. But both then and in 2000, McCain was getting plenty of attention here. His "Straight Talk Express" was mobbed with reporters jumping on and off and taking turns asking every question that occurred to us, and getting them all answered. Social media effectively killed that freewheeling approach, which wasn't possible even by 2008, just as the campaign finance reform that was McCain's platform in 2000 was a war lost even before the Citizens United decision.
Still, McCain insists that not as much has changed about running for president as we might think: "We have a lot more candidates, but it's still the town hall meeting, it's still the living room" house party that matters in New Hampshire, where "they examine the candidates like no other group of Americans. This is what campaigns are about," he said, looking around at the roughly 100 people who had come from across the state to hear Graham speak. 
That's certainly Graham's only hope: The process has changed, he allows, in terms of both the ocean of cash from super-PACs and debate rules that mean only those candidates in the top 10 in national polling will participate in the first Fox News debate next week. "If it wasn't for Iowa, New Hampshire and South Carolina, I wouldn't have a chance," he said in a brief interview on a picnic bench in Littleton. "But with Iowa, New Hampshire and South Carolina,'' where Graham is from, "I like my chances. Retail politicking I'm pretty good at, and my bipartisanship is an asset in a 16-person primary. I'm not running as the most ideologically pure person; I'm running as somebody who's ready to be commander-in-chief on Day One."
"I've worked on every immigration solution there is," he went on, adding that he knows that "what Mr. Trump says about solving the problem is a bunch of gibberish. This idea they're all going back home, then we're going to let some of them come back, well how do you do that? The bottom line, is I'm going to do better over time because solutions matter."
At a town-hall meeting in Manchester, he told a Navy vet critical of Israel, "I'm the worst possible choice for you," and to someone who called Edward Snowden a hero, said, "We're at war, young man." Terrorists "aren't trying to steal your car; they're trying to destroy your way of life." They "would kill both the wedding cake baker and the gay couple," and the next president needs to understand that, "my friend," he said, sounding a lot like the elder senator standing beside him. McCain told the group he'd consider it a great favor to him and to the country if they'd tell their friends to come out and hear Graham, too. Then the candidate made his own, surprisingly emotional pitch for support. 
In the '60s, a pop artist named Vikki Carr was singled out by Dean Martin as the best girl singer of her generation, and both Elvis and Sinatra went so far as to say she reminded them of themselves. Beyond her torchy voice, a lot of her appeal came from the fact that she clearly felt her material so intensely; she wasn't just crying for effect every time she sang "With Pen in Hand," but opened herself up all over again every time. Watching Graham get choked up each time he said how much he loved America and asked voters to "pick me," I was reminded of her corny-in-a-good-way approach, as over-the-top in its lack of cynicism as Trump's is in swimming in it.
In response to the final question, from someone who said that Republican candidates seem heartless in opposing Obamacare, he said, "When my mom got sick, it took me literally until I got out of the Air Force to pay the bills off."
"I can't believe I'm standing here in front of you running for president of the United States," he went on, his voice breaking and eyes watering as he added that "I wish my mom and dad could be here. So, here's the deal: I get it about health care, trust me, I do. I know what's it's like to lose everything because you get sick. I don't want that…It's all about us being in it together," clenching his jaw in a way that looked like an attempt not to cry. 
"I've been part of a military unit where everybody's rowing the boat together…America, ma'am, is not a race, is not a religion, is not an ethnic background; it is an idea, that you can start with nothing and maybe even be president of the United States. I've fallen in love with this country," he said in closing. "Help me if you can." 
Before it's here, it's on the Bloomberg Terminal.
LEARN MORE