Ted Cruz, Jeb Bush Shine at Koch Brothers Event
In a key audition for conservative mega-donors, the Texas senator and the former Florida governor come out on top.
by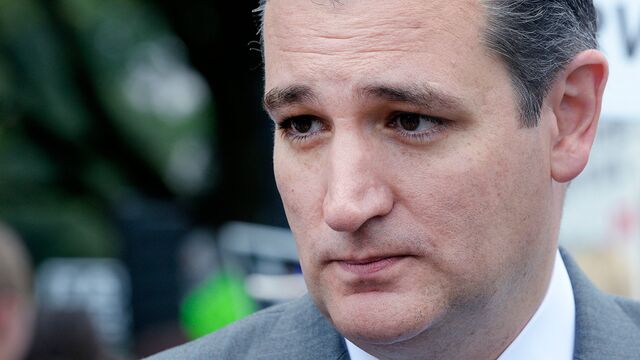 Ted Cruz and Jeb Bush showed on Sunday why they've raised more money in million-dollar increments than the other 20 major presidential candidates: rich people love them.
The Texas senator and the former Florida governor drew the most applause among the five Republicans who took the stage at a luxury hotel in California this weekend. They were auditioning in front of hundreds of wealthy, conservative political donors assembled for a semi-annual retreat by the billionaires Charles and David Koch.
They're already leading the race for the country's billionaire class. Last week, Bush reported raising about $115 million, the most of any candidate, including about two dozen checks of $1 million or more through his super-PAC. Cruz is second in the Republican field with $52 million, of which $36 million came from just three wealthy families.
Also on Bloomberg Politics: Million-Dollar Donations Fuel Super-PACs' New Dominance
On Sunday they pitched for more. The Kochs' network of libertarian-oriented organizations plans to spend $889 million this year and next, including hundreds of millions on influencing politics. On Monday, the donors were expected to gather for a peculiar conference ritual in which they stand, one by one, and announce to the group how much they plan to contribute to the network.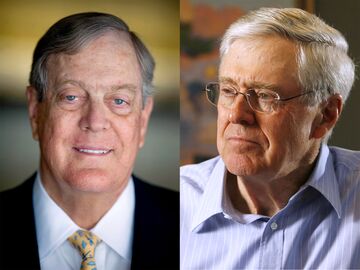 Neither the Kochs nor their organizations have said whether they will back anyone in the Republican primary, but many of its members are in the process of making their choices.
Cruz drew his first big cheer when he called global warming a fiction invented by liberals, and got more when he attacked Planned Parenthood, took credit for killing the Export-Import Bank, promised a campaign in the mold of Ronald Reagan's, and said he relished the thought of facing Hillary Clinton on a debate stage.
"I have yet to meet a person in America whose criticism of Congress is, 'You guys haven't cooperated with Obama enough.' People are fed up," said the former college debate-team champion, for another round of applause.
Unlike the three candidates who preceded him Saturday and earlier Sunday, Cruz drew a few dozen standing ovations as he left the stage, including from David Koch himself. The Koch brothers' favor is widely sought by Republican political candidates, both because of their personal wealth—they are both worth about $51 billion—and because of their influence with their network of donors dedicated to free-market causes.
Bush got not one, but two, rounds of applause for calling for an end to a ban on U.S. oil exports, and another one when he said the country is "on the verge of greatness." And, asked about signing a pledge not to raise taxes as president, he said that as the Florida governor, "I cut taxes every year. I don't have to sign a pledge," to more applause.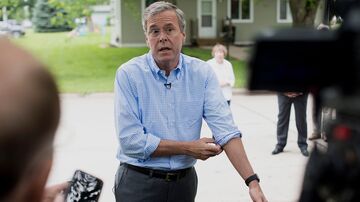 Virtually everyone stood up after Bush's speech, but it was unclear whether anyone thought he deserved an ovation. It was time for cocktail hour in another part of the hotel.
Carly Fiorina and Scott Walker spoke Saturday, and Marco Rubio spoke earlier on Sunday. Rand Paul is the only other candidate who was invited; he declined to attend.
This was Bush's first appearance before the Koch group. The reporter Mike Allen of Politico, who interviewed him on stage, noted that the billionaire brothers had started the gatherings 12 years ago in part out of frustration at the policies of Bush's brother, President George W. Bush.
Bush said he should be judged based on his own record.
"I'm honored to be here," he said. "I really appreciated the invitation."
Also on Bloomberg Politics: How Much Cash the Candidates Have Raised and Who's Giving
A handful of donors interviewed after the speeches were mostly noncommittal about who they would support in the presidential race. 
"All five of them were great," said Michael Shaughnessy, a founder of a chemical company in Cleveland who's been attending the seminars for two and a half years.
Thomas Patrick, a private-equity investor and a former top executive at Merrill Lynch in New York, said Cruz's performance was impressive. "Intellectually, he's got the most firepower, in my view," he said. "He's consistent, and he's not afraid to challenge the establishment. We need people of principle."
Before it's here, it's on the Bloomberg Terminal.
LEARN MORE