Republicans' Climate Change Plan: Crickets
The presidential candidates don't seem to have one.
by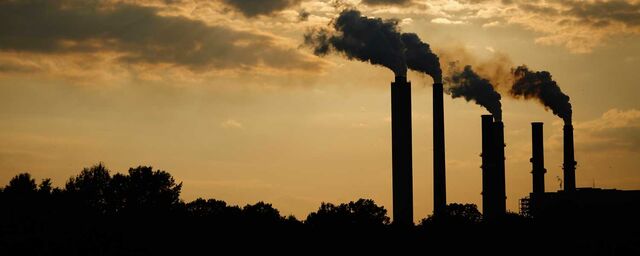 Top Republican presidential candidates took turns attacking President Barack Obama's new Clean Power Plan unveiled Monday to combat climate change, dismissing the new rules to slash carbon emissions as "radical" or "irresponsible" or "a buzz saw on the nation's economy."
Missing from the crowded field of contenders were any alternate proposals to address the growing threat, which many Republicans doubt is linked to human activity despite overwhelming scientific consensus.
"Republican candidates have very little political incentive to come up with a climate-change plan. The potential political benefit is small," said Jack Pitney, a political science professor at Claremont McKenna College.
Jeb Bush called the rule, aimed at reducing the 2005 levels of emissions from coal-burning power plants by 32 percent in 2030, "irresponsible and overreaching," saying in a statement it "runs over state governments, will throw countless people out of work, and increases everyone's energy prices." The former Florida governor, who told Bloomberg BNA last week that human activity was exacerbating climate change, said cutting greenhouses gases requires "American ingenuity—not federal regulations." (His campaign didn't return a query about what he'd do to encourage that as president.)
Wisconsin Governor Scott Walker dubbed it the "Costly Power Plan" and dismissed it as "a buzz saw on the nation's economy. I will stand up for American workers and stop the Costly Power Plan." His campaign referenced a May 21 letter he wrote indicating that his state wouldn't be able to comply with the emerging rules without "significant and meaningful changes."
Seeking to top them both was Texas Senator Ted Cruz, who called it a "lawless and radical attempt to destabilize the Nation's energy system" that was "flatly unconstitutional."
The issue promises to present one of the starkest divisions between the two parties. Democratic front-runner Hillary Clinton called the president's plan "a significant step forward in meeting the urgent threat of climate change." In a statement, she took a shot at her Republican rivals. "It will need defending. Because Republican doubters and defeatists—including every Republican candidate for president—won't offer any credible solution," she said, adding: "They refuse to accept science."
South Carolina Senator Lindsey Graham, a rare Republican who accepts the science of man-made climate change, has not been vocal about Obama's new plan. An inquiry to his campaign spokeswoman Monday went unanswered. Graham is polling near the bottom of the 17-member Republican presidential field.
Republicans lack interest in addressing the issue for several reasons. Geographically, the party relies on votes in fossil fuel-heavy states, representing the coal industry in the Rust Belt and oil in the South. Ideologically their base opposes economic regulations, as do many wealthy Republican donors, such as the oil-billionaire brothers Charles and David Koch of Koch Industries. Many Republicans are competing for their money, having traveled to California over the weekend to a gathering hosted by the Kochs.
At the summit, Florida Senator Marco Rubio said Obama's climate policies "will do nothing to address the underlying issue that they're talking about," warning that developing countries like China and India "are going to continue to burn anything they can get their hands on." At the same conference, Cruz mocked global warming.
"I understand that Republicans, including those running for president, are dependent on the Koch brothers, oil companies and other fossil-fuel contributors," Senator Bernie Sanders, a Vermont Independent who is Clinton's chief challenger for the Democratic presidential nomination, said in a statement praising Obama's plan. "Maybe for once they can overcome the needs of their campaign contributors and worry instead about the planet they are leaving their kids and grandchildren and young people all over the world."
While a majority of Americans (55 percent to 33 percent) accepts that climate change is real and already begun, a larger majority doesn't view it as an immediate threat to their lives (62 percent to 37 percent), according to Gallup. Just 15 percent of Republicans view global warming as a top priority for the president, according to January poll by the Pew Research Center.
"Every GOP political strategist is aware that Bush 43 would have lost the 2000 election without West Virginia," said Pitney, "which broke with the Democratic Party over this very issue."
Before it's here, it's on the Bloomberg Terminal.
LEARN MORE