Fired Donald Trump Aide Sam Nunberg Apologizes to Al Sharpton
by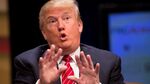 for Racial Slur
Donald Trump's former political aide who was fired over the weekend for racist Facebook posts apologized to Reverend Al Sharpton on Monday.
"This post was disgusting, inappropriate and unacceptable," Nunberg wrote in a letter to Sharpton obtained by Bloomberg. 
On Friday, Business Insider reported that Sam Nunberg, an on-again, off-again Trump aide, made controversial Facebook posts dating back to 2007, including one post in which he used a racial slur to describe Sharpton's daughter.
"Reverend Sharpton, I am by no means a man without sin. I am by no means a man who has not made mistakes in my life," Nunberg wrote in his apology, adding, "I humbly ask for your forgiveness. I extend this heartfelt apology to your family and your community."
Over the weekend, Nunberg was fired from Trump's campaign, a sign that the new Republican presidential front-runner will not tolerate campaign distractions. 
For his part, Sharpton said he was satisfied by both Nunberg's dismissal and his subsequent apology.  
"Trump did the right thing" Sharpton said Monday, according to the New York Times, "And the guy did the right thing to admit he was wrong and apologize."
"Unlike others who have had accusations, he at least did not deny the gravity of what he did," Sharpton added. 
Before it's here, it's on the Bloomberg Terminal.
LEARN MORE