Even 40,000 Scott Walkers Aren't as Wealthy as Donald Trump
The Wisconsin governor has credit card debt and student loan debt, and his list of assets worth at least $1,000 didn't include a bank account.
by and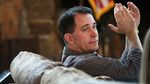 Scott Walker is no Donald Trump. Not even close. 
The most the Wisconsin governor is worth, according to his federal financial disclosure form released Monday by the Federal Election Commission, is $70,000. Under that best-case scenario, it would take more than 40,000 Walkers (about half the number of people who pack into Lambeau Field to see his Green Bay Packers play) to equal Trump's $2.9 billion fortune. 
It's also possible Walker is worth a lot less.
The government requires candidates to report their assets and debts in broad ranges. Taking the maximum value for his assets and the minimum for his liabilities yields the $70,000 figure for Walker. Do it the other way, with minimum values for assets and maximums for liabilities, and Walker's net worth is negative $244,000. 
Walker, 47, reported owning a few mutual funds, up to $15,000 in stock in UnitedHealth Group and a life insurance policy. And that's about it. He also has at least $20,000 in credit card debt and at least $100,000 in student loans for his children.
The governor's team tried to turn his personal liabilities into a political asset. "As a public servant, the governor gave back hundreds of thousands of his salary to the taxpayers, and he is a regular American with two kids in college and a small amount of credit card debt," Walker's spokeswoman, AshLee Strong, said. The reference is to Walker's much-publicized decision to give back part of his salary when he was Milwaukee County executive. He refunded the taxpayers some $370,000.
Candidates have to disclose any asset worth at least $1,000, and the governor didn't include a checking or savings account. Compare that with Ted Cruz, whose report also became public on Monday showing checking and savings accounts at Bank of America, plus a JP Morgan Chase cash account, plus an American Express savings account and a whole pile of other assets. 
The form, though, may significantly underestimate Walker's wealth in two significant ways. First, it doesn't require him to report the value of his home, which he and his wife, Tonette, bought for $310,000 in 2007, according to a local blog. Second, it doesn't require him to calculate the net present value of the defined-benefit pensions he may be able to receive from his years working for Milwaukee County and the state of Wisconsin. Walker has spent almost his entire career in public office, since being elected to the state legislature in 1993. 
Walker reported earning $222,899 as governor over the past year and a half, plus a $45,000 book advance. 
The governor is proudly frugal. He talks all the time about shopping at Kohl's and just last week he tweeted a photo of a tie his wife bought for him at Kohl's that still had the $10.20 (originally $34, but 70 percent off) price tag on it. He's also known for tweeting photos of his homemade ham-and-cheese sandwiches that he brings to the governor's office.
Before it's here, it's on the Bloomberg Terminal.
LEARN MORE