Chris Christie Says He'd Cut Planned Parenthood Money Following Videos
Terrence Dopp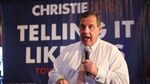 New Jersey Governor Chris Christie said as president he would end funding of Planned Parenthood, echoing other Republicans after the release of videos showing the group's leaders discussing the cost of aborted fetal tissue.
Some anti-abortion activists are demanding that the Republican-led Congress shut down the government on October 1, when funding authority expires, unless Democrats agree to rescind the roughly $500 million in federal money that the women's health provider receives annually.
"These videos are incredibly disturbing," Christie, 52, said Friday during a town-hall meeting of more than 100 people at Beck's Sports Grill in Cedar Falls, Iowa. "What are we doing and why is the government funding that organization to the tune of a half a billion dollars a year?"
New Jersey's two-term governor is struggling to make the Fox News cutoff for his party's first debate scheduled for Aug. 6 in Cleveland. Fox is limiting the stage to the top 10 candidates in the average of five national polls. As of Friday, the RealClearPolitics average had Christie in 10th place.
For Christie, the Planned Parenthood exchange was symbolic of his struggle with some voters within his party: The questioner mistakingly asked if the videos were enough to have him rethinking his support for abortion rights. Christie has never kept his anti-abortion views secret and as governor cut Planned Parenthood funding.
The town hall came on the same day that America Leads, a super-political action committee set up to back Christie's presidential campaign, reported it raised $11 million, with about a quarter coming from hedge fund billionaire Steve Cohen and his wife, as well as Reebok International Ltd. founder Paul Fireman.
Before it's here, it's on the Bloomberg Terminal.
LEARN MORE