Chris Christie Runs Down Debate Clock in Iowa
At campaign stops, the New Jersey governor, who will soon know if he'll make it into Thursday's primetime debate, concentrates on retail politics.
by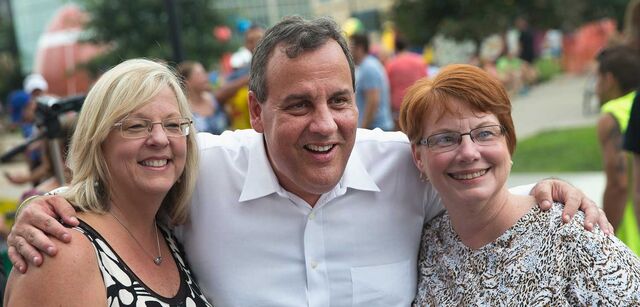 New Jersey Governor Chris Christie spent the last weekend before his potential moment in the August 6 Republican presidential debate plodding the ground in Iowa and insisting he's ready for the stage.
That whole thing about candidates in the leading spots potentially getting more time? Christie said he's not worried.
"It's a group of assertive folks up there, and I think we'll be heard whether you're one, three, seven or nine," Christie told reporters today at the Waterloo, Iowa Irish Festival, were he greeted runners at a 5K finish line. "We'll see how it goes. I think all of us want to have an opportunity to say what we need to say. I count on the fact that Fox will be fair about doling out the time to everybody."
Ranked 10th in the Republican field in a Quinnipiac national poll released Friday, putting him right on the cusp of making the stage Thursday night in Cleveland. On Tuesday, he'll learn whether he makes the prime-time debate or an afternoon consolation panel that host Fox News is putting on for the seven GOP hopefuls who don't make the top 10 in an average of five national polls. Christie said he's been engaged in debate prep and expects to hold at least two more sessions this week prior to the big night (or day) Thursday. 
After turning down calls in 2011, when he was at the height of his national popularity, to challenge President Barack Obama, the two-term governor has labored to convince voters in his party that he can set himself apart in the crowded field as he battles troubles in his home state.

Read more about the wide Republican field angling for the 10 available spots in the upcoming debates.
On Saturday, the Christie, 52, wrapped up a two-day swing through Iowa that emphasized down-home stops. He held a town hall for about 120 attendees at a shot-and-beer joint in Cedar Falls. He greeted voters at a restaurant, gripped the hands of sweaty runners in Waterloo—where a nearby keg of beer offered arriving runners an alternative to the traditional celebratory water—and toured the pits of a NASCAR race at the Iowa Speedway.
Christie is scheduled to attend the summer party thrown by Iowa Republican kingmaker Bruce Rastetter Saturday night. Retired neurosurgeon Dr. Ben Carson also was in town for the event, though the full guest list immediately wasn't available.
Before it's here, it's on the Bloomberg Terminal.
LEARN MORE