Super-PAC Tagged for Ted Cruz Flirts With Carly Fiorina
The donations came from a financier who has supported both Cruz and Fiorina.
by and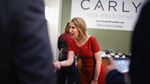 It seems you can't even trust your own super-PAC anymore.
Keep the Promise I, one of a family of like-named super PACs established earlier this year and by all accounts dedicated to advancing the presidential campaign of Texas Senator Ted Cruz, donated $500,000 to a super-PAC supporting former Hewlett-Packard CEO Carly Fiorina, one of Cruz's rivals for the Republican presidential nomination. 
The June 18 donation to CARLY for America, which amounted to about 15 percent of that super PAC's second-quarter take, appeared on a financial disclosure filed Friday with the Federal Election Commission. It is the only donation made by any of the four "Keep the Promise" committees.
Despite that, "Keep the Promise I" is keeping its promise to Cruz, according to an e-mailed statement to Bloomberg. In the e-mail, Republican pollster Kellyanne Conway said the super-PAC remains true to its original goal, albeit free to take some detours. 
"Keep the Promise I supports Ted Cruz for President," she wrote. "It is a federal PAC that will offer support to other candidates for President and other offices, and will work with the affiliated PACs Keep the Promise II, III and Keep the Promise PAC, to promote Ted Cruz for President."
Conway said she was writing as a spokeswoman for the family of Robert Mercer, a hedge fund manager who almost single-handedly underwrote Keep the Promise I, writing an $11 million check. His daughter, Rebekah, hosted a fundraiser for Cruz in March, days after the Texas senator became the first major presidential candidate to make his bid official. 
Campaign finance reports out this month show the elder Mercer playing the field. He gave $250,000 to Believe Again PAC, a super-PAC supporting another Republican presidential contender, Bobby Jindal. He also donated to Fiorina's presidential campaign committee, which can accept much less money ($5,400 per individual per election cycle) than super-PACs.
Cruz is not the first presidential candidate to experience the fickleness of super-PACs. During the last presidential campaign, a super-PAC that was widely reported to be set to back then-Minnesota Representative Michele Bachmann's quest for the Republican presidential nomination ended up supporting Mitt Romney instead. 
Before it's here, it's on the Bloomberg Terminal.
LEARN MORE