Hillary Clinton Slams Jeb Bush's Record in Urban League Speech
She doesn't mention his name before African-American activists in Florida, but the attack is hardly veiled.
by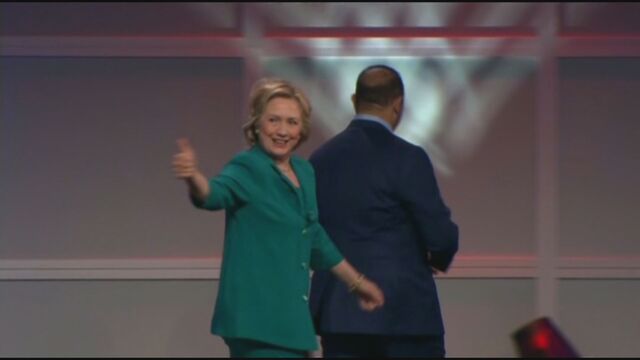 Hillary Clinton didn't use Jeb Bush's name on Friday, but her attack on the former Florida governor was hardly veiled as she spoke ahead of him at a gathering of African-American activists in Florida.
"I don't think you can credibly say that everyone has a right to rise and then say you're for phasing out Medicare or for repealing Obamacare. People can't rise if they can't afford health care," Clinton said at the National Urban League's annual conference in Fort Lauderdale, alluding to Right to Rise, the super-PAC backing Bush's candidacy. "They can't rise if the minimum wage is too low to live on. They can't rise if their governor makes it harder for them to get a college education. And you cannot seriously talk about the right to rise and support laws that deny the right to vote."
The Democratic front-runner spoke not long before Bush, a Republican, was scheduled to address the same crowd. It's the first time since the start of the presidential race that the two candidates have both spoken to the same group on the same day.
Clinton warned that Bush's rhetoric wouldn't necessarily match up with his actions.
"The real test of a candidate's commitment is not whether we come to speak [at] your national conference … It's whether we're still around after the cameras are gone and the votes are counted. It's whether our positions live up to our rhetoric," she said. "Too often we see a mismatch between what some candidates say in venues like this and what they actually do when they're elected."
The Bush campaign called Clinton's comments "just more false, cheap political shots to distract from the fact that Secretary Clinton has no record of accomplishment to run on this race."
"The Urban League deserved better today," spokeswoman Allie Brandenburger said in an e-mail. "Governor Bush is running on his record in Florida of expanding opportunity and growing the economy for everyone."
Before it's here, it's on the Bloomberg Terminal.
LEARN MORE