Hillary Clinton's Doctor Says She Is 'Fit to Serve as President'
The campaign also planned release the Clintons' tax returns from 2007 to 2013 later in the day, an official said.
by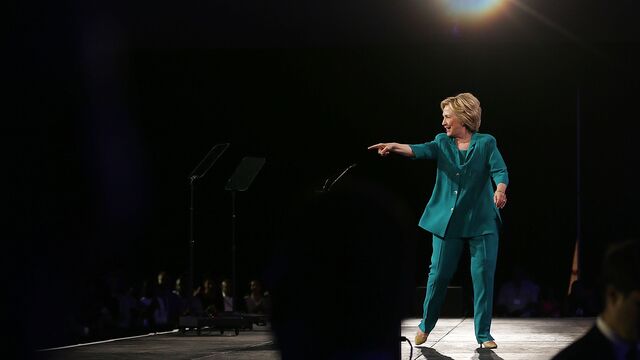 Hillary Clinton's presidential campaign on Friday released details of her health records and planned to publish her recent tax returns to emphasize, aides said, her desire to be transparent with voters.
Clinton, 67, "is in excellent physical condition and fit to serve as President of the United States," said internist Lisa Bardack in a letter released by the campaign dated July 28. 
Clinton's current medical issues include seasonal pollen allergies and hypothyroidism, a condition that is common in women over 60, according to Bardack, Clinton's personal physician and the chief of internal medicine at Mount Kisco Medical Group in Westchester.
The voluntary disclosures about her health and the Clintons' tax returns, which is expected to include those filed since her last presidential campaign and detail their business holdings, came on a summer Friday afternoon as another set of documents was released in a far less voluntary fashion. The State Department released its latest tranche of thousands of pages of e-mails from her time as secretary of state, which it has been doing on the last day of each month in compliance with a court order.
Clinton has said she supports the release of her messages, which she sent and received from a private rather than governmental account, an issue that has dogged her presidential campaign since before it even launched this spring.
The Clinton campaign hopes that, taken together, all the releases will be seen by voters and the press as amounting to an effort to be as transparent as possible with the public.
With the release later Friday of the Clintons' tax returns spanning from 2007 to 2014, the last 38 years of their returns will have been made publicly available, since Bill Clinton had to disclose his while running for and serving as Arkansas governor and president. Hillary Clinton released her post-White House tax returns during her 2008 presidential bid.
Clinton's medical history includes deep vein thrombosis in 1998 and 2009, an elbow fracture in 2009, and a concussion in 2012, the physician said. All of those conditions were reported publicly at the time.
According to the medical letter released Friday, Clinton has successfully healed from the blood clot and concussion that she suffered in late 2012.
"She had follow-up testing in 2013, which revealed complete resolution of the effects of the concussion as well as total dissolution of the thrombosis. Mrs. Clinton also tested negative for all clotting disorders," Bardack said. 
Clinton's current medications include Armour Thyroid, antihistamines, Vitamin B12, and Coumadin, an anticoagulant, the physician said. Clinton takes no other medications regularly, doesn't smoke, and drinks alcohol occasionally, she added.
The letter also notes that Clinton recently had a normal colonoscopy, gynecological exam, mammogram, and breast ultrasound. With a family history of heart disease, she underwent a full cardiac evaluation, which was also negative.
Before it's here, it's on the Bloomberg Terminal.
LEARN MORE