Senate Passes Three-Year Highway Bill That Renews Ex-Im Bank
Kathleen Miller and Billy House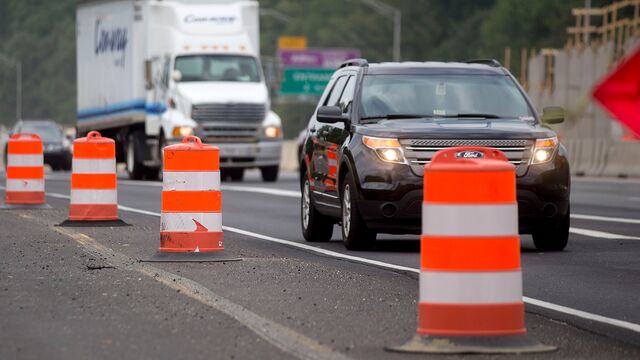 The U.S. Senate passed its version of a long-term highway funding plan as lawmakers are set to delay House-Senate negotiations until after the August recess.
Later Thursday the Senate will vote on a stopgap bill to allow highway spending for three months in the meantime. The House passed that measure Wednesday before leaving Washington for five weeks.
The long-term Senate bill, passed 65-34 Thursday, would provide a six-year blueprint for spending on roads, bridges and mass transit projects while paying for three of those years. It also would revive the U.S. Export-Import Bank, whose charter expired June 30, through September 2019.
The legislation will be part of conference committee negotiations on long-term highway funding with the House, which passed a five-month highway fund extension earlier in July that didn't renew Ex-Im. House members have said they are working on their own longer-term bill.
"The multi-year nature of this legislation is one of its most critical components," Senate Majority Leader Mitch McConnell, a Kentucky Republican, said on the Senate floor Thursday. "It's also something the House and Senate are now united on."
House Minority Leader Nancy Pelosi, a California Democrat, told reporters, "Now, we have a short-term bill. I feel confident the speaker sincerely wants a highway bill," referring to House Speaker John Boehner.
The Highway Trust Fund's authorization has been set to expire after Friday. The short-term plan would extend funding through Oct. 29, providing $6 billion for highways and $2 billion for mass transit financed mostly by tightening tax compliance rules.
Banking Opposition
The Senate's three-year-plan, H.R. 22, is opposed by the banking industry because it would finance highways partly by reducing dividends to banks from the Federal Reserve. It would cut the 6 percent dividend paid to member banks to 1.5 percent for banks with more than $1 billion in assets, which is expected to generate more than $16 billion for the highway fund.
That proposal is one reason the Senate Banking Committee's Republican chairman, Richard Shelby of Alabama, and its top Democrat, Ohio Senator Sherrod Brown, both oppose the bill.
"Some of the pay-fors bother me," Brown said in an interview Wednesday. "Small banks will contribute to this instead of it being a transportation bill funded by transportation. There are safety concerns as well; it's really all of it."
Ex-Im Bank
The Senate measure would revive the 81-year-old Ex-Im Bank, which has been unable to approve new applications for loans, guarantees and insurance since its charter expired June 30.
Ex-Im, renewed without controversy for decades, is opposed by conservative Republicans who say it benefits only a few large corporations that don't need government assistance.
Large manufacturers including Chicago-based Boeing Co. and Fairfield, Connecticut's General Electric Co., have said the lapse in the bank's charter puts them at risk of losing sales to competitors in Europe, Brazil, Japan and China who can get government-backed financing. GE and Boeing have said they might move job overseas if Congress doesn't reauthorize Ex-Im.
Before it's here, it's on the Bloomberg Terminal.
LEARN MORE