Chris Christie Can't Go On Unless We Give Him $30
The situation is becoming desperate.
by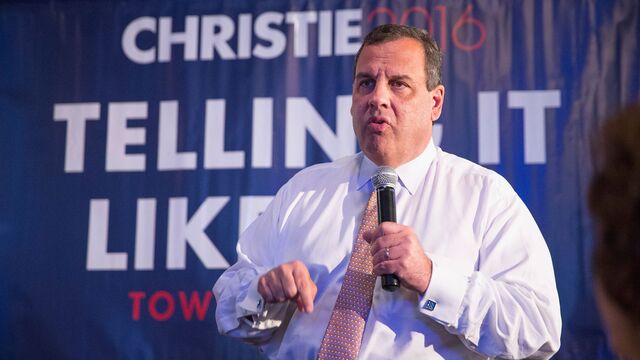 This is an excerpt from Bloomberg's daily Opening Line column.
Not to brag or anything, but a certain candidate for president is trying hard to get us on his team, and the proximity to power is intoxicating.
Apparently, at some point during the interminable wait for Chris Christie to enter the Republican field, we clicked some sort of "keep me updated" button on ChrisChristie.com, which back then wasn't the cinematic feast it is today.
Christie finally declared his candidacy, and he's now running strong. (No, no, not for the nomination; he's running strong for the 10th spot in that Fox News debate.) With pace-setters like Jeb Bush and Ted Cruz raising money by the tens of millions, Christie has a serious dollar deficit to fill.
So it was that on July 22, an e-mail arrived from Cam Henderson, with the subject line, "time is running out."
"I'm the Finance Director for Governor Christie's presidential campaign, and I want to share with you a special opportunity to become a Founding Digital Member of our campaign," he wrote. "Since Governor Christie entered the race on June 30th, the support from people like yourself opting to be a Founding Digital Member has been overwhelming and the Governor is thrilled with the response!"
Cam was wondering about the $30 that would activate our Founding Digital Member status. The "earliest supporters" who make "a financial commitment within the first 30 days," it turns out, are entitled to "team conference calls," e-mail updates from campaign leadership and a bumper sticker.
Five days went by. The silence from this end really began shaking up the campaign's inner circle.
"Cam asked me to follow up with you," began the follow-up e-mail from Hayden Stone, the Christie campaign's data director (and, if memory serves, once a major Wall Street securities firm).
Appended to that e-mail, looking for all the world like a mistake, was a message from Henderson to Hayden divulging just how coveted our support is.
In that message, Henderson asks Hayden for a head count, by day's end, of who among Christie's "closest supporters" had "signed up." Henderson adds, "The Governor specifically asked me to reach out to all of his past supporters and I want to update him ASAP."
Just in case you're thinking this campaign conversation was an ego-stroking come-on, intentionally sent and only meant to look like an inadvertent forward, think again: The subject line of Hayden's e-mail began "FW:," and everybody knows that can't be faked.
Another two days passed. By yesterday, Team Christie was desperate.
"I know you've heard from both Cam, our finance director, and Hayden, our data director, within the last week regarding your Founding Digital Member status," wrote Elise Dietsch, the deputy finance director. "Since there are only hours left before the July 30th deadline, I wanted to personally follow up to ensure you don't miss this limited-time opportunity."
She offered some added incentive: "Governor Christie will personally review the Founding Digital Member roster so don't miss your chance to make the list!"
And that's where things stand—less than 18 hours until the deadline, Christie's presidential chances on the line, and $30 at stake. It's a lot of pressure.
Before it's here, it's on the Bloomberg Terminal.
LEARN MORE