Republican Governors Buck Party Tenets to Seek Expanded Medicaid
Mark Niquette and Margaret Newkirk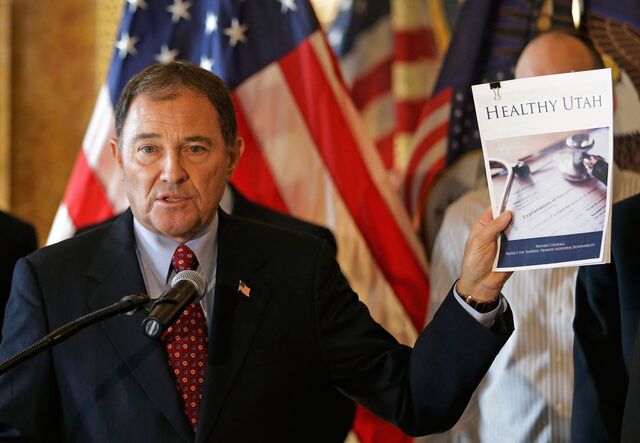 Republican governors are pressing forward to expand Medicaid even after being stymied by lawmakers in their own party.
As the Obama administration vows to help develop plans that will pass muster with conservatives, the governors of Utah and Wyoming said they still want the health-care program for the poor broadened. Georgia Governor Nathan Deal, who declined to act in 2013, may seek a federal waiver to make insurance available to more residents. Louisiana's Republican legislature also opened a legal door.
Their views challenge party orthodoxy, even if some governors are crafting their own proposals and denying that what they're doing is expanding Medicaid. Twenty states have refused the expansion under President Barack Obama's 2009 health-care overhaul because of cost and ideological opposition. The resistance is easing as states see a chance to recoup tax dollars and help hospitals get paid for charity care.
"This is about your citizens' financial and health security, and it's also about the economic health of your states," Sylvia Mathews Burwell, U.S. secretary of health and human services, said Saturday at a National Governors Association meeting in West Virginia. "We want to help you design a system."
This month, Alaska became the 30th state to expand, including 10 with Republican governors, according to the nonprofit Kaiser Family Foundation, a health-research group in Menlo Park, California. Governor Bill Walker, a first-term independent, used his authority under state law to accept the expansion unless the legislature returns by Sept. 1 and votes it down.
"I did it unilaterally because it was the right thing to do," Walker said in an interview.
Long Slog
Governors in Tennessee, Utah and Wyoming lack the ability to act alone, and their Republican-led legislatures declined to adopt expansion this year.
Even so, Utah's Gary Herbert plans to meet with legislative leaders this week and said he hopes to call a special session in September to pass what he's calling an alternative to Medicaid expansion.
Herbert's program also would require a waiver from Medicaid officials for elements designed to appeal to Republicans, such as having applicants get job training.
"I'm optimistic," Herbert said in an interview. "I think our approach is better than traditional government-assistance Medicaid."
In Georgia, lawmakers last year blocked the governor from expanding Medicaid without their approval. A provision tucked into this year's budget, though, allows the state to pursue a waiver.
Wyoming Governor Matthew Mead called his expansion effort "a colossal failure." Still, he hopes to bring it back in February's budget session or in 2017.
"It's going to take probably some time and continued work by all of us to eventually get to that point," Mead said.
Tennessee Governor Bill Haslam, a Republican, said he doesn't know whether he'll try next year after failing in February.
While Louisiana Governor Bobby Jindal, a Republican presidential candidate, has been an adamant opponent, his state still could move, said Joan Alker, executive director of the Center for Children and Families at Georgetown University.
Jindal leaves office at year-end, and Republicans running to replace him have all expressed support for expansion in some form, she said. The legislature has passed a provision requiring hospitals to pay the state's share of expansion.
"I don't think we are going to see a super-large number of states moving forward," Alker said. "But it is a steady drumbeat."
Untouchable Question
Other Republican governors, including Greg Abbott of Texas, have vowed never to acquiesce. Republican presidential candidates such as former Florida Governor Jeb Bush also have vowed to repeal the law if elected.
While Texas is tied with Nevada for the highest percentage of residents who lacked health insurance in 2013, according to Kaiser, Abbott has opposed accepting "Obamacare's massive expansion of an already broken and bloated Medicaid program."
"There are some states where this is just a third-rail, visceral 'no,'" said Richard Nathan, a former director of the Nelson A. Rockefeller Institute of Government who is studying the health law's implementation.
Kentucky's Steve Beshear, a Democrat who accepted expansion through an order, made a pitch at the association meeting for his colleagues to consider expansion, citing the "boon" it has been for his state.
"I know a lot of legislatures have trouble just because of the name of the act," Beshear said. "If you can get past that kind of politics, this is a win-win for both your people and your economy."
Before it's here, it's on the Bloomberg Terminal.
LEARN MORE