Pennsylvania Congressman Fattah Indicted for Fraud Scheme
Sophia Pearson and Billy House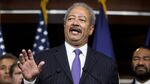 Representative Chaka Fattah of Pennsylvania was indicted by a U.S. grand jury for allegedly trying to steal hundreds of thousands of dollars of charitable and federal grant money to pay off debts for a failed mayoralty campaign.
Fattah stepped down as the top Democrat on the House Commerce, Justice, Science and Related Agencies appropriations subcommittee until the charges are resolved, the top House Democrat, Nancy Pelosi, said in a statement. He has represented a Philadelphia district for two decades.
The charges unsealed Wednesday cap a long federal probe into Fattah's activities. The congressman is accused of borrowing $1 million from a supporter, disguising the funds as a loan to a consulting company, and using some of them to fund his 2007 campaign for mayor of Philadelphia.
After he lost the election, Fattah returned $400,000 to the donor and funneled charitable and federal grant money through a non-profit entity he founded to pay off the rest, the government said.
The charges in the indictment are "deeply saddening," Pelosi said.
Fattah is also accused of misappropriating money from his mayoral and congressional campaigns to repay his son's student loan. Chaka Fattah Jr. was charged last year with fraudulently obtaining business loans to pay off gambling debts and personal expenses. He pleaded not guilty.
Four Others
Four of the congressman's associates, including lobbyist Herbert Vederman and Fattah's congressional district director Bonnie Bowser, were also charged in the 29-count indictment with participating in a racketeering conspiracy and other crimes, including bribery. They were also charged with multiple counts of mail fraud, conspiracy to commit mail, wire and honest services fraud, falsification of records and money laundering.
"The public expects their elected officials to act with honesty and integrity," Zane Memeger, the U.S. Attorney in Philadelphia, said in a statement. "Congressman Fattah and his co-conspirators have betrayed the public trust and undermined faith in government."
Luther Weaver III, Fattah's lawyer, said he hasn't yet received a copy of indictment and couldn't immediately comment on the charges.
Fattah and the other defendants are accused of creating sham contracts and falsifying accounting records, tax returns and campaign finance disclosure statements in several schemes going back almost a decade.
During that time, Fattah also attempted to secure for Vederman an ambassadorship or an appointment to the U.S. Trade Commission. In exchange, Vederman, a former deputy mayor for Philadelphia, provided money and other items of value to Fattah, prosecutors said.
The House Ethics Committee wouldn't comment on Fattah's indictment.
Under the committee's rules, it has 30 days after a House member is indicted, or otherwise charged, to either vote to start its own inquiry or provide the House with a report describing its reasons for not starting an inquiry.
The case is U.S. v. Fattah Sr., U.S. District Court, Eastern District of Pennsylvania (Philadelphia).
Before it's here, it's on the Bloomberg Terminal.
LEARN MORE