House Passes Three-Month Highway Bill Without Ex-Im Renewal
Billy House and Kathleen Miller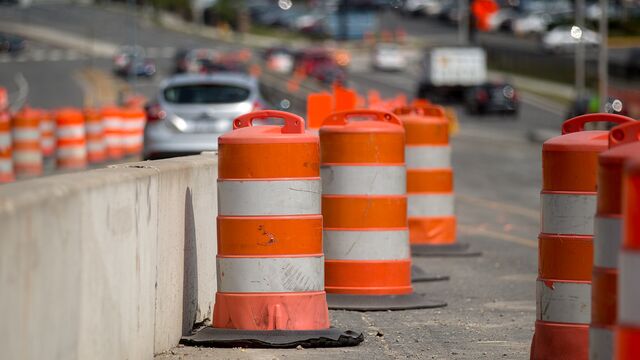 The U.S. House passed a three-month highway funding bill as members prepare to leave for an August recess without considering a long-term proposal by the Senate.
The stopgap measure, passed 385-34 Wednesday, would extend highway spending authority through Oct. 29 to give lawmakers time to work on multiyear financing for the nation's roads and bridges.
The Senate plans to vote on the short-term House bill Thursday. Current funding authority would lapse after Friday.
"Improving bridges, roads and infrastructure is critical to our economy. But we're going to need time for the House committees to do their work" on a long-term plan, said Speaker John Boehner, an Ohio Republican, during a news conference.
The House measure, H.R. 3236, wouldn't revive the U.S. Export-Import Bank, whose charter expired June 30. The Senate plan would reauthorize the 81-year-old bank, which provides loans, loan guarantees and insurance to aid overseas sales by U.S. companies.
A failure by Congress to reauthorize and replenish the Highway Trust Fund would undermine the summer construction season by forcing reductions in payments to states for road and bridge projects.
The 18.4 cents-a-gallon federal gasoline tax that the Highway Trust Fund has relied on no longer covers the cost of the transportation program as Americans drive less and buy more fuel-efficient cars. Republicans have refused to consider raising the tax.
Stopgap Laws
The last time Congress passed a highway funding measure that covered more than two years was 2005. The three-month measure would be the 34th stopgap highway law in the last six years, according to the Peter G. Peterson Foundation, which says it seeks long-term government fiscal solutions.
"Here we are with another short-term extension of the Highway Trust Fund," said Democratic Representative Jim McDermott of Washington. "How can businesses do any kind of planning in this country when they get one and two and three-month extensions?"
"It's time for a long-term funding bill and we should have done it this time," McDermott said. "We never fix anything here."
The three-month House bill would provide $6 billion for roads and $2 billion for mass transit, financed mostly by tightening tax compliance rules.
The Senate plans to vote Thursday to pass its version of a highway spending authority bill that lays out policy for six years and would deliver three years of funding. The vote on the House bill is set to occur shortly after.
Ex-Im Bank
Though the Ex-Im Bank has operated and been renewed for decades, it is now opposed by conservative Republicans who say it benefits only a few large corporations. In limbo, the bank can't approve new applications unless Congress acts to recharter it.
Democrats say House Republican leaders refused to take up the Senate highway bill in part because they want to avoid an internal party fight over the Ex-Im bank before the August break.
Second-ranking House Democrat Steny Hoyer of Maryland said even though Boehner has said he would let the House "work its will" on legislation, the Ex-Im extension wasn't included in the House bill because of opposition from Financial Services Committee Chairman Jeb Hensarling of Texas.
As many as 270 members of the 435-seat House would vote to reauthorize the bank, Hoyer said, adding, "I will yield to anyone on this floor who will say: Mr. Hoyer, you are wrong."
The House bill passed Wednesday includes language to allow the Department of Veterans Affairs to tap about $3.4 billion in funds set aside for other purposes to keep its hospitals open.
That funding was intended to be used by the department's "choice" program that allows veterans to receive care outside of VA hospitals.
Before it's here, it's on the Bloomberg Terminal.
LEARN MORE