House to Vote on Three-Month U.S. Highway Measure, Lawmakers Say
Billy House, Kathleen Miller and Erik Wasson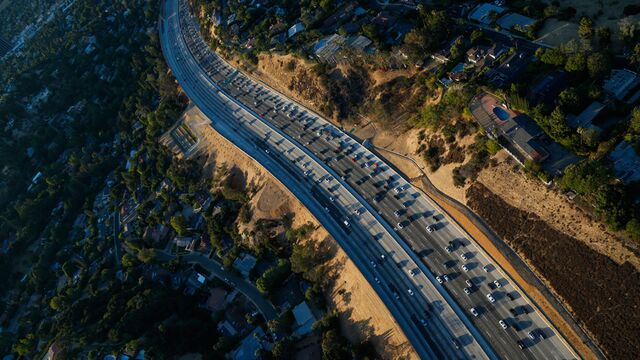 The U.S. House plans to vote on a three-month highway funding bill Wednesday and leave for a summer break without considering a longer-term measure now before the Senate, Speaker John Boehner said.
Current highway funding authority lapses after July 31. The House and Senate, controlled by Republicans, so far can't agree on how to keep the money flowing. The Senate has been debating a highway policy bill that includes three years of funding.
Boehner of Ohio said Tuesday he wasn't certain whether Senate Majority Leader Mitch McConnell would accept the three-month plan.
"Senator McConnell and I work very closely together on a whole host of issues," Boehner said Tuesday. "But there are times when, you know, the Senate has to do what the Senate has to do and the House has to do what it has to do."
McConnell, a Kentucky Republican, didn't mention the House's three-month plan when he opened the Senate session.
Republican Senator Jim Inhofe of Oklahoma and Illinois Democrat Dick Durbin said they're working toward an agreement that would allow the Senate to pass its plan later Tuesday.
The House bill would extend highway spending authority through Oct. 29, providing $6 billion for highways and $2 billion for mass transit financed mostly by tightening tax compliance rules.
Ex-Im Bank
The Senate measure, H.R. 22, would reauthorize the U.S. Export-Import Bank, whose charter expired June 30. The House legislation doesn't address the Ex-Im Bank.
The three-month House proposal got mixed initial reviews among Senate Republicans. Senate Finance Committee Chairman Orrin Hatch, a Utah Republican, said "no" when asked whether he was open to it .
In contrast, Senator John Cornyn of Texas, a member of the Republican leadership, said, "I hope it is not controversial to do a short-term extension."
Tim Huelskamp of Kansas said Boehner told fellow Republicans during a private meeting that the plan is to "jam the Senate" by leaving the three-month bill as the only alternative to authorize highway spending.
Representative John Fleming, a Louisiana Republican, said Boehner used "an expletive" to describe the Senate bill.
Funding Lapse
Regarding the possibility that the Senate will agree to a three-month extension, Republican Representative Matt Salmon of Arizona said, "Unless they want to see the funding lapse then I think they'll probably do it."
The House has previously passed a five-month, bipartisan highway funding authorization bill that the Senate hasn't taken up. House Majority Leader Kevin McCarthy, a California Republican, has repeatedly said the House won't take up the Senate bill.
The Ex-Im Bank provides loans, loan guarantees and insurance to aid overseas sales by U.S. companies. The 81-year-old bank, renewed without controversy for decades, is opposed by conservative Republicans who say it benefits only a few large corporations that don't need government assistance.
"Based on what I'm hearing in the conference I wouldn't hold my breath" that the bank would be reauthorized in September, Salmon said. "I think Kevin McCarthy has staked out pretty clearly that he does not want to see Ex-Im renewed," Salmon said.
Salmon, an Ex-Im supporter, said, "If it comes up on the floor I will support it, but if it doesn't get reauthorized I don't think it will be cataclysmic."
'It's Frustrating'
Representative Carlos Curbelo, a Florida Republican, said there's still a chance that Congress would reauthorize the Ex-Im Bank after the August recess.
"The assumption is that it will come back; the Senate will find a way to get Ex-Im over to the House," Curbelo said in an interview.
"It's frustrating," Curbelo said regarding plans for a three-month highway funding extension. "The only thing worse than a three-month extension would be allowing funding to lapse."
Representative Ed Perlmutter, a Colorado Democrat, told Bloomberg reporters and editors Tuesday that delaying action on the Ex-Im Bank until after the August recess is a way for Republicans who oppose reauthorizing it to kill the bank.
'Difficult Position'
"It really does put Ex-Im in a difficult position," he said.
Republican Representative Frank Lucas of Oklahoma predicted the bank will be reauthorized.
Not renewing Ex-Im's charter would be "surrendering a part of your ability to compete in the world," Lucas said. "At some point, we will miss out on some business opportunity of such magnitude that it will catch the attention of the public, and we will respond."
Representative Jeff Miller, a Florida Republican and chairman of the House Veterans Affairs Committee, said language in the short-term highway bill would allow the Department of Veterans Affairs to tap about $3.4 billion in funds set aside for other purposes to keep its hospitals open.
That funding was intended to be used by the department's "choice" program that allows veterans to receive care outside of VA hospitals.
"It's critical; if we do not full this budget hole their claim is" they will have to shut hospitals and clinics across the country, Miller said in an interview at the Capitol. "It never ceases to amaze me how poorly managed VA's budget process is."
Before it's here, it's on the Bloomberg Terminal.
LEARN MORE