Obama Warns African Leaders They Must Act to Meet Challenges
Mike Dorning and Margaret Talev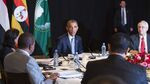 President Barack Obama closed a five-day visit to Africa by delivering a stern warning that even as the region has shown increasing economic dynamism the continent's political leaders are falling dangerously short of meeting the challenges that threaten their societies.
The speech Tuesday to representatives of the continent's governments assembled at the African Union headquarters in Addis Ababa, Ethiopia, ends a visit that has combined demonstrations of personal bonds of affection, celebrations of the region's recent economic progress and scolding lectures on shortcomings.
The president dined with Kenyan relatives and joined in a dance with performers at a state dinner, lauded young business owners at an entrepreneurship summit and used a speech to the Kenyan public to urge action against the scourges of entrenched corruption, tribalism and gender discrimination.
Obama began his address to the African Union assembly by saying that he came before them not only as the first U.S. president to appear at the organization but "as the son of an African."
'Fragile Foundation'
He also had a warning: the continent's economic progress rests on "a fragile foundation" and its governments aren't fully prepared for "the enormous undertaking" of providing opportunities for a demographic bulge of young people who will need to find work. The continent's population will double to 2 billion people in the decades to come, many of them under the age of 18.
Also on Bloomberg Politics: President Obama's Africa Trip in Photos
"Time is of the essence," Obama said. "The choices made today will shape the trajectory of Africa and therefore the world for decades to come."
The continent's leaders must do more to strengthen democratic institutions, educate youth including women, combat a culture of bribe-taking and barriers to starting new businesses, and overcome ethnic and tribal strife, he said.
Many of his remarks over the course of his trip were directed at young people and he urged leaders to recognize both their desires and their power.
"We need only look to the Middle East and North Africa to see that large numbers of young people with no jobs and stifled voices can fuel instability and disorder," Obama said.
'Cancer of Corruption'
Essential to making that progress, Obama said, is excising the "cancer of corruption" that is holding back international investment and local growth.
Obama drew cheers and applause from his audience when he decried African leaders who cling to power. He referred to Burundi's leader Pierre Nkurunziza, who was recently elected to a third term even though the country's constitution limits the president to two.
"When a leader tries to change the rules in the middle of the game just to stay in office, it risks instability and strife, as we've seen in Burundi," Obama said. "But if a leader thinks they're the only person who can hold their nation together, then that leader has failed to truly build their country."
He also made a sharp joke at the expense of those who try to remain a "president for life," encapsulated his criticism of corruption and governance in Africa
"I don't understand why they want to stay so long, especially when they have a lot of money," Obama said.
Obama's Criticism
Steven Gruzd, an analyst at the South African Institute of International Affairs in Johannesburg, said Obama's tough language wasn't unexpected, though by itself won't trigger significant changes among Africa's leaders.
"Some will welcome the fact that the U.S. president has raised some thorny issues and some will say it's none of his business and we are not an American colony," he said by telephone.
The U.S. president said he was redirecting America's approach to Africa from aid to development, with programs to help African nations attract private investment and nurture homegrown businesses.
He also took an indirect jab at China, which has been spending on infrastructure projects in many parts of Africa, especially some of the less stable countries rich in resources.
While he previously welcomed China's involvement in Africa as a way to lift the continent's economies, he said Tuesday that "economic relationships cannot simply be about other countries building infrastructure with foreign labor or extracting Africa's natural resources."
Throughout the trip Obama has used his status as the first American president with African ancestry to both praise Africa's progress and to prod the continent's leaders to do more to expand freedom and democracy.
He also met with regional leaders to seek support for new sanctions if the government and rebels in South Sudan can't reach a peace agreement by mid-August. And he touched the bones of a 3.2 million-year-old ancestor of humans, an experience he said gave him new perspective on people's interconnectedness.
Before it's here, it's on the Bloomberg Terminal.
LEARN MORE