Ex-Im Backers Fret Over Future as U.S. House Ignores Bank
Kathleen Miller, Erik Wasson and Billy House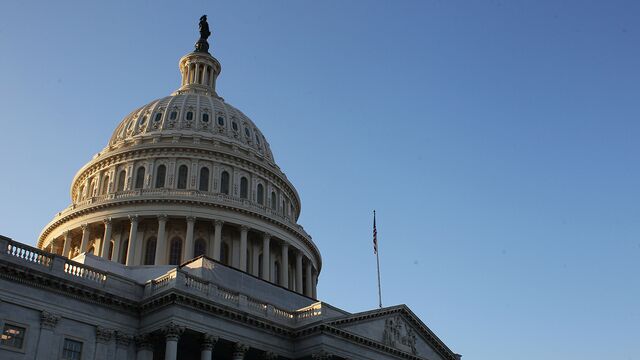 The U.S. Export-Import Bank won't be revived until at least September -- if ever.
Congress is headed toward approving a three-month highway funding extension drafted by the House that makes no mention of reauthorizing Ex-Im. Less than 24 hours earlier, bank supporters had celebrated the Senate's vote amending its highway plan to revive the bank through September 2019.
"The hard right is running the Republican Party," said Senator Chuck Schumer, the chamber's third-ranking Democrat. "Republicans are leaving Ex-Im shuttered for the summer."
The 81-year-old bank's charter expired June 30, preventing it from approving new applications for loans, guarantees and insurance to support the sale of U.S. products overseas.
Large manufacturers including Chicago-based Boeing Co. and Fairfield, Connecticut's General Electric Co., have said the lapse puts them at risk of losing sales to competitors in Europe, Brazil, Japan and China who can get government-backed financing. Both GE and Boeing have said they might move jobs overseas if Congress doesn't reauthorize Ex-Im.
The Senate voted 64-29 Monday to reauthorize the bank as part of a bipartisan highway funding plan. House Republicans, however, said they wouldn't consider the Senate bill and haven't included the bank's renewal in their highway measures.
Ex-Im backers are skeptical about whether the bank will be reauthorized.
Won't 'Hold Breath'
"Based on what I'm hearing in the conference I wouldn't hold my breath," Representative Matt Salmon, a bank supporter and Arizona Republican, told reporters Tuesday. House Majority Leader Kevin McCarthy has "staked out pretty clearly that he does not want to see Ex-Im renewed and he's the guy that schedules stuff to come to the floor," Salmon said.
The bank, renewed without controversy for decades, is opposed by conservative Republicans including McCarthy who say it benefits only a few large corporations that don't need government assistance.
Senate Majority Leader Mitch McConnell, a Kentucky Republican who opposes reviving Ex-Im, had agreed to allow its supporters to use the highway bill to reauthorize the bank.
In contrast, House Speaker John Boehner, who has said the end of Ex-Im would cause thousands of job losses, has thus far bowed to those who want to prevent a vote. That includes House Financial Services Chairman Jeb Hensarling.
Open Amendment
Boehner had said he would allow an open amendment process in the House if the Senate passed legislation to reauthorize the bank, thus allowing a vote on Ex-Im while giving opponents an opportunity to strip reauthorization from the bill.
On the highway legislation, Boehner has insisted that his chamber remain focused on its transportation funding plans, sidestepping the Senate bill that would reauthorize the bank.
Senate Republican leaders appeared ready to acquiesce to the House on the three-month plan.
"We'll see how quickly we can take it up," McConnell told reporters after Senate party lunches Tuesday.
Most Democrats, including President Barack Obama, and many Republicans want to keep the bank because they believe it supports American jobs by helping U.S. companies compete for work overseas.
Five public U.S. companies -- General Electric, Boeing, Caterpillar Inc. and units of General Dynamics Corp. and United Technologies Corp. -- had overseas customers who received about $10 billion in loan authorizations or long-term guarantees from the bank last year.
Ethiopian Airlines
Obama underscored the importance of export credits during a visit to Addis Ababa Tuesday as he viewed a Boeing 787 Dreamliner sold to Ethiopian Airlines, the first African operator of the leading-edge jetliner.
"These purchases are not made without the Ex-Im Bank," Obama said.
Boeing faces the greatest potential loss if the bank remains closed in the longer term, credit-ratings agency Moody's Corp. said in a July 22 report.
"Every day of uncertainty about the future of Ex-Im is a challenge for us and the rest of the U.S. aerospace industry as we battle against our foreign competitors, all of whom have export credit agencies supporting airline customer financing," Tim Neale, a Boeing spokesman, said in an e-mail.
Representative Ed Perlmutter, a Colorado Democrat, told Bloomberg reporters and editors Tuesday that delaying action on the Ex-Im Bank until after the August recess is a way for Republicans who oppose reauthorizing it to kill the bank.
'Difficult Position'
"It really does put Ex-Im in a difficult position," he said.
Even so, some House Republicans remained hopeful Tuesday that it will be reauthorized.
"The assumption is that it will come back; the Senate will find a way to get Ex-Im over to the House," Representative Carlos Curbelo, a Florida Republican, said in an interview in the U.S. Capitol.
Not renewing Ex-Im's charter would be "surrendering a part of your ability to compete in the world," Representative Frank Lucas, an Oklahoma Republican, said. "At some point, we will miss out on some business opportunity of such magnitude that it will catch the attention of the public, and we will respond."
Before it's here, it's on the Bloomberg Terminal.
LEARN MORE