Can Hillary Clinton Turn Her Uber Problem Into an Opportunity?
Uber, says just about everybody, is the future, and no one wants to stand against the future. Is there a way for Clinton to flip the debate?
by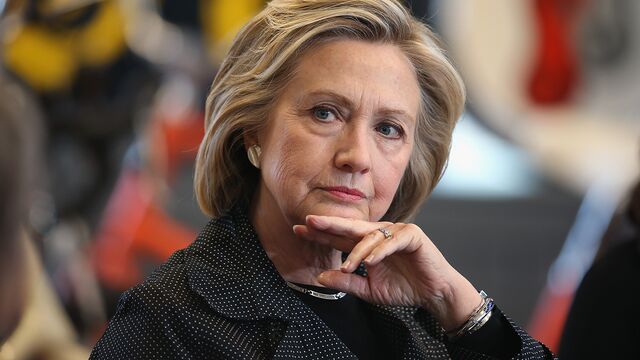 For the 20-some among us eyeing the presidency in 2016, Uber has become a sort of proxy for economic policy, a crucible. Earlier this month in San Francisco, former Florida Governor Jeb Bush took an Uber car to get from point A to point B, all to point a finger at Hillary Clinton from the passenger seat. Kentucky Senator Rand Paul, Bush's rival in the race for the Republican presidential nomination, got in on the action. "Services like Uber, Airbnb, and Lyft stimulate our economy and work towards lower prices," Paul tweeted. "How is this bad @HillaryClinton?"
Uber has become a synecdoche for American innovation—opposing it is like opposing the future, never a comfortable place for a politician. In a recent speech on economic policy, Clinton said, by way of preface, that the "on-demand or so-called 'gig' economy is creating exciting opportunities and unleashing innovation." And then came the killjoy: Clinton spoke of "wage theft," and of misclassification of workers as contractors. This seemed directed at Uber—in June, Uber lost a case before the California Labor Commissioner, who ruled that a driver who used the company's app to connect with customers must be considered an employee, not an independent contractor—but she never mentioned Uber by name.
For Clinton, critiquing Uber directly could get a little awkward. In April, a longtime Clinton-family spokesman, Matt McKenna, left the First Family's side for a job at the car-service juggernaut. (Bill Clinton called it "an amazing opportunity.") David Plouffe, President Obama's former campaign manager and senior adviser, works there as chief adviser. Clinton's recent FEC filings show Uber on the long list of her operating expenditures. And Ready PAC, the former Ready for Hillary, uses it even more.
Plus, much of Capitol Hill is addicted. A study released last November by the public-policy firm Hamilton Place Strategies showed how much Congress uses it: Uber has overtaken taxis in terms of number of rides taken (in the 2014 cycle, 61 percent of Congressional rides were Uber), and members of Congress are taking far more rides (an 84 percent increase from 2010 to 2014). It's everywhere. 
"All the things that cause people to want to use Uber are the same things that make candidates want to use it: the ease, the convenience," said Matt McDonald, a partner at Hamilton Place. The question for politicians, in his words, is: "Do you see innovation and the economy of the future—or do you see a threat to people who work in a part of the economy that's being disrupted?"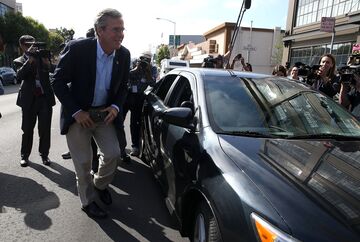 Republicans are busy trumpeting the benefits of disruption, how many new jobs Uber creates, and how flexible those jobs are. But among Democrats—some of whom make the case that Uber denies protection to its workers, ignores disabled people, grossly overcharges users with its surge pricing, and clogs the streets—it's a trickier balancing act. New York City Mayor Bill de Blasio tried to stand up to the company, but was almost immediately steamrolled by a coalition that included New York Governor Andrew Cuomo ("It's taking off like fire through dry grass. And it's offering a great service for people, and it's giving people jobs. I don't think government should be in the business of trying to restrict job growth," the governor said in a radio interview) and Kate Upton. 
There's the matter of velocity. "The Democrats are making an argument that the pace of change is too fast and has hurt too many people," said Robert Atkinson, president of the policy think tank Information Technology and Innovation Foundation. "The Republicans are arguing the opposite."
"Democrats have to be careful not to look like they're out of touch with the natural evolution," said Simon Rosenberg, president of the New Democratic Network, a research group that studies the impact of mobile technology on society.
How to critique innovation and come off as pro-innovation? How to call yourself progressive and work to slow down, or at least regulate, progress? Can a Democrat running for president—can Clinton—stand against Uber? 
Rosenberg said, "The questions that Hillary is raising are fair. You can be both pro-tech, pro-innovation and raise concerns about whether everyone's playing by the same rules. It's a healthy debate to have."
For all her technological problems—e-mail addresses, fax machines—Clinton wouldn't want anyone thinking she's opposed to Silicon Valley. The Uber issue, said Christopher Koopman, a research fellow at George Mason University's Mercatus Center, "is at least an indication of the growing role that millennials may play in the coming election." He underlined that two of three people who work in the so-called "sharing economy" are millennials.
But that doesn't mean that, as a labor model, young people particularly like it. Uber may cast itself as a synonym for innovation, but organized labor disputes that the app, aside from its technological sleekness, is, at bottom, not all that new.
"When you take a look at it from a labor standpoint," said, Leonard Smith, director of organization and strategic campaigns for Teamster Local 117 in Seattle, "this is a reworking of labor brokers."
"Longshoremen," he explained, "used to have these shape-ups on the docks: they would show up to get a day or two of work unloading ships. And they would have to pay just to be hired for the day. Uber simply tells people, we'll connect people with the ride and you give us a percentage of the meter. It's got all the same attributes of exploitations that those previous attempts as well."
Smith said, "The way that it pulls workers and work together is just the reworking of an old idea."
Dawn Gearhart, who works with Smith as a business representative for Teamsters Local 117, stressed the attention Uber gives in its branding, for instance in calling drivers "partners," when their entire labor environment and conditions are dictated by the company, where workers have to accept any new terms of agreement, where a low rating can get them deactivated—a form of termination—without explanation. Gearhart said, "They have been able to frame the narrative in terms of innovation instead of regulation, in terms of upending the taxi industry instead of being a good employer."
Gearhart acknowledged that the limited number of taxi medallions is a problem. Many Uber drivers, she told me, "they wanted to be taxi drivers—they want to get the same fares, same insurance requirements, the same background checks, the same protections – and the ability to earn a living wage – it is the barrier to entry that made them choose them Uber or Lyft."
The vast majority of car-service drivers in Seattle are immigrants, she said. (Ninety-eight percent, she specified—in the taxi industry, mostly from Ethiopia and Punjab; in Uber largely Eritrean and Somalian). Many are refugees. "We have people making less than $3 an hour," she said.
"It's not really a fight for innovation or technology," she continued. "They don't want to follow safety and regulation. They mobilize all those people whose cell phone and credit information they have, and tell them that it'll be catastrophic if there's a cap—and they'll also get a free gift card."
On Friday, Uber offered to deliver free ice cream in the more than 250 cities where it operates. Sweet!
Janice Fine, a professor of Labor Studies at Rutgers University, sees a stain of inevitability. "Uber has become embedded in our culture," she said, "and there is no going back. People love it, it is very convenient and has cachet—a 10 on the coolness scale."
 "On the consumer side," she went on, "there is little not to like, notwithstanding that there have been some issues with screening drivers, etcetera. On the driver's side, it is possibly as good or better than your average taxi job in America today, and has the added plus for drivers of eliminating the middle man and being able to take calls from home. Taxi jobs in many major cities up until the late 70's were decent blue collar jobs: they were full-time, unionized, provided health insurance. Deregulation changed all that, and turned them into the independent contracting jobs they are now."
Uber, Fine continued, "may be a huge improvement for the consumer," yes, "but only a marginal one for the producer. Illusory power but no real power."
In a sense, it's an opportunity for Democrats—part of their core sell of making the future more humane—but one that they've not figured out how to address. They haven't yet succeeded in framing the gig-economy issue around higher wages. The party might put forward laws that would guarantee better labor conditions for all workers, including independent contractors, just as Obama's Affordable Care Act has lifted the health-care safety net. It's easy to see a way Democrats could place themselves, vis-à-vis Uber and its ilk, on the mantle of modernity, and at least change the terms of the messaging war.
I asked Fine whether she believes that Clinton, the Democratic front-runner, could come out against Uber. "Probably not," she replied. "But she can suggest what some of the problems are and what some of the improvements to the employment model could be: health insurance, a sick-day and vacation-day bank, pensions, performance bonuses, profit-sharing."
—Michelle Davis contributed to this report.
Before it's here, it's on the Bloomberg Terminal.
LEARN MORE