Obama Wants African Leaders' Buy-in for South Sudan Plan
Mike Dorning and Margaret Talev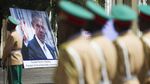 President Barack Obama will try Monday to sell regional leaders on a strategy to pressure warring South Sudanese factions into a peace deal by mid-August, an administration official said.
Obama will seek a unified stance on penalties if an Aug. 17 deadline is missed. That could include an arms embargo and sanctions targeting individuals' assets and ability to travel, the official said. The goal would be to impose sanctions backed by some combination of the U.S., European Union, regional countries and the United Nations. It's unclear how quickly the sanctions could kick in.
The president will press the strategy at a meeting Monday in Ethiopia's capital, Addis Ababa, with leaders of Uganda, Kenya, Ethiopia, the chair of the African Union and the foreign minister of Sudan.
Fighting between South Sudanese government, led by President Salva Kiir, and rebel forces that erupted in December 2013 has left tens of thousands of people dead and more than 2 million displaced, according to the UN.
U.S. officials have been laying the groundwork for Obama's participation in the meeting for weeks, with calls to regional leaders by Secretary of State John Kerry and National Security Adviser Susan Rice, among others.
The administration isn't expecting a breakthrough by the Aug. 17 deadline. The official said a positive outcome is unlikely, meaning the U.S. will probably ramp up its own measures and move to a Plan B.
Rebel Forces
Obama thinks the timing's right for a concerted regional campaign to pressure the factions into a negotiation, the official said. The parties have been unwilling so far to relent in their fight, and South Sudan's humanitarian situation is worsening, the official added.
South Sudan seceded from Sudan in July 2011 to become the world's newest nation, taking with it three-quarters of the formerly united country's oil. Output has fallen by at least a third to about 165,000 barrels per day because of the war, the Petroleum Ministry said in May. The country has sub-Saharan Africa's biggest crude reserves after Nigeria and Angola, according to BP Plc data.
As many as 4.6 million people are severely food insecure, with some 250,000 children at risk from rapidly worsening nutrition, the UN said in a statement released this month.
"I am deeply shocked by what I have seen," Stephen O'Brien, the UN under secretary general for humanitarian affairs, said Saturday after a four-day visit to South Sudan. "Families have endured horrendous atrocities –- including killing, abduction, and the recruitment of children into armed groups. Women and girls have been beaten, raped and set on fire."
Before it's here, it's on the Bloomberg Terminal.
LEARN MORE