Obama Clashes With Kenyan Host, Urging Gay Rights Expansion
Margaret Talev and Mike Dorning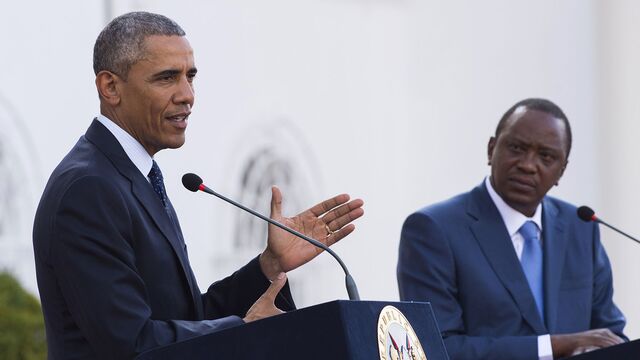 President Barack Obama urged African nations to abandon laws criminalizing homosexuality, clashing with his host in Kenya, who called gay rights a "non-issue" for Kenyans.
Obama compared anti-gay policies to racial segregation and said equal treatment for all groups is crucial to both economic growth and the fight against terrorism.
"I've been consistent all across Africa on this," Obama said during a news conference Saturday in Nairobi with Uhuru Kenyatta, the president of Kenya, where homosexual acts are illegal and gays often are subject to harassment. As a black man in America, he said, "I am painfully aware of what happens when people are treated differently under the law."
Kenyatta said that Kenyans are more focused on countering militants, bringing women into the economy and improving the nation's infrastructure.
"The fact of the matter is that Kenya and the United States share so many values," Kenyatta said. "But there are some things that we must admit we don't share."
The conflicting views were a discordant note during a day in which the two leaders leaders emphasized shared goals of expanding democracy and economic opportunity across Africa and battling against the spread of extremism. Obama also urged Kenya to stem corruption, saying that was vital to ensuring the country would draw the kind of investment needed to grow.
Enhancing Ties
On his first full day of a two-nation visit to the continent, the U.S. president outlined several steps aimed at bolstering Kenya and enhancing U.S. ties.
At a Global Entrepreneurship Summit Saturday morning he announced more than $1 billion in new private and U.S. government commitments for startups. During the news conference he said the U.S. would extend student and business visas for Kenyans for up to five years.
In the fight against militants, Obama said the U.S. would provide additional assistance and training for Kenyan forces to address the threat from terrorists.
He announced proposed rules in the U.S. to tighten restrictions on sales of ivory from African elephants, aimed at cutting off the market for poachers.
Equal Rights
Obama framed gay rights as part of the broader effort to prevent the spread of extremism, saying that any group that is marginalized becomes susceptible to recruiting by militants.
Kenya has faced a series of high-profile terror attacks since 2011 with the spread of Somalia-based Islamist group al-Shabaab. These include one in northeast Kenya earlier this month in which at least 14 people died, a university attack that killed 147 people in April, and the Westgate shopping mall raid in September 2013 that killed at least 67 people.
The president's remarks on anti-gay policies follow a period of rapid advancements for gay and transgender rights in the U.S. The Supreme Court in June ruled the constitution protects gay marriage nationwide, and Caitlyn Jenner's highly publicized transition earlier this year sparked a national discussion about gender identity and rights.
Those developments stand in contrast to the African continent, where 38 countries criminalize homosexual acts and five threaten the death penalty, according to a report by Richard Downie, deputy director of the Africa program at the Center for Strategic and International Studies in Washington.
Obama's 'Tightrope'
Obama's decision to address gay rights in Africa is a political "tightrope," Downie said, as the U.S. president balances his administration's human rights values with lingering sensitivities about Western countries' colonialist approaches on the continent.
While homosexual acts remain criminalized in Kenya, the advocacy group Human Rights Watch praised Kenya's high court ruling in April that gave gay and lesbian groups the right to formally register as organizations, calling it a significant step toward free speech and equality.
This is not the first time Obama has challenged his African hosts in person. In a 2013 visit to Senegal, Obama said in a news conference beside President Macky Sall, that "when it comes to how the state treats people, how the law treats people, I believe that everybody has to be treated equally." Sall, who made clear he didn't appreciate Obama's interference, said Senegal was "not ready to decriminalize homosexuality."
Before it's here, it's on the Bloomberg Terminal.
LEARN MORE