Why Isn't Rand Paul Making a Data Deal With the GOP?
The libertarian's move could create a constant implied threat that he could run for president either inside the party or outside of it.
by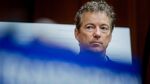 Kentucky Senator Rand Paul is living up to his promise to run for president as a "different kind of Republican." His campaign appears to have decided that he can win the nomination without even basic help from party bosses, and that if he comes up short his loss should not serve to strengthen their infrastructure.
Several presidential candidates are likely to sign contracts allowing them to simultaneously receive voter profiles from both the Republican National Committee and i360, a rival data warehouse managed by the political network associated with Koch Industries. Paul, however, seems to be following a different path—one that will allow him to maintain full control of any data collected by his campaign or affiliated super-PAC and set up a distinct power base beyond 2016 entirely independent of the Republican Party.
Paul is the only one of the party's candidates trying to assemble a full-fledged presidential campaign who has refused to sign a so-called data agreement with the RNC. This is a standard arrangement in both parties, designed to permit candidates to benefit from one of few durable resources in American politics: a national party's voter database. In exchange for access to it, candidates pledge that after the election they will enrich the database by returning intelligence gathered on the electorate through their interactions with individual voters.
Thus far, according to a party official who asked not to be named in order to freely discuss the committee's internal mechanics, 11 of the party's presidential candidates have signed a data agreement with the RNC. The others who have have yet to sign a data agreement are all those who are are new to the race or have otherwise shown signs of mounting something other than a conventional, well-rounded national campaign: businessman Donald Trump, Senator Lindsey Graham of South Carolina, former New York Governor George Pataki, and Jim Gilmore, former Governor of Virginia. Party officials have had conversations with Ohio Governor John Kasich's political team, and anticipate he will eventually sign one, according to a person familiar with the talks. (Data agreements are available only to those who have made their candidacy official; Kasich did so only this week.) 
Voter data is essential in running a modern campaign. But the rise of a competing data warehouse, i360, managed by the Kochs' Freedom Partners, has given candidates the choice of opting out of the party structure altogether. A Freedom Partners spokesman, James Davis, refused to identify specific clients, citing non-disclosure agreements. However, it is widely understood that i360—a private company in which turning a profit is a concern secondary to electoral impact—is eager to serve as a data provider to multiple Republican candidates. 
In an April interview with USA Today, Charles Koch identified five he said "are the ones we have talked to the most and who seem to be the possible leaders." Four of them—former Governor Jeb Bush of Florida, Governor Scott Walker of Wisconsin, Senator Ted Cruz of Texas, and Senator Marco Rubio of Florida—have already executed data agreements with the RNC. Paul is the only one who hasn't. 
Paul quarterly spending report depicted a candidate seeking to assemble a data infrastructure entirely independent of the RNC. He has paid $19,000 to Aristotle International, a venerable non-partisan data vendor favored by candidates unaligned with a party machine. Paul's campaign also paid a sum to the Republican Party of Iowa that could been to purchase a list of past caucus-goers, a standard move for candidates competing in the state. The newly established super-PAC Concerned American Voters has vowed to maintain Paul's "grassroots organization, e-marketing and proven Get Out The Vote tactics," as president Jeff Frazee described it in a press release announcing the group's creation. Filings from Concerned American Voters show a variety of payments to i360, including one for "Voter Data and Outreach Capability." 
The RNC and i360 have developed an intense and unexpectedly public feud as they compete over business from Republican candidates, a proxy for the greater conflict between the Koch network and party establishment for dominance in conservative politics. The left has featured a similar tension for nearly a decade, as the Democratic National Committee's voter file battles for primacy against one maintained by the independent Catalist, which has close ties to organized labor. (The crucial difference: i360 currently holds a stronger market position than Catalist does on its side, and the factional rivalries within the right are far more pronounced than those within the left.)
Although both databases are assembled atop publicly available voter-registration records, they offer differing strengths. The RNC has maintained its voter file for a quarter-century, constantly replenishing it with information about voter behavior and attitudes on candidates and issues collected through campaign canvasses and phone banks. Want to know which Iowa voters told McCain-Palin volunteers that bailouts were their greatest concern? There's only one place to find it.
The much-newer i360 has little of that historical data, but sustained by the Kochs' seemingly limitless funds, boasts of having acquired a wide range of consumer profiles and a growing team of data scientists developing topical predictive models from them. Looking for probable 2016 caucus-goers who are likely to think the Islamic State is a greater concern than civil liberties? You should expect to see it offered from i360 rather than the RNC.
Many Republican analysts see the two entities' data as potentially complementary, particularly if combined to form a larger base for predictive models specific to a candidate's targeting needs. (Campaigns that arrange to work with both the RNC and i360 are required to sign a contract ensuring that the underlying sets of data are not commingled.)
Paul's unorthodox appeal and strategy may dictate his posture toward the RNC. Paul has vowed to bring new supporters into the Republican primary process, including young voters unlikely to have been contacted much by previous Republican candidates. If Paul succeeds in doing so, the granular intelligence his campaign assembles about that coalition—knowledge of individual issue preferences, and contact information like cell-phone numbers—will become a unique asset in American politics and one he will be happy not to have to return to the RNC.  
Paul's own campaign could theoretically acquire any data collected by the super-PAC at any point, either through purchase or by trading something of comparable value. If structured correctly, Paul could then match intelligence gathered from the super-PAC's field operations to his own list, which the campaign has been cultivating through stunts like his quasi-filibuster of the Patriot Act and this week's video taking a chainsaw to the tax code. Those backers, pushed to the campaign's website to sign up as supporters, have shared e-mail addresses and given the campaign the opportunity to serve them ads elsewhere online through browser cookies. 
Complete control over all the data his campaign collects could make Paul a power broker in future party primaries, and sustain a career as a perpetual candidate—with a constant implied threat that he could do it either inside the party or outside of it. Rand's father, former Representative Ron Paul of Texas, sought the presidency twice as a Republican and once as the Libertarian Party's nominee. When asked to explain Rand Paul's resistance to signing a data agreement with the RNC, spokesman Sergio Gor responded by e-mail, "We'll pass on this story."  
But Paul himself betrayed his thinking about his relationship with the party when he announced his candidacy in April. "Too often when Republicans have won we have squandered our victory by becoming part of the Washington machine," he said during a speech in Louisville. "That's not who I am."
Before it's here, it's on the Bloomberg Terminal.
LEARN MORE