Kasich Forges Ahead as Trump's Din Threatens to Drown Him Out
Mark Niquette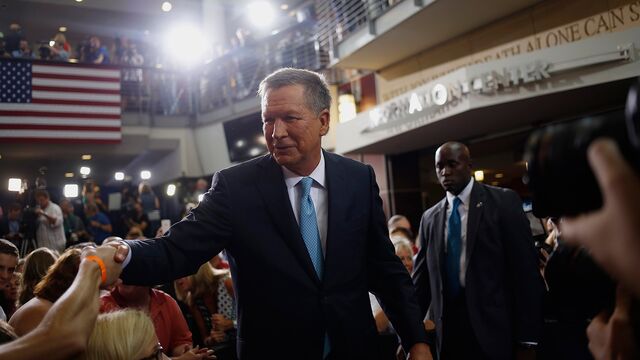 John Kasich was Trumped.
On Tuesday, when Ohio's Republican governor announced his presidential candidacy with a call to help America's humblest, frontrunner Donald Trump gave out U.S. Senator Lindsey Graham's mobile-phone number and called him names.
On Thursday, Kasich barnstormed New Hampshire and visited Mitt Romney, the party's 2012 nominee. Meanwhile, Trump's Mexican-border appearance was carried live on CNN, which beamed out images of the reality-television fixture wearing a "Make America Great Again" baseball cap atop his rococo hairstyle.
"We got a lot of attention; I'm fine with it," Kasich told a press corps of four reporters in Wolfeboro, New Hampshire. "I don't feel snake-bitten."
Kasich, the 16th Republican to run, is trying to convince voters that his platform of fiscal discipline and compassion distinguishes him from the field even though he's starting near the bottom of the polls. He temporized for weeks before joining the race. Now Trump, who grabbed attention by insulting Mexicans and denigrating the military career of Senator John McCain, threatens to overshadow Kasich's rollout.
"Why did you wait so long?" New Hampshire resident Gary Chapman asked Kasich in Center Harbor after listening to him speak for almost an hour.
In Stadium
Chapman, the retired chief executive officer of LIN Television Corp., said that Kasich is polling about 2 percent and that only the top 10 candidates will get on stage for Fox's debate.
"You've got to be in the stadium to be able to win the game," Chapman said.
"I wanted to make sure that I would win," Kasich told Chapman. "I don't think we're in too late, and we'll see what happens with that debate and the polls."
Kasich, who in 1999 dropped out of the presidential race after failing to get traction against George W. Bush, said he waited because he was running Ohio and wanted to ensure no "big dog" was dominating the field.
He also said that his two so-called 527 organizations were able to raise about $11.5 million in two months. They are airing about $3 million in ads in New Hampshire.
"There is a path to do this," Kasich said in Center Harbor. "If I didn't run and I didn't do it on my own terms, then I would have regrets."
Visiting Romney
Kasich met with Romney at his Lake Winnipisaukee vacation home. Romney, who hasn't said whether he'll endorse anyone, also hosted U.S. Senator Marco Rubio and New Jersey Governor Chris Christie before a July 4 parade.
Kasich told reporters he was just having lunch with Romney at his invitation.
His advisers downplayed the Aug. 6 debate.
"It's going to be the most important thing in America until the next most-important thing," said John Weaver, Kasich's chief strategist.
Still, with Trump ascendant, a Quinnipiac University poll released Wednesday showed that Kasich is relatively unknown in the swing states of Colorado, Iowa and Virginia.
Eighty-two percent of registered voters polled in Iowa said they had no opinion of Kasich, and that number was 77 percent in Colorado and 75 percent in Virginia.
David Moorhead, a 67-year-old Vietnam veteran from Plymouth, New Hampshire, said Kasich could prevail in his state, "if he can get his word out like he did here."
In a response to a question at a town-hall meeting about how he could stand out, Kasich said jokingly that he could take off his shirt on top of the building.
"Throughout my lifetime, my problem has never been standing out too little," he said.
Before it's here, it's on the Bloomberg Terminal.
LEARN MORE