Iran Deal Makes Israel Safer, Kerry Tells New York Groups
Nicole Gaouette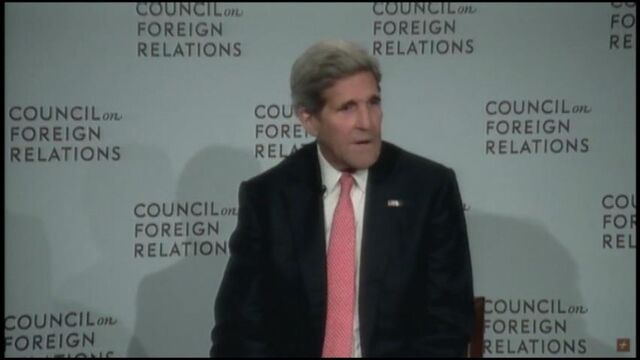 Secretary of State John Kerry sharpened his sales pitch for the nuclear agreement with Iran, arguing for its benefits to Israel in meetings with Jewish leaders and a foreign policy group in New York.
"We're gaining a safety and security, I believe, for Israel and the region that no alternative presents," Kerry told the Council on Foreign Relations on Friday. If Congress rejects the deal reached last week between Iran and six world powers, he said, "our friends in Israel would end up being more isolated and more blamed."
Kerry met privately with the Conference of Presidents of Major Jewish Organizations and the American Jewish Committee in an effort to counter opposition to the agreement from Israeli Prime Minister Benjamin Netanyahu and his allies in the U.S.
The American Israel Public Affairs Committee has formed a nonprofit group that plans a multimillion-dollar national TV and digital campaign urging Congress to reject the agreement.
Kerry said he feels "strongly" that the deal reached in Vienna will be good for Israel, despite Netanyahu's denunciation of it as "stunning historic mistake."
Saying that he had a 100 percent voting record in support of Israel over 29 years in the Senate, Kerry also cited his frustrated efforts to broker a peace accord between Israelis and Palestinians. "Nobody, I think, has worked harder to try to bring peace to the Middle East or to Israel than I did over the last few years," he said.
'Windfall' Questioned
Kerry singled out an argument critics make about the "windfall" that would come to Iran once international inspectors confirm that it has fulfilled its obligations to curb its nuclear program and economic sanctions are lifted. Iran won't get $100 billion to $150 billion from the release of assets that have been frozen, as has been widely assumed, he said.
"They will get -- in real money that they can actually access -- somewhere in the vicinity of $50-plus billion," Kerry said. Much of Iran's frozen assets are wrapped up in infrastructure contracts with China and "massive" nonperforming loans, he said, citing a "very, very penetrating" examination by the Treasury Department and intelligence agencies.
The Conference of Presidents of Major Jewish Organizations didn't respond to requests for comment on its meeting with Kerry. Kenneth Bandler, a spokesman for the American Jewish Committee, said Kerry met with the group for about 90 minutes but didn't elaborate on the discussion.
Before it's here, it's on the Bloomberg Terminal.
LEARN MORE