Hillary Clinton Calls for Investors to Escape 'Tyranny' of 'Short Termism'
The Democratic presidential contender says the tax code should be used to encourage investments in the future.
by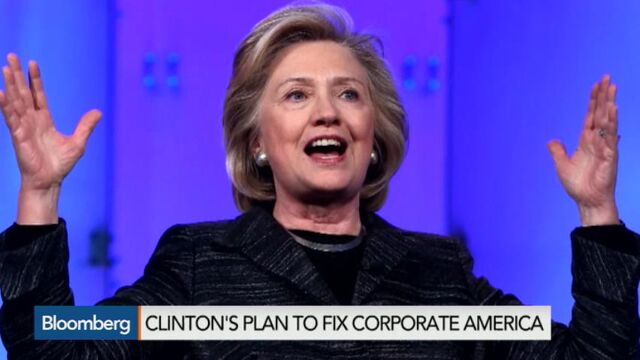 Hillary Clinton will on Friday unveil a set of proposals aimed at encouraging companies and investors to favor long-term growth over the "tyranny of today's earnings report." 
In the second economic policy speech of her campaign, to be delivered Friday afternoon at New York University's Stern School of Business, Clinton plans to offer up proposals aimed squarely at the nation's investor class. They range from overhauling capital gains rates and the taxation of executive compensation, to better policing of shareholder activism and stock buybacks.
The proposals appear calibrated to hit a sweet spot that will satisfy progressive Democrats while not angering Clinton's Wall Street donors.
The speech elaborates the bigger-picture economic address Clinton gave on July 13, in which she lamented that "today's marketplace focuses too much on the short term, like second to second financial trading, and quarterly earnings reports, and too little on long-term investments."
On Friday, a campaign official said, Clinton will argue that "short termism" is harming the economy and suggest that companies be incentivized by the federal government to make longer term investments in plants, equipment and people.
According to the campaign official, the ideas Clinton will present include:
1. Overhauling capital gains taxes
For the top income tax bracket, capital gains taxes would be determined using a sliding scale, in which shorter-duration trades and gains would be taxed at a higher rate than longer term ones. Unlike the current tax code, which provides a preferential rate for all investments held more than a year, Clinton wants to make tax benefits greater the longer the investment is held. Clinton will acknowledge that changes to the tax code won't immediately change investors' behavior but believes it's a first step in realigning incentives. 
The sliding-scale capital gains tax is an idea about which some Clinton allies have been publicly supportive. Last month, Neera Tanden, the president Center for American Progress and a longtime Clinton policy adviser, and Blair Effron, a co-founder of Centerview Partners who hosted a Clinton fundraiser in May, published a policy paper backing this approach. 
2. Changing taxation on executive compensation
Clinton believes the tax code can be used to better align executives' financial interests with boosting long-term value. The former New York senator will say that the current tax code can create circumstances in which executives choose short-term bumps in share prices over long-term value and recommend re-examining the tax code to change those incentives.
3. Reining in activist shareholders
When shareholder watchdogs hold corporate management accountable, their activism can be a good thing, Clinton will say. But it can also go too far, and the "hit-and-run" approach of some can be detrimental to a company's long-term interest.
4. Disclosing of stock buybacks

Clinton will note that such buybacks are often used to boost short-term share prices at the expense of long-term investment, and will call for more transparency. Clinton will note that the United States only requires that companies disclose buybacks on a quarterly basis, while buybacks in the United Kingdom and Hong Kong must be disclosed with a day.
Before it's here, it's on the Bloomberg Terminal.
LEARN MORE